How to use HubSpot for Account-Based Marketing
May 11, 2021 •Nikole Rose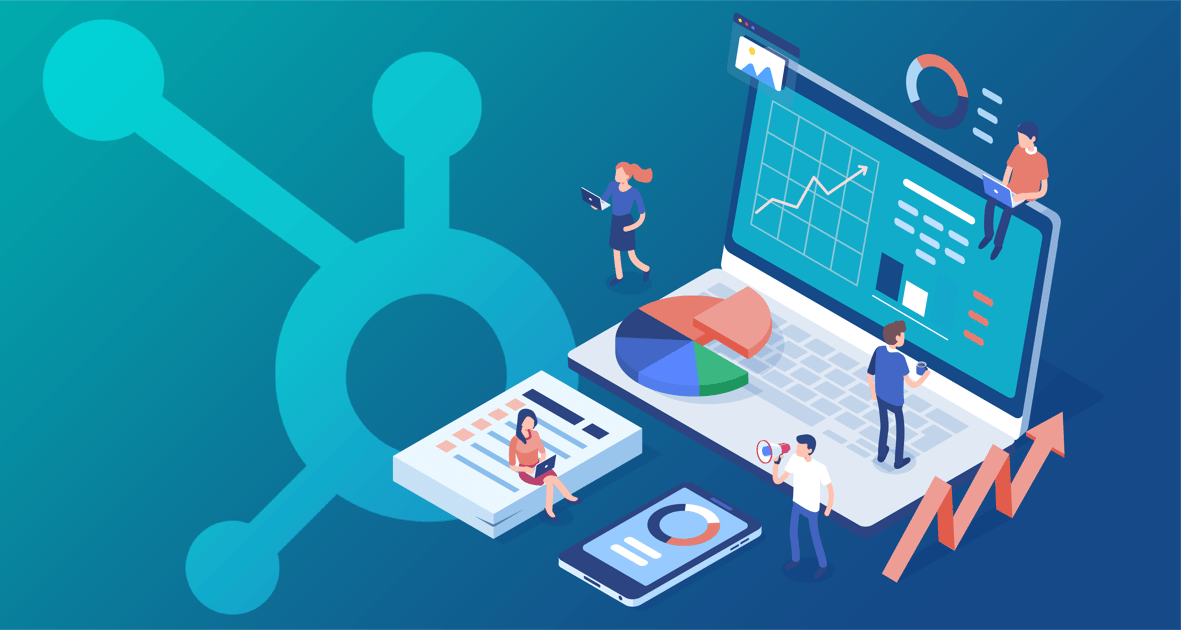 If you are a B2B marketer looking to implement an account-based marketing (ABM) approach for your business, and you use HubSpot, you are probably wondering what tools are at your disposal.
HubSpot has for many years predominantly focused on the tools for an Inbound Marketing approach, but has recently started to incorporate many tools to better serve your ABM needs.
There are numerous tools that integrate seamlessly that will also help you in your ABM efforts, but this blog will only focus on the available account-based marketing tools in HubSpot.
Identifying your Target Accounts
Any ABM effort starts with a list of target accounts. If you don't presently have a list of target accounts, HubSpot makes it incredibly easy to identify good-fit companies you should target.
If you have gone through the process of identifying your ideal customer profile (ICP), then you can start to filter companies in your HubSpot customer relationship management software (CRM) by the characteristics of your ICP. This would include filtering by annual revenue, industry, employee count, or anything else you deem important.
Once you have filtered by these criteria, you will be left with a list of companies that should match your target audience. If the list is still too large, you can also filter by how recently each account has engaged with your company. If the account matches what you are looking for in a customer, and they have engaged with your company in the past 90 days, they are likely a good target for an ABM campaign.
Once you have filtered this list, you can select all of the accounts, and bulk edit the accounts. Once you have selected all the accounts you want to indicate as target accounts, an edit icon will appear where your column heads were previously. A new window will pop up with contact properties. Search for the company property of "Target Account" and select it. A new dropdown menu will appear. Select the option "True" from the dropdown menu. Once you have indicated all of these companies as target accounts, you can now find all of these companies under the target accounts tab.
The Target Accounts Tab
Once you have identified your target accounts using the method above, you need to go back up to the contacts dropdown at the top of the screen and select the target accounts option.
Once you have selected target accounts, you will be brought to the target accounts dashboard. This dashboard will provide you a high-level target account overview of all of your target accounts, including the number of target accounts, accounts with open deals, open deal value, and missing buying roles.
Missing buying roles are highlighted on this dashboard because an ABM strategy focuses on hyper-personalized marketing. If you don't have the information on who each player is in your sales process, an account-based marketing strategy will become immensely more difficult to implement.
From this section, you can filter down by who in your organization is the company owner, prespecified teams, industry, lifecycle stage, and ideal customer profile tiers. It's likely you have created an ICP in your HubSpot CRM. This tiered dropdown menu further filters to the accounts that most closely align with your ICP.
You will also find more sections on the left-hand side that will help you to better prioritize your time. These sections allow you to understand the engagement you are receiving from the target accounts, and see what outreach you are completing.
HubSpot will also provide recommendations of additional companies already in your CRM you should consider targeting with your ABM efforts based on what accounts have performed incredibly well in the past. Simply click the recommendations tab to see what companies you may not have considered.
You should look at this section periodically as your target account list is a static list. As new companies are added to your CRM, they will need to have the target account field updated if they match the accounts you want to target.
Lastly, the target accounts tab also helps you in your prospecting efforts. The prospecting tab will pull up companies that have been engaging with content on your website. If you identify companies you aren't currently targeting that appear to have engaged frequently with your website, you should consider making those accounts a priority. These are accounts that are actively engaging with your company and have a high likelihood of becoming customers.
Create a Basic ABM Campaign
With your list of target accounts, navigate back to the companies page under the contacts tab. From here, you can filter to only show your target account list.
Start by ensuring you are looking at all of the companies in your CRM. Once you have the "all companies" view pulled up, click on "more filters". From here, you can search for the company property of "Target Account". Once you have selected "Target Account" select that the value is "True".
From here, you can further filter by industry, annual revenue, or the number of employees. The way you filter at this point is dependent upon what your product or service offers a company. For example, if you provide outsourced IT support to Midsized and Enterprise companies, you may want to filter here by industry and number of employees.
Once you have a further narrowed down list, you will want to select all accounts. With all accounts selected, the option to add these companies to a static list will become available. Add all of the accounts to a static list and name it accordingly.
Be sure every account in this list has a specific and unique problem you solve for. You want all of these accounts to have a common topic that you can specifically address.
You can now start to send more personalized and specific marketing messages to this target list. With the common topic between them, you can create an email campaign around that topic. Create a webinar, a whitepaper, a case study, blog content, a video series, or some kind of other content that speaks directly to the needs of the companies on this list.
With the content created, you can craft a workflow that you send specifically to this list of accounts. You can develop the workflow to best suit the content you created, and the expectations of the industry. It would be best practice to send them a landing page with an opt-in form so they choose to opt-in to receive more content.
If you find success with a small ABM workflow campaign, use the original workflow as a workflow template to base future campaigns on.
ABM Reporting
Now that you have all of your target accounts in the target accounts section of your HubSpot portal, you will want to track the progress of your ABM campaigns. To track the success of your ABM campaigns, go over to the Reports tab and select "Dashboards".
Once you have the dashboard page loaded, click "Create Dashboard" to create your ABM dashboard. Once you have clicked "Create Dashboard" a few categories of the dashboard will appear on the left side of the screen. Choose "Target Accounts".
After selecting target accounts, there will be three options.
Account-based marketing- This dashboard will be for your marketing departments. This dashboard will provide numerous reports like how many accounts you have in each tier of your ideal customers, and how many times a target account has visited your website. This dashboard will highlight the most engaged accounts that should start to receive more personalized marketing and direct attention from sales.


My Target Accounts- This dashboard will be most useful for salespeople trying to keep track of their target account lists. This dashboard will include information like most recently closed target accounts, last sales activity on target accounts, and most recent engagement from target accounts. This dashboard will ensure your salespeople are prioritizing opportunities most likely to keep engaged and close.


Target Account Landscape- This dashboard will be most helpful to sales and marketing directors. This dashboard provides an incredibly high-level overview of your entire target account list by reporting on the number of target accounts in each industry, the number of associated contacts with each account, and the number of web pages viewed by each target account.
With these three reports, you will have more actionable insights into which accounts are likely to close soon, and which accounts need a lot more attention.
Start Implementing
A truly robust ABM strategy needs a lot more than an organized target account list, but the ABM tools in HubSpot provide a fantastic starting point as you look into implementing a long-term ABM strategy.
Once you have found success with the tools available, start looking to incorporate more advanced ABM platforms that work in concert with what you have already accomplished with HubSpot.
If you'd like help implementing an ABM campaign using HubSpot, please schedule a call today. As a HubSpot Diamond Partner with a deep understanding of how to functionally implement ABM strategies, we are uniquely positioned to help you maximize your return on investment.
As President & COO, Nikole is obsessed about building a great company made up of an inspiring culture and highly successful client engagements. Outside of Mojo, Nikole is also pretty obsessed with traveling, spending time at their cabins in Broken Bow OK, her Golden Retriever, Bella, and enjoying Italian dinners and wine with her husband, Mike.