Teknion Data Solutions
Inbound Marketing | Website Design Engagement
Summary
Teknion Data Solutions is a Texas-based data consulting group with a full suite of key software partners, such as Tableau (data visualization platform) and Alteryx (data analytics platform), among others. Masters of data strategy, software training, data analytics, data warehousing, visualization and a host of data-related expertise, they help their customers put all the pieces together to create a strong business intelligence system and solve data challenges for their business.
Challenge
Teknion was looking to not only make their presence more robust among prospective customers but establish stronger sales channels through their software partnerships, such as Tableau and Alteryx. They needed content to tell their story about their training and consulting capabilities for customers, but also their strengths in assisting and supporting their software platform partners.
Solutions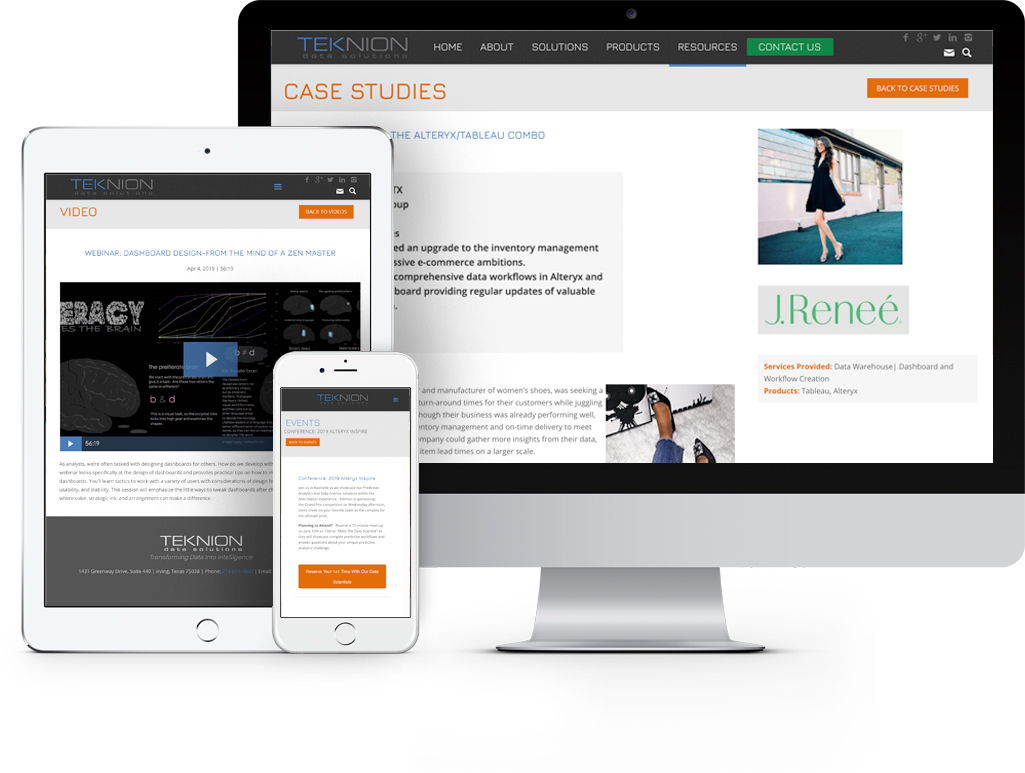 STRATEGIC PLANNING AND DIGITAL ROADMAP
Before marketing campaigns and most marketing activities began, we helped Teknion develop their remarkables (key differentiators in the market), ideal customer profile, and buyer personas in a messaging strategy deck. From there, we discussed and established sales alignment to determine the proper definition of marketing qualified (MQL) and sales qualified leads (SQL) as well as the proper form-fill questions for each stage of the buyer's journey. Once messaging and sales alignment were complete, we collaborated with the Teknion team to design and launch an initial campaign.
HUBSPOT MARKETING AUTOMATION
Almost all of Teknion's inbound marketing strategy was (and is) executed through HubSpot marketing automation software. We help execute the following marketing tactics:
Development of conversion paths (landing pages, thank you pages, follow-up emails)
Monthly newsletters
Automated email nurture workflows for leads and MQLs
Case Study production and promotion
Event promotion (i.e. Alteryx Inspire Conference)
Monthly social media calendars
List management and contact segmentation
CMS, website maintenance
WEBINAR SUPPORT
Teknion regularly hosts webinars led by their team of data experts. The webinars cover a wide swath of topics about the platforms they support. Through a combination of email marketing, social media promotion, and a Friend Feed (internally shared social posts), we help Teknion get the word out for webinars both pre and post-publication.
WEBSITE REDESIGN
A new website project is underway, streamlining the services Teknion offers as well as how they solve their customer's specific pain points. Rather than allow visitors to hunt for what's most useful to them, the new site will be more customer-centric. Visitors will now be able to directly identify where they need help, giving them a straight path to the resources they need from the moment they land on the homepage.
SHARING THE STORY
Effectively, Mojo Media Labs works as an extension of Teknion's marketing team. Teknion's many data experts and software platform partners create engaging content, but hiring a digital agency helped bring this content to the right audience at the right time despite limited internal marketing resources.
Whether through a full website redesign or monthly promotional tactics, we help shape the story Teknion shares with the data world.