The 3 Common Situations With The Company Website
December 15, 2021 •Nikole Rose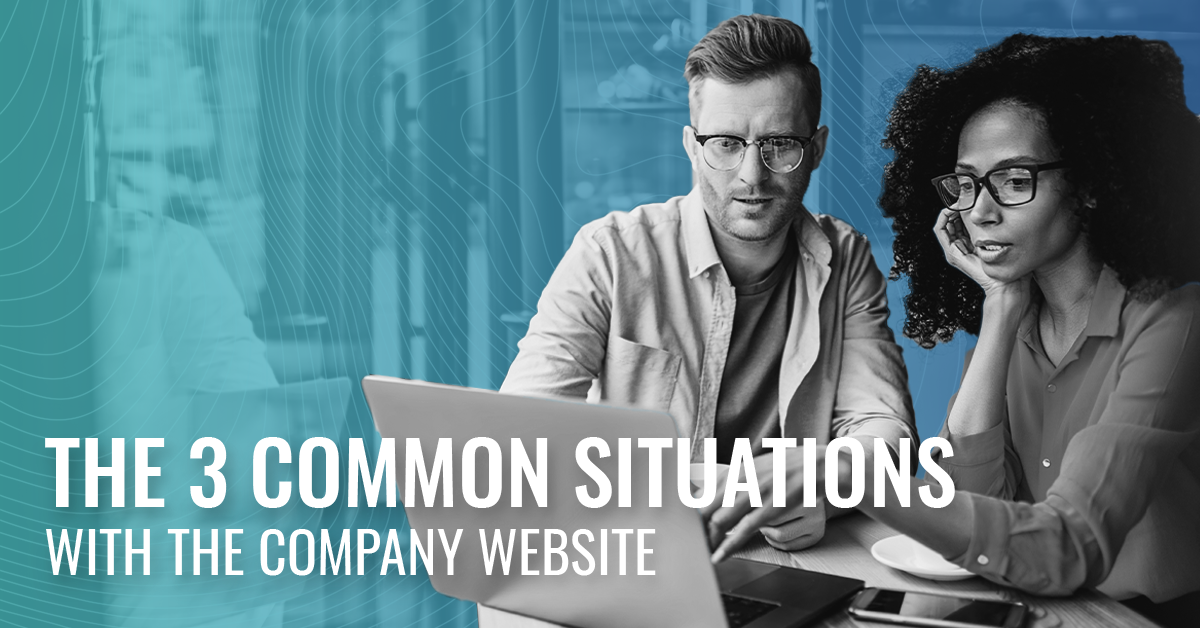 Your website should play a key part in your overall marketing strategy. Your website should function as the living, breathing face of your company that never sleeps. And considering the importance of a digital presence today, your website shouldn't be an afterthought as you look at your marketing.
Unfortunately, many companies have stiff websites that haven't been updated in months or years. The role of the website isn't a starting point. In many cases, the website's involvement in the overall strategy is all but forgotten.
So to help you understand the role your website should play in your marketing strategy, this blog will outline the three common ways most companies leverage their website and what role your website should play in your marketing strategy.
1) The Website Hasn't Been a Priority.
Many companies rely entirely on more traditional marketing strategies and tactics. They may have a website, and if they do, it's more of a virtual brochure to check the box of being on the internet.
With this situation, the website plays almost no active role in the marketing strategy. You put the site on your business cards that you hand out at tradeshows, but you aren't actively driving traffic towards your website with the intent of starting sales conversations (if it's even possible to contact sales through the website).
If your company falls into this position, you need to bring an agency in to help implement more modern marketing strategies. Not only can an agency accelerate the implementation of more modern marketing strategies, but the agency can provide another voice that highlights the importance of creating a more modern and scalable marketing strategy.
2) Trying to Execute But Need Some Help.
If you fall into this position, you have an active website and are trying to maximize your marketing efforts leveraging your website as a main revenue generator. Companies in this position understand various marketing strategies like Inbound Marketing, Account-Based Marketing, and Demand Generation. The problem they face is they are trying to execute these strategies but aren't seeing the results they would like to see to the fullest.
The solutions to this problem are relatively simple but difficult to execute.
Transition your strategy. If you are trying to grow your business, it's likely the strategy and tactics that got you where you are today aren't the same strategies and tactics that will get you to where you want to go. So if you have been running an inbound strategy and aren't getting quality sales calls, you may need to transition your strategy towards Account-Based Marketing.


Double down on your best efforts. If your growth has stagnated, you may need to assess how you can iterate on your existing efforts and double down on those working most effectively. Through the iterative process of improving your existing strategy, you could come to the moment where you break through the stagnation and continue your growth.


Take your existing strategy to a new channel. If you have maxed out your current channels, you may need to explore other potential channels. For example, if you were an early adopter of inbound marketing and have numerous blogs ranking well on your critical keywords, you may want to start incorporating new channels into your inbound marketing mix. YouTube now serves as the 2nd largest search engine. If you have mastered Google SEO, move your talents to YouTube SEO.
The difficulty with this challenge is your marketing efforts are likely working to some extent. It's difficult to know exactly where to focus your efforts. Especially when you have been executing a specific tactic or strategy for years, it's difficult to combat the "This is what we have always done" mentality.
In most cases, you will have the most success from an internal buy-in perspective to start by iterating your existing efforts. If that doesn't quite work, you can move your existing strategy into a new channel. If those two approaches don't work, you'll need to look at transitioning your strategy entirely towards something that will best suit your existing needs.
This is also one of the cases where many of our clients have seen success bringing in an agency. And an agency can provide an outside third-party voice to speak into your situation and help shift the internal thoughts about your marketing. Sometimes, internal teams stop listening to the internal team, and it takes an outside voice for real change to start.
3) You're Killing It
Your sales and marketing are aligned. Your revenue steadily increases. You know you're on the right track. You just want to add more fuel to your fire. This stage is the most fun. Take what you're already doing, and optimize it.
Already driving tons of traffic to your website?
Figure out how you can increase content consumption once they are on your site.
Already getting tons of registrants on your webinars?
Figure out how to increase your attendee rate.
Already have tons of sales conversations?
Figure out how to increase your qualified opportunities.
Already got an engine consistently filling your pipeline?
Figure out how to speed up your pipeline.
Once you have a successful engine driving revenue, you get the opportunity to figure out how to amplify your efforts.
When it comes to your website at this stage, you want to ensure you have a website that won't hold you back. For example, if you want to host an online event, but you can't set up the registration on your website, you've now got a barrier that's preventing you from continuous improvement.
To put it simply, don't let your website become the bottleneck that prevents you from creating the assets you need to grow.
Should you decide you need a new website, tread a bit carefully. You want to do a deep dive into what exactly is working. If you drive tons of qualified traffic from your blog content, you want to ensure your website maintains its rankings.
It happens too frequently that a company decides to rebrand, build a new website, and doesn't make the appropriate considerations. The decision to build a new website without the appropriate considerations caused them to essentially move back to square one on their marketing engine.
If your website has become a bottleneck to your continued experimentation and growth, you may want to consider partnering with a website development agency. If you have never migrated and rebuilt a website, a website agency that builds and rebuilds websites exclusively should appropriately transition your website without negatively impacting your long-term marketing efforts. If you do your homework and find examples of specific websites they have rebuilt without hurting marketing efforts, you'll likely want to choose that agency.
The Roles of Your Website in Your Business
A modern website should function as the central digital hub for your business. Regardless of if you are taking a demand generation, ABM, or an Inbound strategy, your visitors should be able to find everything they need regarding your business on your website.
And when we say everything, we mean everything. Your website should make it easy to access:
Sales: Ideally, you would have a link to a salesperson's calendar so your buyers can directly book the time that works for them. Streamlined, seamless, and convenient.


Service:

Something will inevitably go wrong for a customer in the time they work with you. Your customers should have easy access to speak directly with your service team to overcome their challenges.

Thought Leadership/Content: Anytime your company has an opportunity to speak, an online training, or any other content, people should have the ability to access the content you're producing.


Product Information: You want to ensure your website visitors can easily find more information about your products and services. This often looks like dedicated landing pages for your products so visitors can understand the exact reasons they would buy from you.


Marketing Enablement: Your website should enable your marketing team to quickly and easily create robust campaigns, highly personalized content, and integrated technology to make the lives of your internal team and customers easier.


Buyer Enablement: This content equips the buyers with as much information as possible to come to a decision prior to a sales conversation. This includes case studies, product videos, and pricing information. In the current digital age, buyers are in control. The more you embrace the fact buyers are in control and equip them to buy, the more you'll see success.
As you look over this list, most websites fall short of fully accomplishing these goals. Don't become too bogged down by the idea that your website hasn't achieved these goals quite yet. As you make continuous improvements to your website, you'll slowly become more aligned to these objectives.
Assess Your Website & Strategy
To understand where you fall regarding your marketing strategy, simply ask yourself three questions.
"What role does our website play in our marketing strategy?"
"How effectively is our marketing strategy impacting revenue?"
"Of the six roles a website should play, how does our website do?"
If you don't know the answer to any of these questions, you are likely in the first situation outlined and need the assistance of an agency in a major project. If you know what you're trying to accomplish but fall short, you are in the second situation. Finally, if you see continuous revenue growth, you are likely in the third situation.
If you fall into the second or third situation, assess your goals, internal capabilities, and upcoming initiatives. Then you can determine exactly what you need. If you don't have the internal resources you need to execute your website project, you'll want to find an agency partner that can equip you with the website you need to help you grow.
Getting Started Today
It's not reasonable to say that you will perfect your website today. In business, especially in marketing, you're looking for incremental improvements.
So how do you get started today?
You start by looking at your website and assessing what situation you find yourself in. Then you identify if your website accomplishes the 6 roles of a modern website. From there, you start to assess internally if other people see the same issues as you. If you can start to get some internal buy-in on the fact your website has some areas of improvement then you can start to make a plan for how you would like to move forward with your website.
To learn more about the four approaches to overhauling your website, check out the Website Audit Kit.
As President & COO, Nikole is obsessed about building a great company made up of an inspiring culture and highly successful client engagements. Outside of Mojo, Nikole is also pretty obsessed with traveling, spending time at their cabins in Broken Bow OK, her Golden Retriever, Bella, and enjoying Italian dinners and wine with her husband, Mike.