How We Get Our Remote Team Together For Our Annual Rally
February 15, 2020 •Austin Chandler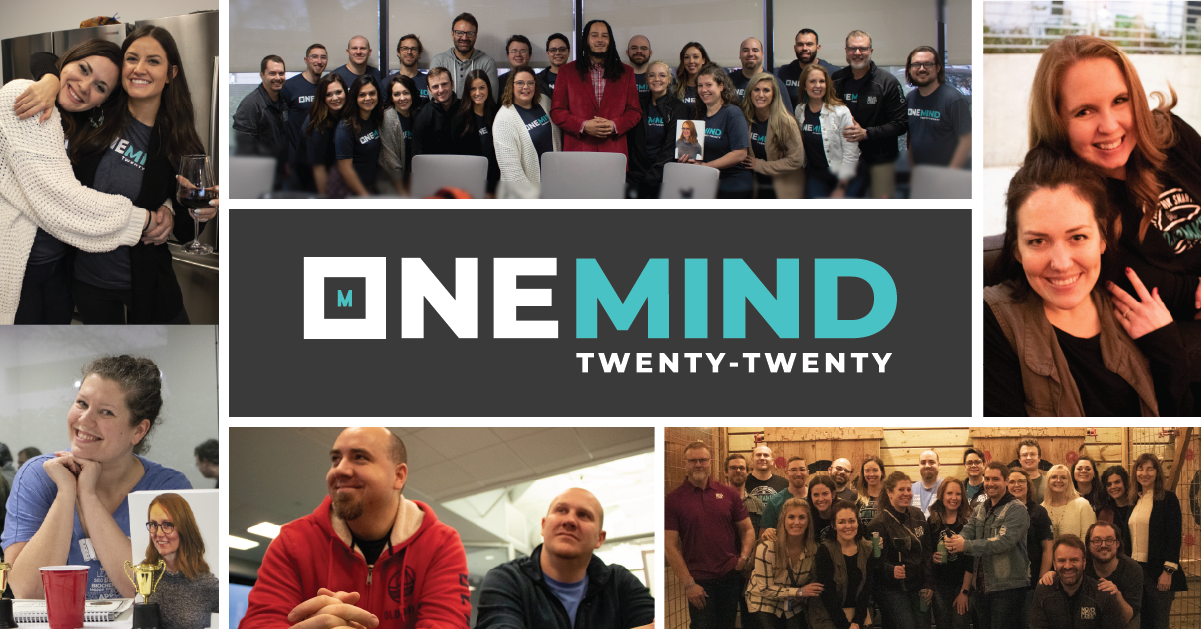 Every January, our entire Mojo team – everyone from Indianapolis, Oklahoma City, Alabama, and even Florida – gather at our Dallas office. This year, we spent a few days learning from speakers, growing together as a team, and consuming too much food while sometimes throwing axes but not at each other.
These few days are called Mojo Rally, and they are an invaluable part of our year, as we refocus and center ourselves as one team with one mind. When you have a company with team members all over the nation working within the flexible ROWE™ system, it's important to see each other face-to-face and hear from leadership to make sure everyone is on the same page. In this post, we'll talk about what we did, what we learned, and the exciting things we have planned for helping our clients grow smarter, including:
Developing a clearer picture of our organization through the implementation of a new accountability chart.
Sharing the vision for the next year and years of our company.
Learning from the HubSpot team to better serve our clients using modern best practices.
Discovering how each of us best fits and thrives within the workplace to increase overall retention and productivity.
The Meaning of One Mind
Our theme this year was "One Mind" meaning that going forward we want to be one team with one mind. Though we have different skill sets, passions, and ideas, we are still one team focused on the same goals, to enrich lives and help our clients and their businesses grow smarter.
Through speakers both within and outside the company, the team learned and worked together to better see and understand the vision for not only 2020, but the years beyond. We learned about our new operating system as a company, heard from our partners at HubSpot, and discovered more about ourselves as team members through the Culture Index™. All of these activities and events served to help us get on the same page with the same vision. Not to mention, we also ate a lot of delicious food and had some after-hours fun.
Way-Too-Quick Recap
Before we got started on day one (technically day two, but the first full day), we were welcomed by Director of People & Engagement, Ashton Adair, who gave a quick speech followed by a small thank you to our fearless leaders, Mike and Nikole Rose, showing them pictures and stories of how the team used our bonuses this year. As you might have already heard, Mojo Media Labs utilizes Open-Book Management, meaning everyone not only has knowledge of the company's financials but also everyone gets rewarded when we grow. Both Mike and Nikole expressed appreciation for getting to see how everyone used their bonuses (there wasn't a dry eye in the room).
After some icebreakers, the team heard from Cory Wrisborne, also known as Blanco Dinero, who told his story – of going from gang member to brewery employee, to now the owner of his own digital marketing agency. The team was moved by his resilience, and many expressed a new understanding and appreciation for how our jobs can impact the community and vice versa.
Once we had thoroughly stuffed ourselves with barbecue for lunch, it was time to hear from Megan from EOS, who explained our new accountability chart and helped us unpack why a company needs an operating system. Next, it was time to head upstairs for a happy hour with our clients, and then off to bed to prepare for the next day.
Day two began with a discussion of revenue in 2020 with our (relatively) new Chief Revenue Officer, Tiago Castro, followed by an outline of the above-mentioned OBM financials from President & COO, Nikole Rose. We also heard from Director of Marketing Success, Allison Gibbs, who discussed efficiency, and then ended the afternoon with sessions with HubSpot partners, Luke Summerfield and Kate Looby. Our evening was filled with spicy chicken sandwiches, axe-throwing (and an axe-throwing tournament won by yours truly, not a big deal but worth mentioning), and, for a select few, country music at local honky-tonk bar, Momma Tried.
During our final day, we heard from Mike Rose once again, who shared some personal thoughts throughout the week as well as pieces of his own story. Next up was Mark Connelly, who explained the Culture Index™, which is essentially an advanced personality test focused on the workplace. It was so accurate that Mark began by describing someone and having the team guess who it was; we guessed every single one on the first try. Finally, it was time to say goodbye, but not before Client Success Manager and Excellent Award Show Host, Chelsea Eppler, hosted the Mojee's a la Dundee's-style award ceremony. Each and every one of us received our own personal award, and we're all (maybe) proud of them.
The Biggest Takeaways
To make sure we gave you the thoughts of the entire team, we sent out a survey to find out what people's favorite pieces of Rally were this year.
Almost everyone came away from Rally feeling more reassured and connected with their roles, especially after learning about the new operating system from Megan at EOS. Many also expressed appreciation of Cory Wrisborne and his story, as well as Luke Summerfield's presentation and his explanation of the "5 Why's."
As for what everyone will remember a year from now, there were two main answers: throwing axes on our final night and hearing a bit of Mike's vulnerable, personal thoughts on the final day, which gave the team a greater appreciation for what we are doing as one team with one mind. And of course, the Mojee ceremony hosted by Chelsea. Oh, and almost everyone included "axe throwing" in their answers. People loved throwing axes.
Final Thoughts
No matter what everyone's favorite part(s) were, the entire team came away feeling a renewed sense of working as one entity. Working in separate places with flexible schedules is a great benefit, but it's always great to come together from time to time and remember what our team is all about.
To learn more about Mojo Media Labs the culture we are working to build and cultivate, give us a call! We'd love to discuss your business needs.