How To Organize And Write Content For Your New Website
April 20, 2022 •Stephanie Fisher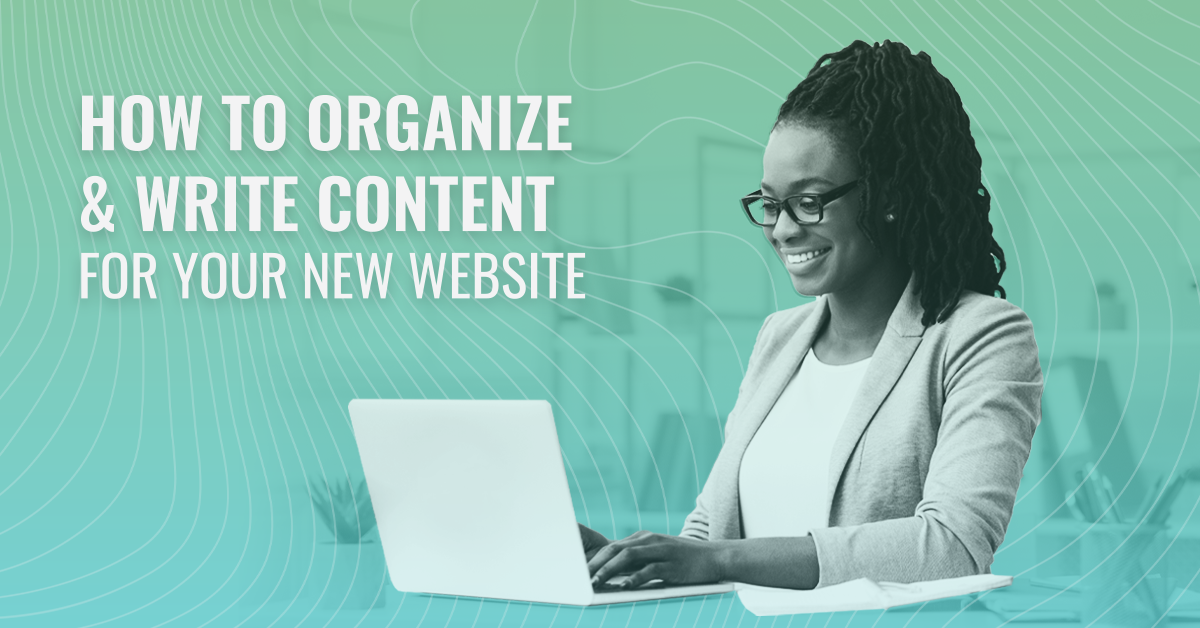 Moving your content to a new website can feel overwhelming. Do you migrate everything over? Start with a blank canvas? Or, try to do a little of both? These are big questions that impact the scope, timeline, and budget needed to pull off your new high-performing website.
This blog will walk through the steps involved in organizing and writing your website content in a way that sets you up for success.
Start with a Content Audit
Before building your new website, it's important to identify and audit the existing content you have in place. Though this process will take a bit of time, this planning process will help you plan effectively.
Start with a simple Excel or Google Spreadsheet. Create tabs along the bottom with each different kind of page your website currently has (Product Pages, Case Studies, Blog Content, etc.). Then, identify all of the pages you have in each category. Yes, this feels time-consuming, but it provides a solid foundation that illuminates opportunities and positions you to decide on the website content you need to keep, repurpose, or create.
For each page:
Determine the goal for the page
Each website page should have a specific, smart goal. Begin by writing down the goal for each page so that you have benchmarks for accountability and determining future success.
Identify how this page is currently contributing to this goal
Write down what your pages are doing well to help you accomplish your goals. Have you defined the right topics? Is search traffic significant? It's likely that your page isn't operating at 100% because marketing is always a work in progress. However, taking this step ensures that you keep what's working and identify potential problems to optimize.
Identify how this page is currently
not
contributing to this goal
It's important to recognize what's working and what's not working for each page on your site.
For example, if you have a case study, the goal is to share the results of what your service or product achieved. This includes demonstrating your authority through engaging visual elements, well-organized data, and sections that clearly spell out the challenges and solutions that delivered the outcome. (side note: if you're looking to up your case study game, make sure to check out all the resources over at case study buddy)
Create a Site Map
Next, as you audit your content, set aside time to create a custom site map as well. Your content audit uncovers opportunities and weaknesses that need to be addressed during the creation of your new website. A site map ensures you have a clear picture of how current and future content work in tandem to provide an excellent experience for the end-user.
While it's time-consuming, mapping your current website reveals how visitors navigate your website. Then, it's up to you to build with this in mind—organizing your content to direct website visitors towards conversion opportunities.
If you're in need of a tool to create a visual sitemap, we use and recommend Gloomaps. This tool will help you organize your thoughts and content. With a more robust website, you may only need to focus your sitemap on the main website pages. The point of this exercise is to bring clarity, not bog things down.
As you map your current website pages, three things will happen.
You will understand how your current navigation works.
During this deep dive, you will want to note the things your website does well today and what you will want to improve on your new website.
You will identify content gaps.
Take note of the content you're missing, for example, a newer product that never got a dedicated product page or supporting blog content on a major product. Identify the content you need to create and determine if it's essential content you need now or a future effort to account for at a later date.
You'll find pages that are now irrelevant.
Highly effective marketing teams treat their website as a living, breathing marketing asset. As a result, there are often many pages created and sometimes pages that become forgotten. Identifying these pages will save you time, so you don't just recreate every page on your existing website.
Conduct Keyword Research
You've audited your content and created a site map. Now, if you haven't already done so, it's time to conduct keyword research. This step provides deeper insight into how your current content is performing. Your keyword research will give you a baseline from which you can grow.
Additionally, it's another opportunity to look at more potential content gaps. If there are high-intent keywords you aren't ranking for, this is a prime opportunity. Create a content roadmap to rank for more keywords that will drive revenue.
If you're looking for a tool, we use and highly recommend SEMRush. They have a 14-day free trial and free training academy, so you can quickly get started and make sure it's the right fit for you. There are other programs available like MOZ and Ahrefs too. Within SEMRush, create a Site Project, and run a website audit. From there, review your organic keywords. This helps you to identify the keywords you are currently ranking for.
Additionally, you can upload keywords to the Position Tracking tool. Then, it's easy to compare exactly where your website ranks for the keywords that have the highest intent to buy.
After completing this step, you'll have a few options to build the new website.
Leave Your Content As It Is
If your content is ranking well, or if the content isn't a high-priority piece of content, just pull it over to the new site. If you set up your redirects correctly, you shouldn't take too much of a hit in your search engine ranking.
Repurpose the Content
If your content is ranking, but you need it to rank higher, add more information to existing content and republish it as new content. Since Google prioritizes genuinely helpful content, this should help you rank higher.
Build Internal and External Links
One of the most significant ranking factors for Google is referring domains and links. The more websites pointing to your page, the more Google recognizes it as good content.
Internally, link all relevant blog posts to product pages that you want to rank higher. It's the easiest way to generate more links to one page.
Externally, leverage your relationships with industry adjacent companies to create guest blog content that links back to your most important content.
Identify the New Content You Need to Create
Prioritize your must-have content. In an ideal world, you'd fill content gaps with new content before launching your new website. But often, you can't do everything all at once, and that's okay. Add less critical content to your post-launch content roadmap.
For example, you can likely launch your new website without all of the supporting blog content needed to boost the rankings of a service page. You can't launch the site without the service page.
Create Outlines for Your Critical Pages
With the new sitemap, you'll want to create a high-level outline of your critical pages. The main points of your outline will be the top-level navigation of your sitemap, and you'll drill down to individual pages from there.
For instance, in the About Us section, you may have several pages about your Company. You'll want to include the sections you'll have on each page in the outline.
Additionally, you'll want to refer back to your content audit for the goals of each page.
Outlining helps you organize the words on the page and the images you'll need to gather, CTAs, and other content.
Below is an example of an outline:
About Us: Webpage
Goal: Educate visitors about your company
Content to include: an overview of your company and what you do
Call to action: Subscribe
Image: Office building
Mission: Webpage
Goal: Educate visitors about our purpose
Content to include: Mission statement
Call to action: Subscribe
Image: Team members
History: Webpage
Goal: Educate visitors about our successful track record
Content to include: Timeline of the company
Call to action: Subscribe
Image: Historic photos A, B, and C
Team: Personnel Directory
Goal: Show visitors our team members' expertise
Content to include [Lister]: Name, image, title, bio
Call to action: Contact us
Image: Team photo
Wireframe The Website Copy
Now that you have an outline of each page, it's time to wireframe the content. A wireframe structures the content of a page, making it easy for a designer to bring your ideas to life.
There are numerous approaches and tools that can be used to make wireframing your website easy such as Draftium, Adobe XD, Miro, or a cleanly organized Google Doc.
Select your preferred tool, establish who is creating content, determine deadlines and begin creating or optimizing content based on your above outline and goals.
Writing copy to help grow your B2B business takes time, energy, and effort, so be sure to set realistic timelines. The best writing is a result of process-informed creativity. Here are a few tips to help you get the best results:
Carve out time for adequate research
Solidify your

ideal client profile

Maintain a clear message using frameworks like

StoryBrand

Gather stats, testimonials, case studies, and other assets upfront to reference along the way
Write the first draft in one sitting—you can always proof and polish it later
Don't write in a vacuum. Instead, invite others into the process for perspective.
As you write each page, refer back to the notes of the things you'd change about your existing pages. Writing and wireframing is equal parts art and science. If you find yourself struggling with any part of the process, pause to reflect on your goals and timeline. If time or expertise is your scarcest commodity, it might be time to consult with a marketing agency that can do the heavy lifting.
Creating a customer-centric website that converts is a worthwhile investment but does take effort.
Pro Tip: Write your content in a platform like Google Docs and use Grammarly and the Hemingway App to proof for typos and errors. If you write directly in your wireframe, it's harder to find mistakes, and it's easier for content to get deleted.
Polish Your Content
With a large website overhaul, set out each week to write a certain number of pages. Begin with the end in mind. Set your launch date and create milestones that ensure you are positioned to meet that goal. If possible, we recommend letting your content simmer. Step away and come back later to find errors, omissions, and areas you might like to rework.
With this approach, consider:
Reviewing Your Content With Fresh Eyes
We covered this briefly above, but it's important to reiterate. Your first draft is just that—a first draft. Set it aside and come back at a pre-determined time to revisit it with clarity. You'll find gaps, errors, and areas you want to optimize.
Keeping it Simple
Even for the most advanced B2B topics, the average reading level in America is still at a 7th-grade reading level. When writing website copy, be short, brief, clear, and direct. Long diatribes should be a style of the past. Bottom line: brevity is best not because your audience isn't educated, but because they're busy. Save in-depth content for blogs, e-books, and pillar pages.
How it Will Rank
Search engines want content that works well for people, but they also match specific keywords. The days of keyword stuffing are long gone, but keywords still demonstrate intent along your customer's journey.
This is often a valuable time to bring in a second set of eyes for proofing. Or, if you're working with a digital marketing agency, ensure they strategically implement proofing at every content creation stage.
Package Your Wireframes for Design and Launch
At this point, the main website content for your new website is ready to go. You've created or optimized everything with your audience in mind, thoughtfully incorporated keywords, and now it's time to find or collaborate with your web designer.
Remember: the best websites have a clear message, compelling content, and visually-stunning design.
As you prepare for the design and launch phases of your website, be sure to check out these other helpful articles:
Continually Improve Your Website
At this point, you're launched (and likely done, we get it). However, it's important to celebrate your success and identify strategic benchmarks for ongoing improvements.
We know this is a massive undertaking that requires time, effort, and energy. With that said, the goal of continuous improvement is to avoid the need for another massive website project. This can happen with strategic content and a cohesive digital marketing strategy. Websites are living, breathing assets that need to adapt and grow.
With this approach to your website, you'll constantly see increases in traffic, conversions, and revenue.
Get Started With a Website Audit Kit Today
After reading this blog, your mind is likely swimming with ideas and to-dos. If you're struggling to get started, don't stress. We have outlined everything you need to begin with this website audit kit. You'll receive:
A downloadable version of this audit kit
A free technical SEO audit
Exclusive video content walking through the audit kit
Steph leads our client delivery team and is obsessed with delivering quality work, creating an efficiency machine, and mastering the tools and disciplines to achieve success for our heroes. At home, she loves listening to true crime podcasts, playing with her daughters and two pugs, and singing in a local rock band with her husband.