How to Break Down Silos Between Sales and Marketing
August 27, 2020 •MojoMediaLabs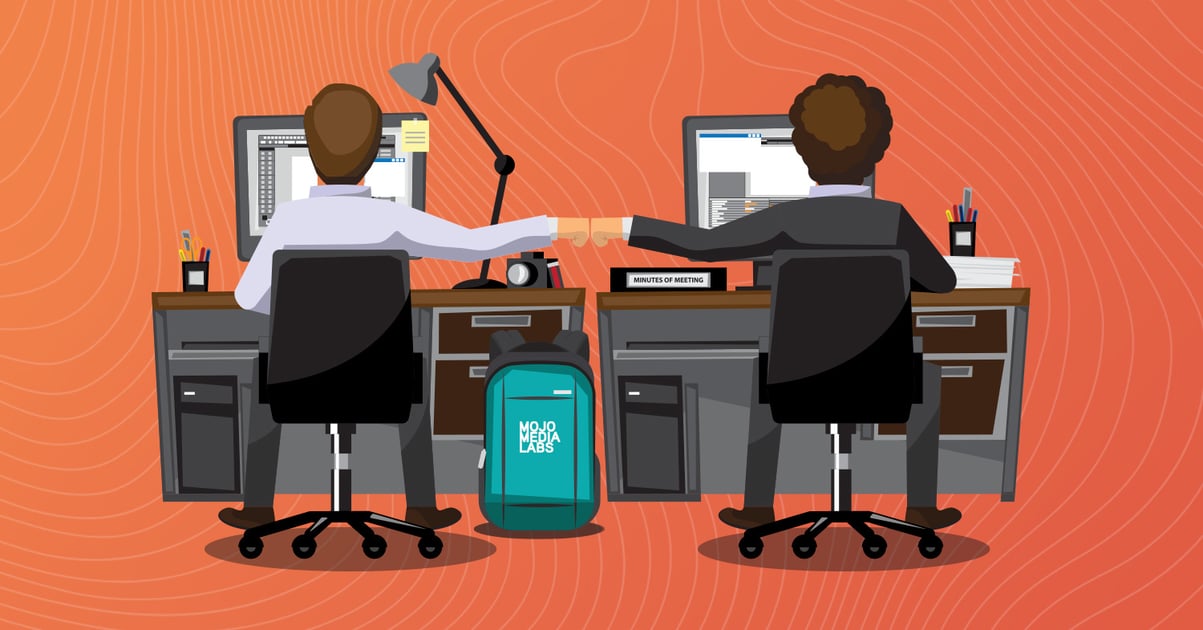 Traditionally, sales and marketing departments have lived in separate worlds. At this point, we believe that some things — including this siloed setup — belong in the past. Not only does it lead to a waste of time and energy, but it wastes financial potential for the business and bottom line. Here are some ways you can break down these silos, and they can all be set into motion by account-based marketing (ABM).
ABM Brings Departments Together
At its core, account-based marketing brings teams together to do their part in order to target the right accounts at the right times. It's a series of data-driven actions on behalf of sales and marketing, making closing deals much more likely.
Rather than working in silos, the two teams begin to synchronize, enabling each other to perform their best with data-driven insights and a focus on key accounts that help the business reach its primary objectives. To make this happen, we need role and responsibility alignment on each team. Here's how to do it.
Leadership Needs to Set the Tone
Change starts at the top. If leadership doesn't encourage team alignment and collaboration, it won't happen. The leadership team should make it clear that success happens together, with open communication and collaboration, which eventually leads to organizational alignment. This may require creating an ABM leadership team consisting of strong players from each department to create positive change and impact across organizational lines.
Create Lines of Communication
Increasing communication is highly effective in breaking down silos between sales and marketing. By doing so, you create a free-flow of information and inspire natural collaboration. Over time, the two departments begin to speak the same language, work toward the same goals and have the same definition of success for ABM.
Without open communication, sales won't know the type of content the marketing team is creating, and marketing won't know what kind of content sales prospects and clients are asking for. With equal collaboration, marketing can create customized content for specific accounts, based on insight from sales — and sales can make insightful pitches to accounts with the right data from marketing. It's a reciprocal relationship that is continuously fueled by the ABM model.
You can accomplish this level of communication with monthly meetings between sales and marketing and stay aligned through valuable feedback from one team to another.
Align on Roles and Goals
So, now you're communicating, which means you can align on goals, roles and responsibilities a lot easier. Who is the target audience? What numbers do you need to hit? Who is going to do what in order to accomplish that? While you make up one ABM team, you're still a team of unique but siloed strengths. Determine your roles and responsibilities based on those departmental strengths. Make those roles clear and then align on your goals by sharing:
Plans and execution ideas
New tactics
Metrics
Targets
Sales objectives
Leading and lagging indicators
Progress toward the goal
When marketing effectively takes on its role of sales enablement, sales wastes less time on lackluster leads, which produces:
Greater account success predictability
Visibility into marketing impact
Increasingly focused pipeline generation
Improved efficiency
Use Collaborative Tools
While marketing is sales enablement, these two teams need tools that will enable their collaboration, which will enable sales. You need to be able to share everything we mentioned above (metrics, comments, client status, feedback, etc.). You do that with tools and resources, such as HubSpot, Google Suite (especially Drive), Slack, ClickUp, ZoomInfo and more.
"The biggest assets I use in my day-to-day sales processes are Google Drive and HubSpot," says Josh Groves, Mojo's Business Development Specialist. "For Drive, we have enablement materials, like spreadsheets of sample work and forms that allow me to request help/new assets, and more. With HubSpot, I'm able to use sales tools that include task management, pipeline, forecasting, playbooks, meeting tools, etc. All around, these tools help smooth the path to a robust pipeline."
HubSpot = sales enablement.
Google Suite/Drive = organization enablement.
Slack = communication enablement.
ClickUp = project enablement.
ZoomInfo = research enablement.
Utilize Open-Book Management
Everything seems to come down to open communication, but there are many types of communication, whether it's about goals, roles, collaboration or… finances. With open-book management (OBM), which is what we have at Mojo, you can bring all teams together for total financial transparency — and literacy. OBM means both sides have a shared understanding of what's currently at stake for the company financially. Then, each team can apply this information to their next steps — all aligned toward the same central goal.