A Step-By-Step Guide to Promote Your Next Webinar
March 18, 2021 •Allison Gibbs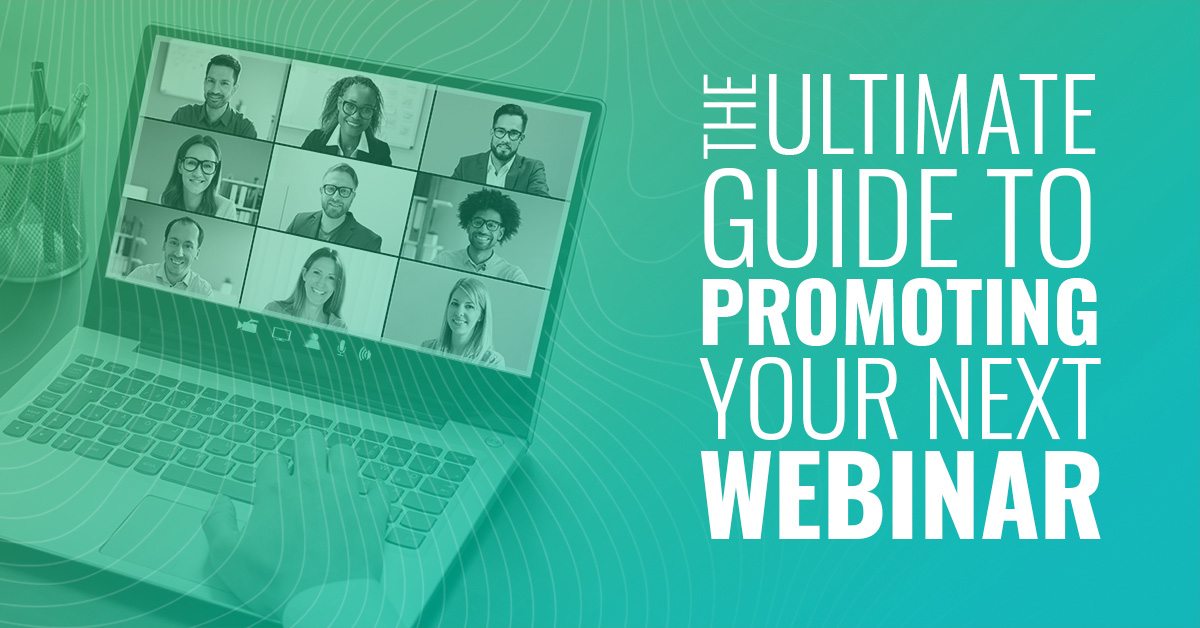 This post is part of our "how to webinar" series, and was originally published in 2015. We've updated and expanded the post here to reflect current best practices.
Webinars or webcasts are a potential powerhouse for your digital marketing strategy. In 2020, we saw an explosion of virtual events and webinars, and that trend is not slowing down anytime soon. If you've planned properly and thought of every detail, you've laid a solid foundation for success. But please, don't stop there! You have to make sure people know about your webinar and realize how your content will offer a solution to their biggest problems. It's the key to having them not only register, but show up.
The good news is that webinar technology hasn't really changed much in the last few years, but online promotion and connected marketing strategies have. Getting noticed is more difficult in the crowded space of online content—especially in the midst of a pandemic that has also brought a new era of zoom fatigue.
You can do a bang up job of promoting your webinar—follow every step to the letter—but if your topic isn't compelling and valuable to your audience, you won't get the response you're looking for. This is why the planning phase is so important. Make sure you have a great presentation first, then it's time to get the word out.
With adequate promotion and planning, hosting a webinar can generate leads for your business.
Ready to hit a home run with your next webinar? Here are a nine proven steps to promote it well.
1. Create a Landing Page
An event landing page is home base for your webinar. When you promote the event through email or social media , point your readers to this one link for registration and event details. This ensures that your reporting is comprehensive when reviewing data and analytics.
Be sure to nail down all the details of your webinar first before you publish this page and start directing people to it. Here's what you'll need to set up your landing page:
Title of presentation
Date & time
Presenter name, title, (optional: bio)
Short description of webinar topic, bullet points ("what you'll learn")
Featured image, for social media sharing
Registration form
Once you have the details nailed down, choose your preferred webinar platform. Here are a few of our faves.
Now, it's time to create the landing page where people can register for your event. Here's one way approach to consider:
Create the webinar and customize the registration page as your landing page. This is very basic and does add a little friction to your sign-up process (so it's not the best option), but does work if you do not have an easy option for creating new pages on your website.
Build the webinar in your platform of choice and integrate the registration form into your landing page (HubSpot has an integration like this, and we recommend it.)
If you use other platforms, you can probably find a way to integrate your webinar registration form with whatever platform you use. This helps streamline your process and keep your registration/lead data in your marketing automation software.
Then, write an engaging description so that people can't help but sign up. Make sure you explain why this topic is important and how your attendee will benefit.
Finally, limit the number of fields to encourage sign-ups. Too many fields in the form will scare people away. As a general rule, start with three main fields for your submission form: name, email, and company.
2. Follow-up Details
When it comes to follow up, focus on the details. What happens when someone registers for your webinar? Do they get a confirmation email? Do they get redirected to a Confirmation or Thank You page? Do they get a reminder email or two before the day of the webinar?
When you test your landing page and registration form, pay close attention to the smallest details. If you're using automated follow-up emails from your webinar platform, take time to update and customize them. When you complete the registration form, direct the user to a Thank You page that reassures the user they will receive an email and reminders with details on how and when to join the webinar. Use the Thank You page as an opportunity for another point of contact or engagement—watch a video, subscribe to the blog, etc.
Everything you do communicates. Use the follow up process as an opportunity to build trust with your attendee.
3. Email
Once the landing page and follow-up emails are sorted out, we send an email invitation to a segment of our email list. Your email should include:
An enticing subject line (use this free tool to help)
Personalization (name tokens, segment information)
Event details
Description (what they'll learn and why they should sign up)
The registration link (which you created above)
After you send the first email (ideally a month before the event), it's a good idea to send a reminder email or two to those who haven't registered yet.
4. Social Advertising
By now, you have your webinar details set, a landing page is live and you have started telling people about it. The next step is to run targeted social media ads to website visitors and other custom audiences. LinkedIn and Facebook are two good places to start social ad campaigns for a webinar.
You can build custom audiences on Facebook using demographics and tracking. Facebook requires a great deal of data from every person who sets up an account—location, age, and interests are just some of the things people willingly put in their profile that can be helpful to advertisers.
All of this data makes it easy for Facebook and LinkedIn to target ads that will seamlessly mesh with their users' profiles. So if your target audience for the webinar is marketing professionals who work in the healthcare industry, for example, you'll be able to direct your Facebook ads to just those people.
Wondering what in the world to do with social ads? Here's a Facebook Ad Primer for Beginners to help you get started.
5. Organize Promotions with a Social Media Calendar (and A/B Test Your Ads)
A social media content calendar is useful when scheduling your promotions and ads. You can see what's going to be posted on each social media network, day by day. Share the registration page on social networks at least once a week leading up to the webinar.
The first post should introduce the webinar and what it's all about, then the subsequent posts may highlight one or more of the main points the webinar will cover. On the week before the webinar, start counting down to give a sense of urgency.
"Next week, join us..."
"Last day to register, there's still time..."
Run your ads every day until the webinar for a set budget, per day per network, that works for you. Test your ads to see what performs the best, and then adjust your ad campaigns accordingly. We generally test one element at a time, such as an image or the CTA button text. And, platforms like Facebook keep optimizing the process for businesses so that you get a clear understanding of what performs well and resonates with your target market.
6. Contact Key Prospects and Clients
Here's where you need to add a personal touch to your marketing. As great as marketing automation is, it's not a substitute for intentionality. In fact, we believe marketing automation is not a substitute. It's a tool that better positions you to offer that personal touch that we all want from our favorite brands.
If you have clients you know would benefit from your webinar, pick up the phone and personally invite them or send them an email. Take a look at your sales leads (especially those that you haven't fully engaged yet) and make contact. It's a great time to reach out when you can offer something valuable to a prospect. That personal contact and demonstration of your expertise might nudge them to become a client or customer.
7. Blog About It
If you have a guest presenter, ask them to write a related blog post and then publish it as a guest blog post. We don't recommend simply writing an ad for the webinar disguised as a blog post. Rather, offer valuable content that ties into the subject in a natural way. For example, if your webinar is "The Marketer's Guide to ADA Compliance for Websites" the blog post could be titled "ADA Compliance: Would Your Website Pass?"
Include at least two calls-to-action and link to the webinar landing page you created (because you now have a game plan to follow 😉) in the blog post.
You can use that strategy in reverse, as well. Offer to write a guest post for a strategic partner, and be sure to include links and CTAs to register for your webinar.
8. Use Your Platform
Whatever platform you have, use it. We have a very active podcast, Made You Click, so naturally we'll promote webinars, workshops and other events on the podcast and encourage listeners to register at the landing page.
Maybe you have a weekly video series or newsletter? Use it to promote the webinar. Always give your audience a detailed next step. One of the biggest mistakes businesses make is to create a full marketing plan and then neglect to clearly call the read to action. Plus, do everything in your power to make it easy for them to sign-up.
If you're active in a LinkedIn group or professional association that meets in person (safely, of course.), share the webinar with the group if the topic applies. Perhaps you have professional Slack channels that you're active in? Share the webinar link in the channel (or to individuals in the group, if that seems too spammy).
9. Repurpose the Webinar
Once the webinar is over, you can still use and promote it! All of that work creating and presenting the webinar should not go to waste. Use it to drive more content for your blog, webcast archives for watching on demand, or even a downloadable guide—you've got lots of options. Think about all of the ways you might want to use the webinar after it's over.
Do you want to direct registrants to a video page with the recorded webinar, with transcript and downloadable handouts?
Do you want to invite those who weren't able to attend the live webinar to this page?
If so, embed the video in a blog or recycle the topic for your next video series or podcast.
You can use YouTube, Vimeo, or Wistia for hosting recorded webcasts. Wistia and Vimeo Pro offer advanced features for capturing leads and controlling the way the video embed looks on your website.
We encourage all of our clients to make webinars part of their digital marketing plan. It's a great way to engage with prospects and your client base. Commit to a robust promotion strategy for your webinar and you'll reap the rewards.
Ready to invest in webinars that lead to a solid return on investment?
1. Execute the steps in this guide.
2. Review these related webinar resources.
10 Essential Tips for Recording a Webinar
How to Host a Webinar That Will Generate Leads For Your Business
3. Come back and share your success story with us!
Allison found her love for marketing while studying business alongside her theatre degree at Indiana University. She loves offering simple solutions to complex problems (and tacos). In her down time, she loves a good run and staying involved in theatre (which landed her in a SuperBowl halftime show alongside Madonna)