6 Tips to Create Spectacular Facebook Posts for Your Business
February 17, 2017 •Mojo Media Labs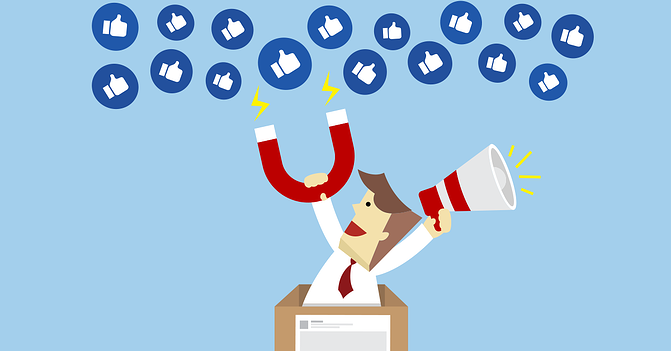 Do you ever feel like your social media posts are missing the mark despite your best efforts? Everyone knows Facebook is the 800-pound gorilla in the room when it comes to social. In fact, 93 percent of marketers use Facebook for their business and 91 percent have also invested in Facebook Ads. Recently, organic reach on Facebook has plummeted by 72 percent. Yet, respondents still admitted Facebook use has stayed the same or increased over the past 12 months. Even with a massive potential audience, it can feel impossible to make your posts "sexy" or interesting enough to beat out jazzy Buzzfeed articles or the latest political scandal.
Your business faces limited time and resources every day. So how can you secure exceptional Facebook engagement without spending 8-hours online every day? English poet, William Cowper claimed, "Variety's the very spice of life, that gives it all its flavor." So, why not try switching up your post format by using variety to demand your audience's attention?
I'm going to show you 6 Facebook post strategies I use every day as a full-time social media manager to help my clients at McMahon Marketing stand out in a sea of fractured attention through variety. Ready? Let's get down to business.
1. Always Be Capturing
If you're not capturing photo, video, links, and ideas every day — you're falling behind.
Gary Vaynerchuk gave his perspective stating, "I'll give you the biggest tip when it comes to content creation: Document. Don't create." Basically, he means that you should stop overthinking your posts and focus on consistent volume.
Social Bakers conducted a study revealing the top brands on Facebook post once per day on average. They also found that posting multiple times each day was more likely to be seen as annoying — but waiting an entire week between posts caused audiences to disengage.
So what's your next move? Create a system that posts once every day on Facebook — even if you don't think it's one of your all-time best. Social media is a marathon, not a sprint!
Use a scheduling tool like Buffer to space out your posts in advance and download the app to your phone. Become a relentless documentarian with your smartphone and take dozens of photos and videos every day in your workplace — at least one of them will be worth sharing, right?
It can also pay to cast your net widely and try numerous post types. Here are a few that I've experimented with in the past.
Video
360 Video
Live Video
Individual Photos
Photo Albums
Photo Carousels
Animated GIFs
Audio Recordings
Link Posts to Longform Blogs and Posts
Canvas Posts
2. Schedule Videos and Photos in Batches
Eighty-three percent of marketers said they'd like to create more video content if they didn't have restraints such as time and resources. It's easy to feel overwhelmed by the never-ending treadmill of photo and video posts. There are a lot of moving pieces in every one!
Here's your secret weapon to cranking out media like clockwork: Create photos and videos in focused bursts.
A Harvard Business Review article cites a study, revealing that productivity falls up to 40% when workers attempt to "multitask" by scattering their attention between different tasks. Instead, block off 15-25 minutes every work day. This will be your dedicated creative time.
Your only focus during this time will be to document, create, and record. This is your chance to play documentarian. (Move aside, Michael Moore.) I've saved hours of preparation time for videos by doing the research, outlining, and communication to my team in advance before recording multiple videos back-to-back. It's a brilliant time-saver. So, stop recording one-off videos and don't settle at just a single photo. Fill up your camera roll until it's overflowing, then edit and schedule them all together.
Your schedule will thank you.
3. Highlight Your People
When in doubt, focus on your primary business asset: your people. A 2004 study revealed that employees who receive praise on a regular basis stay more productive, engaged and more likely to stay with their organization than those who don't. Never underestimate the power of your existing network when you're starting to grow a page either. Most employees have parents, spouses, children, aunts, friends, and other connections that will like and share posts about their favorite people when given the opportunity.
What does this look like practically on Facebook? Create a format for easily sharing the words and actions from your co-workers that most embody your organization's values.
Here are a few suggestions to get you started:
Start highlighting a different team member every week by including a photo and short bio.
Highlight major personal and professional accomplishments at every turn.
Share weird or unusual facts about each person.
Kick off your next meeting with a quick, off-the-wall game — then record everyone's participation.
Create a quote graphic summarizing a teammate's perspective on a subject or event.
4. Put Customer Testimonials Front-and-Center
Exactly how powerful are reviews and testimonials? One study showed consumers trusted product reviews 12x more than descriptions from manufacturers. It's tough to win over the trust of your audience — but using the words of similar individuals goes a long, long way.
That's called social proof: the idea that people will imitate the actions of others to reflect the correct behavior in a given situation.
Make sure you consider applying these 6 types of social proof when you're planning Facebook posts to convince your audience to take an action:
Testimonials
Case studies
Reviews
Highlighting comments or customer posts
Icons from awards or trusted organizations
Data and numbers
5. Unlock the Power of Animated GIFs
A GIF is able to convey emotion and information in a quick, entertaining way that most mediums can't.
But, why should you use GIFs beyond the fact that they're entertaining? Hootsuite provides a list of compelling reasons:
GIFs show that you're paying attention to internet trends.
GIFs show that you and your brand have a fun side.
GIFs can add more context to a shorter message, post, or Tweet.
GIFs get your message across in a shorter amount of time.
GIFs are easily shareable.
GIFs convey emotions better than text or photos alone.
And they aren't just blowing hot air. They used a GIF on Twitter to attract 80 Retweets, 80 likes, and 760 link clicks. That's not too shabby!
Here's the bottom-line: Using GIFs in the right context can drive significant gains in your post engagement.
The Facebook page for We are Social Media regularly uses clever GIFs to crack jokes or convey emotions in a clever, to-the-point package.
Start building a collection of your favorite GIFs to surprise and delight your customers. (Buffer has a great, safe-for-work list to get you started.)
Use

this GIF Maker

by Giphy to transform your photos or videos into custom animations you can use anywhere on the web.
Keep a sharp eye out for other brands using GIFs to

reel in massive engagement.
6. Embrace Facebook Live to Provide Live Commentary
It's a simple idea: Create an immediate, real-time video that your audience can dip into to experience an event with you. But, why will live video help you improve your Facebook following? Live video can provide huge engagement numbers and promote a "media company" mindset inside your organization. Early reports have found that people comment over 10 times more on Facebook Live videos than on regular videos.
Boosting engagement is a great bonus, but learning how to create compelling video content provides a long-term benefit. Whether you're sharing your message on a television show, Facebook Live post, or a live-streaming app that hasn't been created yet — the fundamentals of exceptional real-time video remain fundamentally similar. In the past, businesses would pitch local television stations to secure coverage. Today, your challenge is to become your own #1 channel.
Gary Vaynerchuk said it best, "Everybody in the world is a media company. Whether you're an entrepreneur or a business, everybody's in the media business."
Follow these tips to make your next live broadcast a smash-hit:
Be surprising! Move around the room, invite team members into the conversation, and build anticipation for what's next.
Engage authentically. Unlike television, you can directly respond to comments as they happen. Take advantage of this to answer questions and maintain relevancy.
Invite a guest! Turn your broadcast into a weekly program your audience can come to understand, anticipate, and expect.
Conclusion
It's easy to feel completely overwhelmed by the limitless options for creating Facebook posts to drive engagement and traffic. You can experiment with a wide variety of effective Facebook post types without adding unnecessary complexity. Start with the list above and start with the format that makes sense for your business.
Here's my biggest piece of parting advice: Create a routine of using the post types listed above to regularly shake-up your post queue.
No one likes seeing the same exact message or photo mindlessly repeated. Create a habit of continually testing new creative ways to share your message, engage your audience, and develop a loyal following.