5 Things You Aren't Doing to Improve Your Social Media Marketing
November 15, 2016 •Chandler Smith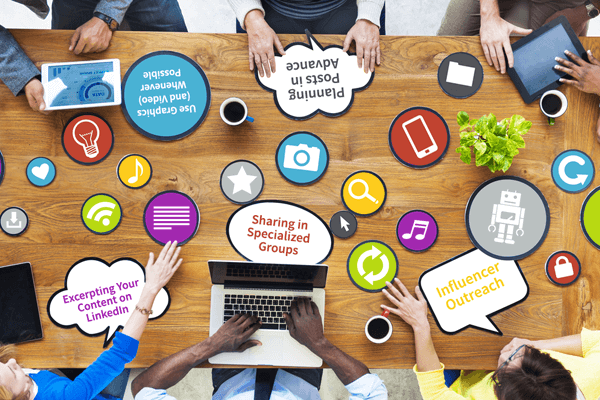 Most B2B companies are engaged in social media marketing, but many of them aren't taking complete advantage of the platforms. Beyond self-promotion, culture posts and even sharing interesting content, there's so much more you can do to maximize your company's exposure and lead growth. Like anything else marketing (or inbound marketing, specifically), social media requires a comprehensive strategy. Here are 5 things you should be doing with your social media to get where you want to go.
1. Excerpting Your Content on
LinkedIn

LinkedIn is the most used and best social media platform for generating leads, so it's important to do everything you can to take advantage. While you should certainly be sharing content from your company page if you aren't already, excerpting content through employee profiles will significantly boost exposure and drive traffic. This is such a powerful tactic because employee networks will likely be closely tied to target industries and personas. Not only do more eyes see your content, but it will be shared by what readers deem a trustworthy source.
2. Sharing in Specialized Groups
In addition to excerpting content on LinkedIn, this channel allows people to join specialized industry groups. While blatant self-promotion should be avoided when joining in on the conversation, this is a great opportunity to establish thought leadership in a space. Other influencers in your industry will be keeping close tabs on group discussions, giving you an especially targeted place to share your content. Sharing your content can be an effective way to spark a conversation and indirectly generate interest in your site.
3. Influencer Outreach
As you post your own published content, you will be joining a much broader industry conversation. You'll likely be referencing other industry experts and giving them credit via social media (especially Twitter) can plant the seed for a relationship with industry influencers and publications. See a piece of content you like? Share it with your network and provide your own commentary. Think there might be an opportunity with an industry publication? Investigate the possibility of a guest blog.
4. Planning Posts in Advance
Pre-written social calendars are handy, especially when combined with a tool like HubSpot where social posts can be scheduled in advance. While pre-planned posts shouldn't be all you do on social media, it can ensure you remain consistent and give the content you publish the publicity it deserves. Continue to monitor your social channels as you publish for any potential conversations with leads. An inbound marketing agency can create calendars and monitor your social channels for you.
5. Use Graphics (and Video) Whenever Possible
According to Marketing Watch, publishers who use infographics increase their traffic by 12 percent and views spike by 94 percent when content contains compelling images. There's simply no excuse to not have images in your social posts when the opportunity arises. If your goal is to grow your following and web traffic, this is the way to do it.
Social Media Advantages of Inbound Agency
The inbound marketing process is focused on nurturing leads through the buyer's journey until leads convert into customers. These social media tactics are crucial to an inbound social media strategy and overall nurturing process. An inbound marketing agency can help you manage your social accounts and maximize their lead generating potential. From excerpting, to influencer outreach and monitoring, an inbound agency will cover every base.