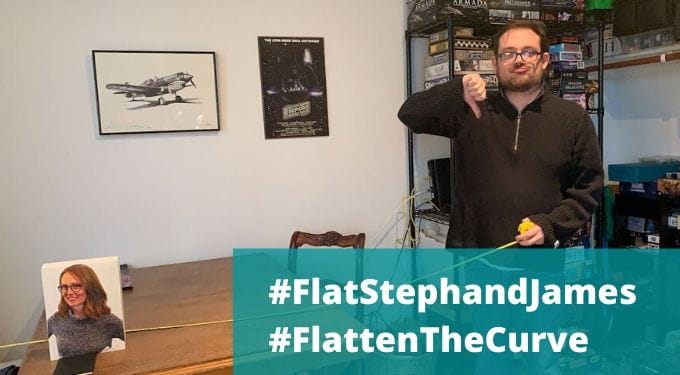 HOUSEKEEPING
Remote Work stories from the Random channel are keeping us smiling right now.
Pandemic PSAs with James & Steph, a new series? #FlatStephandJames #FlattenTheCurve
FEATURED TOPIC
Allison talks with Mike Rose and Nikole Rose about COVID-19 and ideas and opportunities for our clients and other businesses.
This is an opportunity to show empathy. Now is the time to serve, not sell.
Mojo is an extension of your team. We know this has been disruptive to your team's day-to-day, so please think of us as an extension of your team to help communicate internally and externally. Mojo can and wants to help each of you with this charge. We'll be as proactive as possible to make this happen, but please reach out with any needs you may have. Even though how we market may temporarily change, those who continue to market will be better positioned when COVID-19 subsides. Customer advocacy and internal marketing will be imperative to come out of this situation stronger – please think of Mojo as your communications team to help retain top talent and current revenues, not just a revenue acquisition partner.
Advice from a Results Only Work Environment. At Mojo Media Labs, our internal workings haven't been impacted by the COVID-19 news. We have been working as a ROWE (Results Only Work Environment) for well over a year now – which means our team members are used to working where, how and when they want, as long as they're meeting their results. This is important for you to know as we will continue to be fully staffed, and focused on helping you, our valued clients. If you're interested in learning more about ROWE or just looking for support to more easily adjust to situations that require your team to work remotely – please let me know. We are happy to share our resources and have team members on standby that can assist!
Think long-term. Your organization, as most are, may be pressuring departments to shed unnecessary expenses, conserve cash and consider reinvesting. This is a tricky one because it will feel like you should cut everything and anything possible. I encourage you to think long term! We value marketing so much that amidst the current environment we have hired a new Marketing Director for Mojo. Pipeline and revenue solve all. Let's talk about a strategy for your company and the best way to leverage your marketing funds right now to combat negative impacts on your bottom line and help support your team when you may need us most.
Let's double-down on finding new business right now. It may be more difficult but there are still many opportunities for each and every one of our businesses to gain market share. Many potential customers are in industries that will benefit and weather this season. Show yourself as a confident leader in the field, instill confidence within your prospects and team and don't give in to the negativity and fear.
Lastly – get closer to your clients. Find out how you can become more valuable to your clients now and apply those learnings to your service offerings in the future.
Stay healthy. Be a positive example to your team. "It's time for leaders to be cheerleaders."