Episode 20 - What Can B2B Marketing Learn from KPop?
June 27, 2019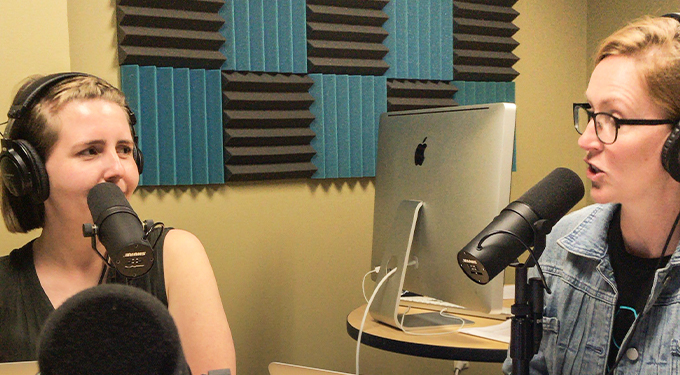 WHAT CAN B2B MARKETING LEARN FROM KPOP?
Simplicity, Consistency, Promotion/Distribution, and Advocacy. Bonus - Print Marketing!
Quick Background
Wow we love a little background - 3rd wave happening now. First was in the 1990s, second was early-mid 2000s. 3rd is now. Huge global expansion and international appeal for the first time.
Why is it blowing up now? - Hybridization and Globalization. We love the internet and its capabilities to get things spread worldwide.
Simplicity
Acronyms and abbreviations -
B2B - business to business
BTS - bangtan sonyeondan → Bulletproof Boy Scouts
BAP - Best Absolute Perfect
VIXX - voice, visual, value in excelsis
B(SHINee) - Not an acronym, but there's a joke about the groups debuting with acronyms all starting with a "B".
Chorus is typically in English or easily accessible Korean at least to reach international audiences.
Method to the madness. Acroynms are memorable and they're easy to pass around. Doesn't have to be an acronym, but simplicity in naming, branding, and messaging gets your point across much more clearly and in a memorable fashion.
Consistency
Kpop dances - key point that's memorable.
Super Junior "Sorry Sorry" - one of the most memorable dances, songs, still repeated and mimicked today.
B2B branding and marketing - have a key point that's memorable. Your logo, a tagline, something!
Additionally with colors for your site and branding, make sure it's consistent. It helps audiences stay on the right track to conversions if they feel stable on your site.
Promotion & Distribution
Kpop promotions - for new songs and releases, artists will promote their song with a live performance across 6 or 7 music shows for 4-6 weeks depending on the group and whether they are new (a debut group) or have been around the block a while.
Allows audiences to see the group multiple times a week, consistently promoting their new single and gives them time to learn fan chants for the new song.
Songs are also released on iTunes, Spotify, and native Korean music streaming sources like the MeLon app
B2B businesses should consistently promote their offer across multiple distribution channels and ensure their message/offer is available to all who might enjoy it, within budget of course. That's the caveat.
Advocacy
Kpop fandoms - fandom culture means dedication to the group and spreading their songs across the internet.
Fan chants are audience choreographed call outs that take place during performances. Rather than screaming the entire performance, it's a well-timed and organized exhibition of approval and enjoyment.
Not so different from B2B advocates, right? If you are a brand advocate you'll leave a public review on their website, give a testimonial, refer others to the brand.
Additionally, you might even post a well-thought-out review for a customer (think Airbnb)
BONUS: Print Marketing
Kpop albums and goods are sold like crazy not only in South Korea but also internationally. There's a Kpop store in Chicago's Chinatown with everything from shirts and pillows, to mugs, stickers, keychains, and of course print albums.
The albums are the focal good. They're massive editorials with photos and even smaller photo cards fans can carry with them at all times. Like a wallet photo of your kids, but they're a Korean artist.
They cost a lot to make, sure, but they're tangible, memorable, and make a lasting impression for those who want to invest.
Print marketing in B2B has seen a little resurgence, arguably. With Account-Based Marketing, especially, print marketing materials sent to the right target accounts can have a lasting impact on the future of the closed deal and how big that contract size ends up being.
Not the same method, necessarily, but it emphasizes the power of print for the right audiences.