HAINES
MASSAGE
Website Design
SUMMARY
Allissa Haines is owner of Haines Massage in Plainville, Massachusetts. She has been a massage therapist since 2005. She is a passionate advocate for her profession and active member in massage therapy marketing groups.
CHALLENGE
Allissa wanted a simplified site with reorganized content that made it more intuitive, and user friendly, so that visitors knew how to schedule an appointment or learn more about massage in general. She wanted beautiful photography that welcomed visitors and set appropriate expectations.
INSIGHT
As we began planning the new website for Haines Massage, Allissa was thinking about how other massage therapists would want a site like this. She gave the Mojo team insights on the needs of other massage therapists and we began working on a new, affordable website template designed especially for massage therapists.

SOLUTIONS
Claim your Calm
Allissa was a great client who provided everything we needed in a timely fashion. She pursued quality photography and made it happen. Stock photography of massage therapy is almost always inaccurate or unprofessional. She wanted her site to show what a client might actually see and expect when coming in for their first massage. Allissa set up photo shoots with people she knew, so that her photos represent a real massage therapy session in her space.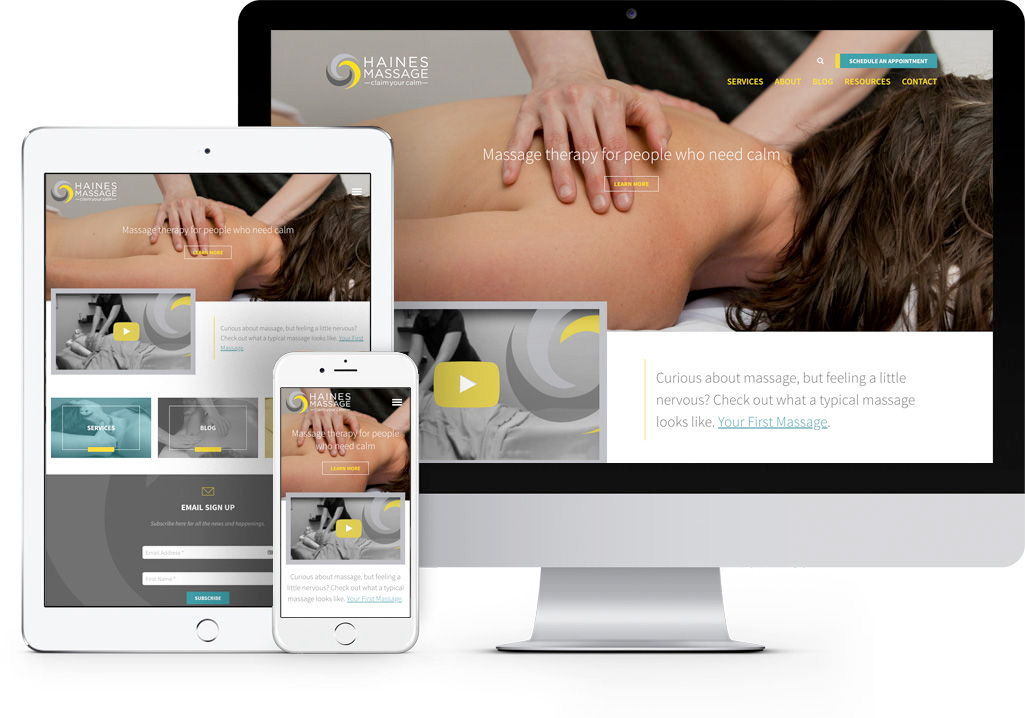 MASSAGE THERAPY WEBSITE TEMPLATE
Allissa helped guide us during the process as we developed an affordable, easy to use template for other massage therapists.

RESULTS
Haines Massage tagline is "Massage therapy for people who need calm." You feel calm as soon as you land on this website and begin learning more about Allissa. Her words, images, and organization lead the user to a sense of calm and peace, whether they are booking their first massage or returning for their 100th visit. Learn more about Haines Massage at her website.