Why HubSpot is the Best CRM Platform for Scaling Companies
July 28, 2021 •Nikole Rose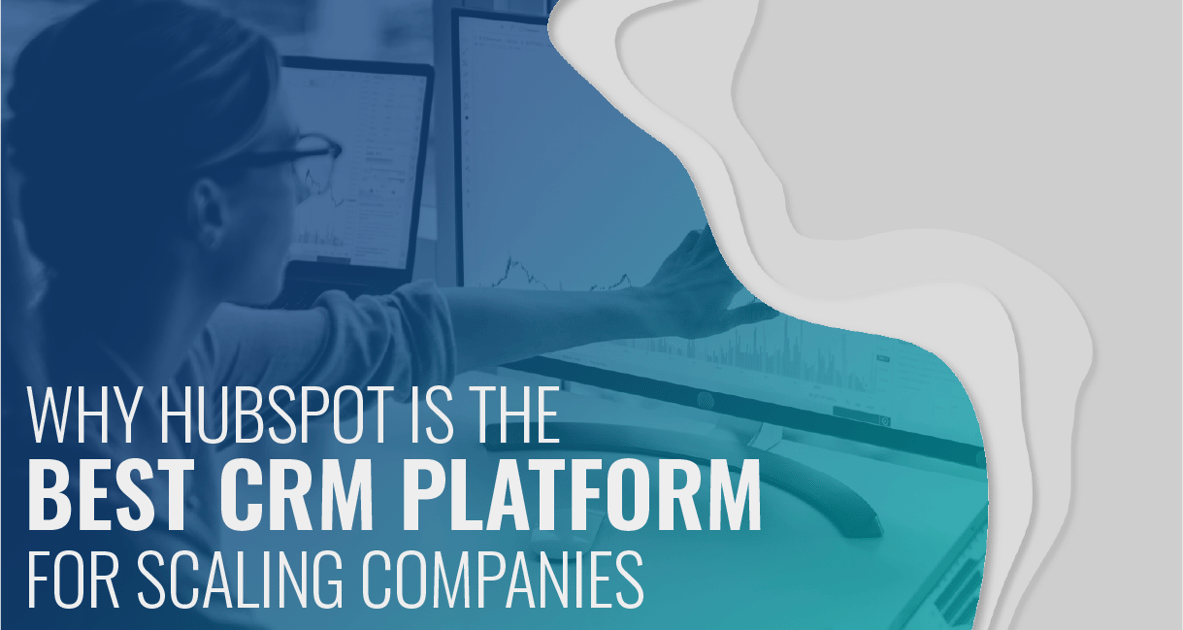 HubSpot started out as a marketing automation platform when it first came on the marketing tech scene. Since HubSpot's inception, marketing and customer relationship management software are just a few of the tools HubSpot has to help businesses scale.
HubSpot is the best customer relationship management (CRM) platform for rapidly scaling companies. If you are looking to streamline your business processes, HubSpot is for you. If you are looking for a tech stack that can meet your needs today, tomorrow, and forever, HubSpot is for you.
Below are the top 5 reasons HubSpot is the best CRM platform for scaling companies.
HubSpot Grows With You
One of the largest reasons HubSpot works incredibly well with rapidly scaling companies is its pricing model. With HubSpot's pricing model, you can actually get started with a free CRM. Additionally, they offer free marketing, sales, service, and operations tools.
As the needs of your business grow, you can move up in tiers to get access to more features. HubSpot breaks its suite of tools into different "Hubs" so you can easily access the features you need and not have to pay for the tools you don't.
Additionally, you can upgrade Hub separately to match your needs. So you can have an enterprise-level sales Hub while using the free version of operations Hub. To put it simply, you can get started with HubSpot today for free, and start paying to upgrade specific tools as you need them. No other CRM makes tools this accessible and easy to scale.

Crafted, Not Cobbled
Many of the large players in the CRM space built their robust suite of tools through acquisition. So though many of the tools all have the same logo on them, they were all built by different companies.
As a result, there is often not intuitive functionality and it feels more like integrations between tools instead of one seamless tool. The tools feel a bit cobbled together.
To be clear, if you have the time to work on ensuring all of your tools are seamlessly integrated and have someone that can develop the custom integrations you need for your business, these other platforms may work well for you.
With that said, HubSpot was entirely built from the ground up by the HubSpot team. Every different tool works well together because it was specifically designed that way. No acquisitions to get new tools. Just intentional building from start to finish.
This completely crafted approach gives HubSpot an unparalleled ability to provide seamless cross-functional communication and an incredibly intuitive design. Once you've learned one area of HubSpot, you've learned how to navigate well within every aspect of HubSpot's toolset.
Ease Of Use
From the start, HubSpot prioritizes your ability to scale using their platform. Growing a business is already hard enough. HubSpot's intuitive design makes it a bit easier.
As a result of HubSpot building everything from the ground up, it's incredibly easy to use and incredibly intuitive. Many people can easily get into HubSpot and find themselves navigating like a pro within their first day in the tool.
For anyone looking to have a bit more advanced functionality within the tool, HubSpot offers a free HubSpot Academy where you can learn exactly how to use the tool through helpful videos and practical exercises. Once you've completed a course, you can get a certificate to highlight you're new skills within the tool.
Lastly, HubSpot has an incredibly robust knowledge base filled with videos, articles, and screenshots to walk you through any use case you can think of. If there is something you specifically need help with, HubSpot's service team is always a chat window away.
The way HubSpot designed its tool makes it easy to use. The way they prioritize customer success makes it easier to scale your business.
One System for Everything
HubSpot offers 6 different suites (or Hubs) of tools including a CRM, Marketing, Sales, Service, Operations, and a Content Management System (CMS Hub). Every one of these tools functions within the same system.
That means your marketing team can easily pull information from your CRM to create a hyper-personalized campaign using personalization tokens. From the landing page to every email can have complete consistency because you are pulling from the same customer data.
That also means your reporting will have an unprecedented level of accuracy. When everything is running out of the same system, you can more accurately see what marketing drives the sales process and delivers more customer interactions to the sales team.
With HubSpot, you have more than a seamlessly integrated tech stack. You have a single system that drives business growth.

Alignment
Despite how every internal team works a bit differently, everyone is on the same team. Everyone in your organization is trying to serve the customer and increase revenue. With HubSpot, you can more easily align your teams around doing just that.
Every different person in the organization has complete visibility into the customer's experience with your business. As a result, sales can see the exact marketing actions that have driven customer engagement to ensure they have a better and more relevant conversation.
Marketing and sales can see what marketing activities are driving leads, and which lead source provides the most revenue. From there, marketing, sales, and service teams can identify which customers are the best fit and result in the longest lifetime value.
When you have the ability to identify which lead sources provide best-fit customers that increase year-over-year revenue, your business will scale. You can only have this level of insight when you have software like HubSpot that facilitates teamwork.

Start Researching
After reading this blog, you may want to conduct some specific research regarding HubSpot functionality with businesses similar to yours. HubSpot's CRM platform likely has been implemented within another organization similar to yours.
The main things you want to identify are what software you will specifically need today, and over the next 5 to 10 years. Once you have implemented a CRM, it's a massive undertaking to transition to a new CRM.
Once you've identified what you will need, try to understand the potential benchmarks of what you will need over that time period from an employee and tools perspective. Once you have a general understanding of what you are trying to achieve, you can accurately assess not just what tools will be best for your business today, but what tool will be best as you continue to scale.
If you'd like to have a specific conversation regarding how HubSpot could work in your business, schedule a call today with our growth consultant.

As President & COO, Nikole is obsessed about building a great company made up of an inspiring culture and highly successful client engagements. Outside of Mojo, Nikole is also pretty obsessed with traveling, spending time at their cabins in Broken Bow OK, her Golden Retriever, Bella, and enjoying Italian dinners and wine with her husband, Mike.