What's the Role of Marketing Technology on a Website?
December 8, 2021 •Nikole Rose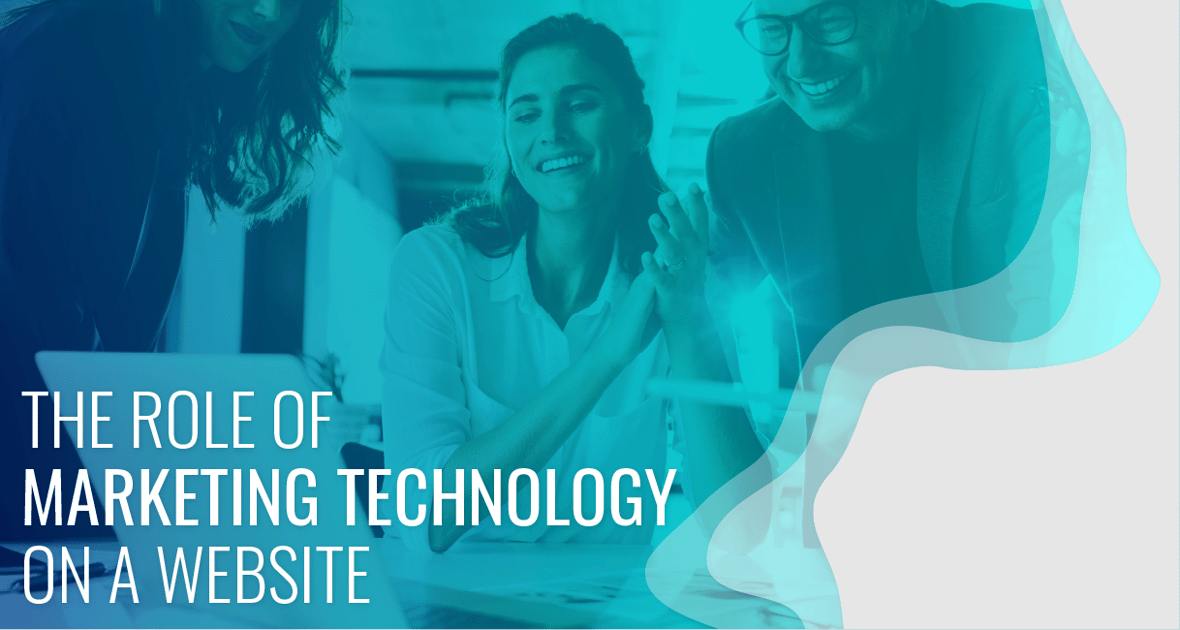 You've probably been on a website that had a truly amazing experience.
Live chat.
Personalized content.
Easy navigation.
Up-to-date information.
And easy to schedule time with sales when you're ready.
A vital part of a modern, scalable marketing strategy relies on a great website. To have the engaging website features mentioned above, you need some foundational pieces of marketing tech (martech), like an effective customer relationship management (CRM) software, marketing automation, and a content management system.
Ideally, all of your technology would work together to create a completely seamless customer experience. When everything works well together, your website becomes the streamlined entry point for your sales process that constantly keeps your potential and existing customers engaged with your business.
Looking at the martech stack, start with your CRM.
Customer Relationship Management Software
Your CRM should function as the primary source of truth for your business. When your CRM directly integrates with your website, you can leverage your website to collect customer data to share with your marketing automation. When your CRM doesn't integrate with your website, you aren't collecting valuable information that would better inform you on the specific topics your ideal customers are interested in.
Additionally, you can leverage your CRM to create personalized content on your website. Think of how Netflix welcomes you back after you've created your account. They have the perfect show ready for you to watch. Even the text on the site changes to welcome you back by name. Likewise, if you have a website powered by your CRM, you can create website content that directly addresses your audience by name.
For example, check out this landing page. This landing page is a simple example, but you can see the power that a CRM-powered website can have for engaging both customers and prospects.
If you don't have a CRM or a website that directly integrates with your CRM, you will likely want to partner with an agency. Your agency can help with technology onboarding, implementation, internal adoption, and data management. Of course, you can purchase a CRM without the assistance of an agency, but it's highly advisable that you purchase an onboarding package from your CRM provider.
Many companies purchase a CRM and try to save money onboarding themselves. Implementing new tech can be done without outside assistance, but most companies without onboarding assistance end up spending thousands on software they haven't even set up. To get the most out of your software, get help with CRM onboarding and implementations.
Marketing Automation
You can create highly engaging and scalable digital marketing efforts with marketing automation integrated into your website. When leveraged appropriately, you can curate content that directly relates to what your website visitors are showing interest in.
For example, if you frequently create blog content, you can offer people the opportunity to subscribe to it. With marketing automation in place, you can efficiently distribute your content directly to those that have indicated interest. With the right software, your content can be emailed automatically to your blog subscribers and distributed through social media. Set up the email template, pick your list, and start creating content.
Marketing automation doesn't just end with email marketing. With the right systems in place, you'll easily and effectively manage your advertising, social media, live chat, and content marketing activities, all within the same system. Marketing automation platforms often have analytics tools to equip marketing teams with the ability to report on their marketing campaigns. By managing your marketing activities in the same system, you'll have better data to see the overall effectiveness of your marketing efforts.
There is a bit of onboarding required to implement marketing automation. It's highly advisable to partner with an agency or your marketing automation provider to undergo a streamlined onboarding process. Onboarding services will ensure you get the most value from your technology more quickly.
Sales Software
For many companies, you will already have sales software built into your CRM. As you look at your existing sales, you will want something more than a glorified digital Rolodex. You want a tool that will get meetings booked with the right people with ease. The expectations of buyers today have never been higher.
Ideally, you would provide your buyers with numerous paths to speak with sales that best suit their needs. Some people will potentially want to call. Others will want to book time directly on the calendar. Some will want to chat directly with sales. Look at your team. Identify what your capabilities are. Then provide as many sales connection points as possible for your buyers.
As we look at our B2B clients, most of their customers simply want to book time directly on the salesperson's calendar. Depending on how your organization is set up, this idea could be more difficult to implement. But the closer you can get to eliminating any friction points between a requested meeting and a booked meeting, the better. If you want to see an example of this concept, check out our schedule a call page.
Content Management System
When thinking through the role of tech in your website, your CMS is the most critical piece. Your CMS is what your website is built on. We mention this piece last simply because for many companies, it's easier to re-platform your website than it is to transition your CRM. As you look at your already existing CRM, you'll want to ensure you can easily integrate everything into your CMS. If it doesn't, that might indicate you need to make a change.
Your website should take potential visitors and turn them into sales conversations. Without your technology integrated into your platform, you can't convert your traffic into sales conversations.
Additionally, you want a CMS that's easy to use for marketers. If your CMS only works well for developers, you'll either be tied to an agency to make any updates, or you'll end up hiring a developer onto your team to change content.
When you implement a CMS that is easy to use for marketers and easy to integrate your technology into, you'll more easily scale your business leveraging your website.
How To Get Started
If you are serious about scaling your business, you need to implement and integrate the right suite of tools. Start by taking inventory of what tech you have today. From there, understand if your team likes the tech you're using. If your sales team has a sales tool they hate using, you're throwing money away.
Once you've taken inventory of what you have and what people are using, ask yourself if your tech works together in a way that makes it easy for your potential customers to become your raving fans. If the answer is no, it's time to make a change. If you'd like help understanding what tech could be best for you, please schedule a call today. We can help you identify your technology gaps and match you with the right tech to scale.
As President & COO, Nikole is obsessed about building a great company made up of an inspiring culture and highly successful client engagements. Outside of Mojo, Nikole is also pretty obsessed with traveling, spending time at their cabins in Broken Bow OK, her Golden Retriever, Bella, and enjoying Italian dinners and wine with her husband, Mike.