What's the Difference Between SEO & SEM?
October 6, 2021 •Nikole Rose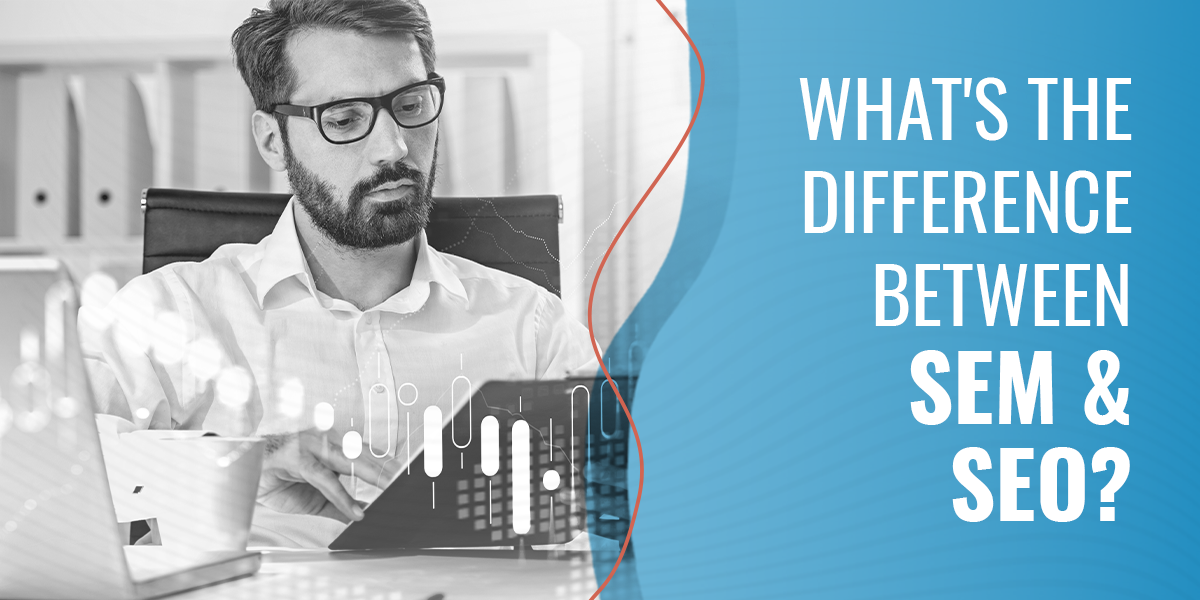 When looking at your digital marketing strategy, Search Engine Optimization (SEO) will inevitably come up. Additionally, many people refer to SEO and Search Engine Marketing (SEM) interchangeably. Though the terms SEO and SEM are related, there are some clear differences. This blog will clarify the differences and when to implement each approach.
Search Engine Marketing (SEM)
Search Engine Marketing relates to the marketing activities that take place around search engines. Though search engine marketing most frequently focuses on Google, many other social media platforms like Facebook, Twitter, LinkedIn, and YouTube play a part in SEM. A portion of SEM is SEO, but SEM also encompasses the Pay-Per-Click (PPC) advertising through keywords and display advertising.
SEO
SEO is the practice of selecting relevant keywords and creating content that will rank higher for the targeted keyword. SEO requires high-quality on-page SEO content, a healthy website, and backlinks from other relevant websites.
SEO is often referred to as a long game as it takes time to build quality content that builds backlinks and gets recognized as authoritative by search engines. Despite the long-term game of SEO, you can start to generate highly relevant traffic to your website without having to pay for every click. When implemented effectively, SEO can help to scale a business.
Pay-Per-Click (PPC) Advertising
Pay-Per-Click advertising is the practice of digital advertising through channels like search engines, social media, and display advertising networks. When implementing PPC, your business only pays for the advertisement once the ad has been click.
PPC ads are on specific keywords. For example, if you offer a CRM for Hospitals, you would likely want to bid on the keyword "Hospital CRM" to ensure you rank higher in the search results.
Another PPC tactic is display advertising. With display advertising, you can target individuals based on demographics. Running ads based on demographics alone is referred to as cold-targeting. With cold-targeting, you are running ads towards your total relevant market. The major downside to cold targeting is that you cannot focus your efforts on the most likely to buy individuals.
Using an ABM platform, you can run display ads specifically to individuals on your target account list. Additionally, you layer on intent data to focus your ad dollars towards the accounts already showing the intent to buy your products.
Lastly, there are numerous PPC advertising options available within the various social media platforms. Within Facebook and LinkedIn, you can run a variety of sponsored posts or run Story Ads. Though predominately looked at within the B2C market, these platforms can work incredibly well in the B2B market with highly effective targeting, especially LinkedIn. With LinkedIn, you can do more advanced targeting towards target accounts within their ad platform.
So What Should You Use Today?
When developing your SEM strategy, the question of PPC vs. SEO will always come up. The real answer (like many things when it comes to consulting) is "It depends."
With that said, if you take the time to create content, you will want that content to be found. So, all content should have SEO in mind. You will want to layer on PPC to accelerate the results of an organic ranking if you have the budget and need to see pipeline movement immediately.
Additionally, with search becoming more and more competitive, if you rank high organically and have a high paid result, your business will appear on the first page of Google twice. That level of exposure on the right keywords is sure to increase your traffic and revenue.
Laying the Foundation
The easiest way to get started is to conduct some in-depth research using a tool called SEMRush. We use this tool to audit the web health of our clients and for researching keywords. They have a free trial version you can use that will give you everything you need.
Before diving into your SEM strategy, you need to ensure you have a healthy website from a technical SEO perspective. Technical SEO is a significant ranking factor mainly because the health of your website impacts your user experience. Google wants to serve the most authoritative content while also providing the best experience. An unhealthy website is a non-starter when looking at your SEM strategy. If there are major issues with your website, start by fixing your website.
If you have a healthy website, identify your domain authority. Your domain authority is ranked on a scale of 1 to 100 and is how authoritative Google views your website. The higher your domain authority, the easier it is for your website to rank organically on the search engine results pages (SERPS).
After understanding your domain authority, conduct keyword research. With your keyword research, identify keywords with the highest volume and the lowest difficulty to rank for. Find a balance of high-volume keywords that aren't incredibly difficult to rank.
If you are just getting started with an SEO strategy, focus on more long-tail keywords. Long-tail keywords have a lower search volume, but the users searching are more likely to align with your target audience. An example of a short-tail vs. a long-tail keyphrase would be: "Account-Based Marketing" vs. "Terminus Email Signature Account-Based Marketing Tactics and Examples."
Ranking for a broad term could help generate traffic, but the more long-tail the phrase, the more likely you will generate an impactful business result. As you rank well for long-tail keywords, you can link your long-tail pieces of content to your content targeting short-tail keywords as a way to build your domain authority and help your short-tail targeted content rank more effectively.
Determining SEO vs. PPC
Once you have conducted keyword research, you will likely have a list of keywords that would align to impact revenue. If you have an authoritative domain and already have a healthy pipeline, you may want to focus your efforts towards exclusively SEO. Focus on creating high-quality content and spend time link-building back towards your content.
Depending on the keyword difficulty, you should expect to see results from your content in 3 to 12 months. With that said, SEO is not something you can guarantee results on.
If you don't have an authoritative domain or need business-level impact immediately, you may want to look into PPC advertising. Many people equate PPC with Google Ads. If you promote a landing page as the last step before someone enters into a buying process, Google Ads are likely a viable option, but there's more to PPC than just Google Ads.
If your goal is content engagement, consider PPC efforts on social media. With PPC on social media, you may see a lower CPC. People typically go to Google to buy or research products they are already aware of. Social media can function well as an awareness channel for your promotional efforts.
Additionally, many companies in the tech space are offering disruptive products. It's unlikely that you have a product people are searching for on Google. At this point, you can create a great piece of content, spread the content through social media, and bid on keywords that are aligned with the product your technology is disrupting.
If you have the option of both, use both. Bid on the keywords that align most to your revenue drivers creates social advertising that promotes educational content and creates content that will rank organically over time. By taking this approach, you will receive the immediate benefits of paid media while getting the long-term benefits of SEO-rich content.
Why You Should Care
If you look at the information above and think you might as well hire someone else to do it, it's still crucial for you to understand the basics of SEO, PPC, and SEM. Understanding industry jargon can prevent some expensive surprises. Like any good business person, you want to know exactly what you are getting for your investment in search marketing. If you hire someone who calls themselves an SEO expert, they may not have the expertise, tools, or ability to create a robust PPC campaign.
Before you hire a consultant, contractor, or employee for your search engine marketing efforts, decide what your needs are. Do you need someone to help you build links or write web content with selected keywords? Or are you looking for someone to help you set up a pay-per-click campaign?
If the consultant promotes themselves as an SEO or SEM expert, ask for a detailed listing of services they perform. Some consultants are skilled in all areas of SEM, but you need to be sure your expectations are met. Don't sign a contract until you both agree on what practices will be implemented and exactly what work will be done.
As you build out your SEM strategy, don't forget the groundwork of a healthy website. Here's a tool you can use to understand the current health of your website.
As President & COO, Nikole is obsessed about building a great company made up of an inspiring culture and highly successful client engagements. Outside of Mojo, Nikole is also pretty obsessed with traveling, spending time at their cabins in Broken Bow OK, her Golden Retriever, Bella, and enjoying Italian dinners and wine with her husband, Mike.