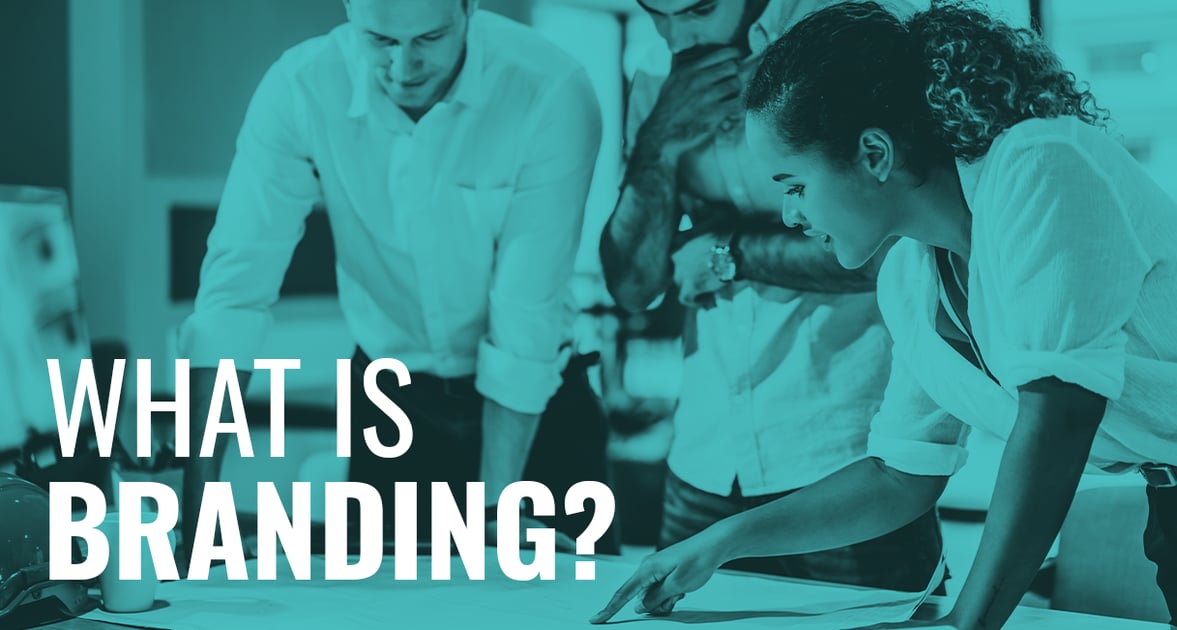 A product is more than just a product. World-famous brands like Coca-Cola know that their brand doesn't sell a drink-- it also sells an identity, personality, and experience.
Successful businesses build a unique and recognizable brand around their product. A brand is a feeling customers have when they interact with your business, starting before purchase and continuing after it.
In this article, we'll cover:
Attract and Engage Your Ideal Customers with Expert Branding
What is the Definition of Branding?
Branding is the practice of actively developing unique features that distinguish your business to differentiate your products or services.
Branding gives your business a face, a personality, feelings, attributes, challenges, empathy, goals, a wardrobe, and distinguishing traits that distinguish it from competitors. In a competitive market, a strong brand is what your business needs to stand out from the competition, grab your ideal customer's attention, and grow.
It's more than a logo. The definition of branding involves a wide set of actions you take to build a brand. Whether you're writing a blog, making an ad, or serving a customer, it's all part of branding.
Why is Branding Important?
Branding Grows Business Value.

Branding gives you an identity and sets your business apart as unique and special. Having a consistent image and experience across platforms and touchstones reduces confusion, builds a positive perception, and creates familiarity.



Branding Creates Trust in the Marketplace.

Branding builds brand awareness and brand recognition. For new businesses, it's an important part of establishing brand equity.



Branding Gains New Customers.
Branding attracts and convinces prospects that they should choose you over a sea of other options. It creates a deep emotional bond with people, converting them from strangers to first-time customers to brand advocates. Some branding strategies attract and engage new customers, while others focus on customer satisfaction and retention.
What are the Elements of Branding?
To clearly express a cohesive brand, there are certain elements that are essential. Look around at other businesses: most brands have these elements. These elements make up their brand identity, who they are and what they stand for.
Logo
Image from Nesprint Solutions
A logo is a recognisable graphic or symbol that an organization chooses to identify itself. Logo design should capture the essence of your brand identity, and have consistency between sizes for scalability on multiple platforms (example: website vs. social media icons)
Color palette
Image from Venngage
A color palette is a set of colors a brand chooses to be key to its visual identity. Color palette choices can be seen in logos, on websites, and in brand materials. and in brand materials. Color palettes often base, accent, and neutral color. For example, a website may have a base that's white, with blue accents, and black neutrals.
Research shows color matters. 84.7 percent of people believe color is an important factor in their buying decisions when choosing a product. Color increases brand recognition, and conveys certain moods. For example, red can indicate danger, excitement, or passion, while blue is trustworthy and reliable.
Tagline
Image from Webflow
A tagline is a short saying or motto that represents a brand's values. Famous taglines include Nike - Just Do It, L'Oreal - Because You're Worth It, and McDonald's - i'm lovin' it.
Tone
Image from boredpanda
Tone is the way your brand talks to its audience. It captures your brand voice. For example, many brands express themselves in a friendly and educational tone. Brand tone is usually consistent but can vary from platform to platform. For example, Wendy's takes a fun and humorous tone on their social media.
Fonts
Image from dppad
A font, or typography, is an important part of your brand's visual identity. Font includes the typeface (ex: Times New Roman), and its size, and weight. Fonts express your brand style and are important to consistency across your website, emails, and other marketing materials. A consistent font builds recognizability and prevents confusion.
Often, brands work within a certain set of fonts that they designate for different uses, like headings, subheadings, and paragraphs.
Imagery
Image from Shutterstock
Imagery is the type of images you use in your content. For example, you may use vector or photography, and favor certain types of images, like parents smiling, and certain overlays, like colors and patterns. Brands often include imagery details in their brand guidelines to help graphic designers deliver spot-on visuals that match their usual look.
Brand Messaging and Positioning
Brand messaging is a set of practices to use the right words to effectively communicate its value and essence to prospects and customers. It involves your one-line value proposition, your mission statement, and everything from website copy to emails.
To connect with customers and grow your business, you need a clear brand message. At Mojo Media Labs, we use the Storybrand Framework to help many B2B companies get crystal clear brand messaging that resonates with their target market's wants, needs, and problems.
Part of brand messaging is brand positioning, or creating a space in your customer's mind that differentiates your business from competitors-- the benefits you want them to think of that make you relevant, unique, and attainable. For example, in Apple's famous PC vs. Mac commercials from the early 200s, Apple positioned its products as a simple and innovative alternative to PCs.
Brand Experience

Image from Shutterstock
Brand experience is the sum of all the interactions, thoughts, feelings, and reactions your customer has with your brand. Brand experience involves every touchpoint a customer comes in contact with, from Marketing, to Sales, to Support. It's important because it builds deeper connections and ultimately delivers results.
Designing and building a good brand experience takes preparation and a deep understanding of your customer's wants and needs. For example, many brands support their audiences with digital content like newsletters, guides, and online resources, and invest in initiatives to improve customer service and satisfaction.
Grow Your Business with Better Branding
In the simplest terms, a brand is a perception of your product, and branding involves all the assets and efforts that go into creating that perception in your audience.
Whether you're looking to create a new brand, revamp an existing brand, or build out your branding efforts, you'll need the assets, marketing collateral, and strategy to leverage multi-channel efforts. At Mojo Media Labs, we've helped tons of businesses build successful brands.
Here's what that looks like: After learning about your brand and your business goals, challenges, and strategy, we work with you to build a branding plan, put it into action, and activate your target audience.
​​Need help branding your business? Our branding experts can help you build the assets and strategy to create a memorable and effective brand.
Schedule a call, and let's get started.
As President & COO, Nikole is obsessed about building a great company made up of an inspiring culture and highly successful client engagements. Outside of Mojo, Nikole is also pretty obsessed with traveling, spending time at their cabins in Broken Bow OK, her Golden Retriever, Bella, and enjoying Italian dinners and wine with her husband, Mike.