What Is Account-Based Marketing?
April 7, 2021 •Nikole Rose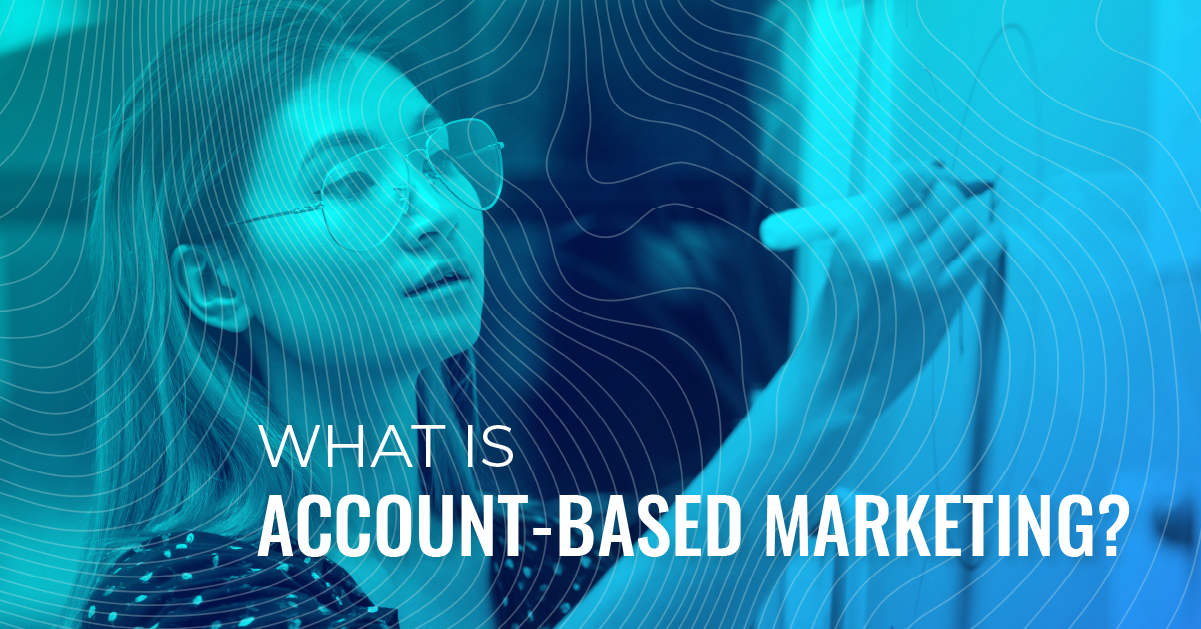 As marketing constantly evolves, you may hear about new marketing strategies, tactics, and "black magic" that are the new best way to attract leads and convert customers.
No matter how marketing may evolve, these foundational principles will always remain.
Lead with value


Invite your prospects into a relationship


Deliver an experience worth sharing
There are numerous ways to execute these foundational principles. Many B2B companies have found an account-based marketing approach to deliver better clients, bigger deals, and more referrals. (93% of B2B organizations say they consider ABM to be very important to their organizational success.)
With that in mind, what is account-based marketing?
Defining Account-Based Marketing
According to Terminus, Account-based Marketing (ABM) is "a focused approach to B2B marketing in which marketing and sales teams work together to target best-fit accounts and turn them into customers."
There are a couple of ideas in that definition that may go against a lot of conventional marketing wisdom.
Marketing is supposed to generate as much traffic as possible.


Marketing is then supposed to qualify this traffic into leads.


Then marketing is supposed to send what they think looks good over to sales for sales to then attempt to close.
An ABM program seemingly flips this concept on its head. Let's break down how.
For those who want the TL:DR version, here it is. A more in-depth breakdown of the definition is below.
A Focused Approach to B2B Marketing: You stop trying to generate as much traffic as possible and focus on only those that will actually buy from you. This focused approach works incredibly for B2B because you probably make a specific product or service for a particular problem in a particular industry. If there are only 150 to 200 relevant players in your industry, why use marketing designed to attract a million people? You can create highly targeted marketing to engage the people you want to do business with.


Marketing and Sales Teams Work Together: As just mentioned, there are probably a relatively small number of companies you are looking to work with. Marketing can create specific material to equip sales to educate and close your targeted accounts. When you give someone information that is actionable today about improving their business, they typically listen up.


Target the Best-Fit Accounts and Turn them into Customers: In your industry, there are probably some companies you know would majorly benefit from partnering with you. Start there. Deliver some ridiculous results for them. They will brag about it. Give you credit for delivering ridiculous results. That word will travel fast through the industry. More will start calling you.
If you want to start implementing an Account-based marketing approach, Mojo Media Labs specializes in implementing incredibly effective ABM strategies and ABM campaigns. Schedule a call today.
A Focused Approach to B2B Marketing
In the way many companies are currently executing marketing, the goal is to attract as much attention as possible and figure out if it's good attention later.
The idea here is the more attention you can gather, the more likely you are to gather the right attention that can turn into customers.
This idea is the basis of the marketing funnel. Gather as many people at the top, and they will slowly fall out as you put them through your qualification process.
To be clear, this approach to marketing does work. A marketing funnel isn't a bad approach to marketing. It just may not be the best approach for you.
Account-based marketing flips the funnel by starting with a small number of targeted accounts. Before you ever create your first piece of marketing collateral, you start with an actual company you are targeting.
By starting with identified key accounts, you are more confident in their qualification, knowing they are a good fit for your company. You eliminate the stage of discovery even to determine if doing business together makes sense.
When you have done your research, you can lead with the immense value you know you can add to the target account.
Here are two examples:
You are looking to buy a new SEO tool. You schedule a demo, and a sales rep calls you to ask some questions about your pain points, use case, and budget.

After a series of questions, they walk you through the SEO tool. It gets the job done, so you purchase the tool.



You are looking to buy a new SEO tool. You get an email from a sales rep from an SEO software company.

The email says, "I have identified a few pain points you may be experiencing. I have attached a comprehensive SEO audit to this email. I think your company could really benefit from using this tool. Let me know if you'd like to schedule a demo to see how I created this audit and how our software can help you remedy the issues hurting your website's rankings."

You schedule a demo. On your demo, you see actionable data relating to your specific business, and the rep gives you additional recommendations on where to start to make the most significant impacts quickly. You purchase the tool.
Ask yourself:
Would I be more likely to spread the word about a personalized experience or general high-level overview?


Would I be happier with a product if I could see exactly how it could impact my business today before I bought it?


Which tool would you more likely keep longer?
If you prefer the second experience, it's likely your potential customers would love to get the same experience from you. An account-based marketing approach is the way to get there.
Marketing and Sales Teams Work Together
One of the significant struggles of many companies is actually to get their marketing and sales teams aligned.
Marketing may view their job as just delivering as many leads to sales as possible and leaving the qualification to the sales department.
Sales may view the leads that marketing has provided as pre-qualified and start trying to close every lead that comes their way.
Sales is upset with marketing because they are only getting low-quality leads. Marketing is upset with sales because they can't close any deals. No one says anything, and the problem continues forever.
This miscommunication between marketing and sales stops once you transition to account-based marketing. Sales and marketing teams come together to identify the specific accounts that best fit the product or service offered.
Once you have the target list, marketing creates effective collateral to reach the target accounts.
Marketing also creates collateral that enables the sales team to have conversation starters that invite the decision-makers of target accounts into a relationship and speed up the sales process.
The sales team then becomes responsible for closing the mutually agreed targeted accounts and communicating with marketing to get additional support as needed.
Marketing stops chasing leads. Sales stops chasing deals that have no real potential. Both focus on working with customers that will benefit from partnering with your company.
The decision-makers will feel invited into a relationship, and they will love you for it.
Target the Best-Fit Accounts and Turn them into Customers
As previously mentioned, Account-Based marketing truly focused on the few instead of on the many. If you transition to account-based marketing, there are a few metrics that will start to change.
You will have less website traffic.


You will have fewer leads.


You will have fewer meetings.
When those start to dip, every marketer's internal alarms begin to rage. Take a deep breath.
Your mindset has transitioned from "lots of activity generates revenue" to "intentional activity generates revenue." Once you have an established Account-Based marketing strategy in place, you will see some other metrics change.
Your deals will close faster.


Your deal value will increase.


Your referrals will start to increase.
Here's why.
Because you target the best-fit accounts first, they are more likely to close because they most closely align and need your offer.


Because you led with actionable, specific, and valuable content for their business, they know your offer makes sense for their business. As a result, they close faster.


Because they fully comprehend the value you bring to their business, they are willing to pay more for your offer. As a result, your deal size increases.


Because your offer makes complete sense for their business, it's going to deliver outstanding results for them. As a result, they will give you great reviews, happily give testimonials, and refer their friends your way.
When you deliver a fantastic experience to your customers, they will talk. Now, you have people paying you to advocate for you and sell your offer to others.
That's the true power of an effective account-based marketing strategy.
Now what?
If you are ready to implement account-based marketing, you have to start by creating a list of target accounts.
Once you have your target accounts, you need to align your marketing and sales team towards one goal of closing these target accounts.
Lastly, you need to ensure you have the appropriate ABM and marketing automation technology to equip your company to create an effective account-based marketing approach.
If you'd like help creating and implementing an effective long-term account-based marketing campaign, we at Mojo are here to help.
Feel free to check out the account-based marketing service page or schedule a call with our growth consultant today.
As President & COO, Nikole is obsessed about building a great company made up of an inspiring culture and highly successful client engagements. Outside of Mojo, Nikole is also pretty obsessed with traveling, spending time at their cabins in Broken Bow OK, her Golden Retriever, Bella, and enjoying Italian dinners and wine with her husband, Mike.