What Is A Content Management System Or CMS?
October 27, 2021 •Allison Gibbs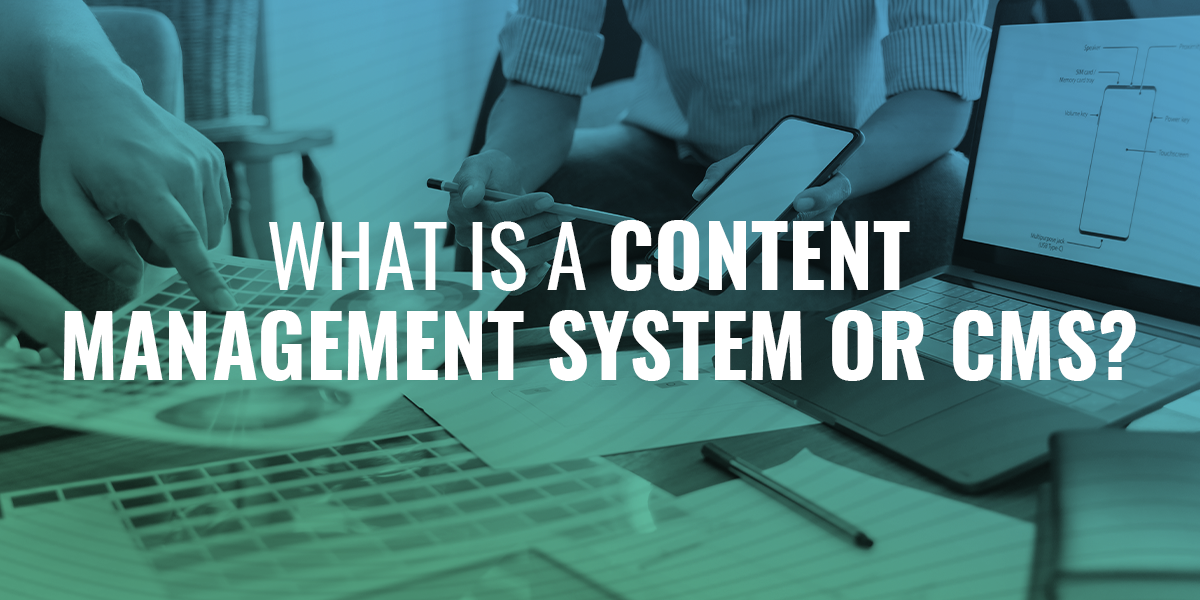 If you have a website today, it's likely built on a content management system (CMS). A CMS is a web-based platform that allows non-technical people to manage day-to-day content updates on the organization's website. But websites weren't always built on a content management system.
Why Do You Need a CMS?
Many years ago, managing a website was a highly specialized task reserved only for those skilled in HTML (the language of the web) or with complicated software and design techniques. Organizations had to rely on an IT person to make changes or outsource changes to a website agency. Because the ability to make changes didn't lie with the marketing department, minor that changes might take days or even weeks to happen.

These websites were reasonable enough in the early days of the Internet when websites were mostly online brochures. However, today's websites function as information hubs, with interactive components like blogs, event registrations, time-critical press releases, sponsorships, surveys, email campaigns, forms, e-commerce, and more. Websites are now a living and breathing tool that fuels business growth. Waiting for an IT person or a website agency to make changes to your website is not an acceptable process anymore.
What Can You Do With a CMS?
That's why today's websites are managed with a Content Management System. With a CMS, marketing teams can execute tasks associated with their marketing efforts with a highly user-friendly interface.
These can include tasks like:
Updating the text on web pages
Adding or changing photos and videos
Managing products and pricing pages
Publishing content creation like blog posts
Changing sponsorship banners
Manage staff directories
Sending email campaigns
Distributing surveys
Create and manage events and registrations
A CMS puts the marketing team, communications team, admin assistant, or CEO in control of the website. Tasks that would have taken days or weeks under the old-fashioned brochure site model can now be accomplished in a few minutes using a CMS. A good CMS will allow anyone with basic computer skills to be a website manager.
With that said, you will still want a CMS that will allow a developer to work on your website. You may have a very specific use-case for your business that you'd like to include on your website. For example, you may want to have a highly advanced pricing page that will allow people to build their bundles with your products (like HubSpot Pricing Page).
What CMS Should You Consider?
There are many popular Content Management Systems that exist on the market today. With so many to choose from, you may wonder which one to pick.
At Mojo Media Labs, we build websites exclusively on the HubSpot CMS using the MojoFlex Theme. The reasons we use the HubSpot CMS are pretty simple.
Everything is in one place- With HubSpot, you can manage your marketing, sales, and customer service all in one place. With everything in one place, everyone gets the same view of the customer and can create a better customer experience from start to finish.


Easier, More Accurate Data- With everything running through the same CRM, all of your data is highly accurate and reliable. You can more easily track your contacts at every touchpoint in their journey.


Fewer Tech Headaches- Since you don't have to wrestle with numerous different software providers, you can spend more time executing instead of trying to get the tech to work. Everything works together with ease because it was intentionally built to work together.


No Hidden Costs- With many open-sourced CMS's, there's the appeal that the CMS is "free." The reality is that it takes constant maintenance to keep your website running smoothly. From security risks to even learning how to operate the CMS, the real costs are high. With HubSpot, you know the exact cost upfront. And it's pretty low.

Here's a pricing comparison between HubSpot and WordPress.



Sets Businesses Up To Scale- From technical search engine optimization (SEO) to security, the HubSpot CMS gives businesses a fantastic website foundation so they can focus on scaling their organization. By spending less time making sure things work, you have the time to create highly valuable marketing efforts that will impact revenue.
If you are not currently using a CMS or you are not happy with the one you have, look around and make sure to choose the right CMS for you. If you'd like to explore a website on the HubSpot CMS, we'd love to talk.
So What's Next?
A good Content Management System will turn your website into a powerful marketing tool. If your website sounds like a website that is still controlled exclusively by your IT department or an outsourced firm, you need to build a website you (a marketer) have control over.
When you invest properly in your website, your business will grow. Websites today are the main digital asset your business has to engage with your customers. You need to equip yourself and your marketing team with a CMS platform that will enable them to create digital content to attract, engage, and close new customers.
If you need a guide to walk you through how to launch a new website project, check out the Website Audit Kit. Additionally, if you'd like to learn more about the HubSpot CMS, check out this on-demand webinar with a member of the HubSpot CMS team.
Allison found her love for marketing while studying business alongside her theatre degree at Indiana University. She loves offering simple solutions to complex problems (and tacos). In her down time, she loves a good run and staying involved in theatre (which landed her in a SuperBowl halftime show alongside Madonna)