The Essential Connection Between Nonprofit Marketing and Fundraising
February 12, 2021 •Evan Cox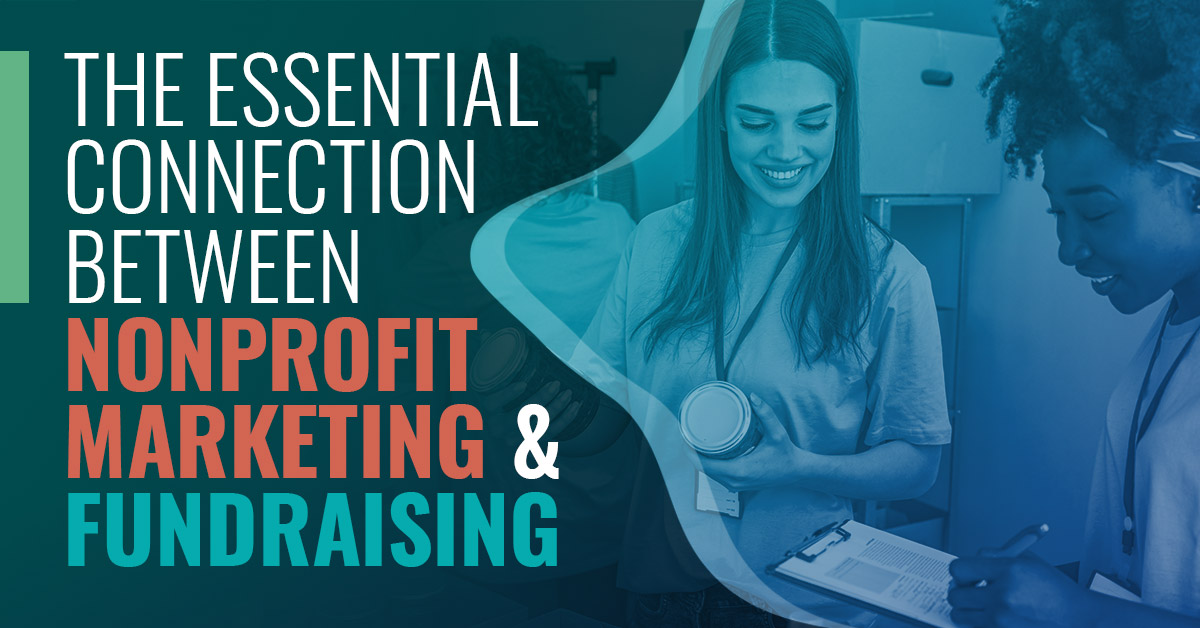 Fundraising often feels like a dirty word to anyone serving in the nonprofit arena. This is really unfortunate because so many organizations are doing amazing work that should be resourced. In related news, many nonprofits feel overwhelmed by the idea of marketing. It sounds complicated, results feel elusive, and at times it seems that marketing is pulling you away from your most important focus—outreach.
It's understandable to feel this way. Nonprofit leaders are saddled with loads of responsibility.
Let's dive into a handful of simple thoughts that can help rewire the way our brains think about nonprofit marketing and fundraising.
Many leaders view raising money as a necessary evil so they can get back to doing the work they really care about.
The reality is your work with donors is just as important as the cause you serve. Let me say that again for everyone in the back...the people benefiting from your organization's work include both the recipient and the one giving. Marketing and development efforts are the fuel that propels your mission forward.
If you feel guilty about asking for money, donors will sense it.
People often feel weird about asking for money. If you're awkward in the ask or shy away from the topic, it introduces doubt in the minds of anyone you approach. Be confident. Your cause represents an opportunity...not a burden. When it comes to the nonprofit websites we see, this can often manifest itself as tiptoeing around a clear call to donate, volunteer, or commit to getting involved. Be confident. Calling your audience to action is not a guilt trip. It's an opportunity to invest in a cause they care about.
Just because you're absolutely sick and tired of talking about a campaign does not always mean it's time to switch things up.
We need to remember that just because we've shared about our homeless shelter or clean water project eight hundred and forty-nine times doesn't mean everyone else has too. Keep reminding your audience of the problems you are solving because they are constantly being bombarded with messages and likely need to hear it again...even if you told them before on your website or inside an annual report. Your fundraising and marketing efforts work hand in hand to set goals, communicate them to people that care, and keep you doing good into the future.
Donors are people, not numbers.
Lean into building actual relationships with the people who make your mission happen. They're giving for a reason...find out why. You'll likely hear the reasons that now compel them to support the very work you do. Simply pausing to listen or leading in with open-ended questions can spark clues about how to better serve your donors. When it comes to your website, for instance, include stories and testimonies from those donors strategically online. And when possible, create specific content that speaks to your giving audience. They want to make an impact. You are the conduit that makes it all possible.
Your fundraising efforts need to be in lockstep with your marketing and outreach initiatives.
This is easier to coordinate when it's a small team, but harder to find time to do it well. In larger organizations, it's easier to divide up the work but harder to all stay on the same page. No matter where your organization finds itself on this spectrum, it takes effort.
The bottom line is...without the fundraising there's no money coming in, without the marketing there's a lack of adequate collateral to offer your supporters, and without outreach, there's no compelling reason to give in the first place.
Data is a story begging to be heard.
Just because it doesn't come in narrative form doesn't mean that your analytics aren't telling you something. Listen close enough to hear what your data is telling you.
Spending time working on your fundraising or marketing approach feels unattainable with so many things on your plate. I completely get it. The payoff is well worth it though…
You'll become a more informed leader, a better decision-maker, and most importantly the advocate your cause and donors need.
Marketing isn't a necessary overhead or simply another line item in the budget. It's a tool to create more relationships that serve more people.
Overwhelmed by your fundraising strategy? Start by building an accurate, detailed history of your donors. And, if you are looking for a tool to help keep everything organized, we recommend HubSpot (as a Diamond Partner we may be a little biased, but it's truly one of the best).
Know what each of these six points suggests? Nonprofit marketing and fundraising need to be thoughtful.
In today's hurried society, people appreciate now more than ever when someone goes the extra mile. The donors who support your work always prefer a human connection over an elaborate strategy. Don't get me wrong, a strategy is imperative. Strategy, however, is behind the scenes leading and guiding your organization's drive to build authentic relationships.
Here is a perfect example. Not long ago I was on the phone with a friend. We usually take time to catch up on life before jumping into any agenda items—and this call was no different. What was different, however, was a week later when a box of dog toys showed up at my office. You see, I had shared with him that our family was getting a puppy, and he took the time to send a card along with a box full of toys that our new addition chewed on instead of our shoes.
That's the kind of thoughtful action that makes a lasting impression. And the best part? Thoughtful doesn't always have to be elaborate (or expensive). Your fundraising and marketing don't have to be either.
Here are a few ideas to up your game and be more thoughtful with your organization's donors.
Send them birthday cards (it takes more effort to gather and remember these dates, but that's what makes it special).
Pick up the phone to thank them when they give.
Follow up when you hear they are having a difficult time (i.e. surgeries, losing a loved one, lost a pet, etc.).
If you send direct mail, include a hand-written note.
Invite them to coffee simply to update them on the impact of their giving.
If your cause isn't local, send them a postcard when you visit the work in person.
For older donors who aren't on

social media

, print out clippings of your social posts, and mail it to them. It's extra work that may feel unnecessary but will make them feel included without having to learn something new (they're already having to do that enough).
After someone gives, find a way to report back on the impact of their gift.
Share tidbits that make them feel like they're getting a glimpse "behind the scenes."
Provide updates before they're public (when appropriate). Everyone loves being "in the know" with the causes they care about.
Send them a gift with meaning. Does your organization support micro-enterprise? Mail your supporters some of the goods made by those entrepreneurs.
If someone apologizes for discontinuing their partnership, let them know it's ok and celebrate the length and depth of what their giving has already done.
Be human and let them into your world.
When you post meaningful stories on

your website,

share it with them directly.
The goal here is to connect with your supporters more than just when you need something. That's marketing. Keep showing up, communicating, and offering value. Donors are partners in your work, and partnership should lead to a relationship (and relationships take time).
The more organized your fundraising efforts are, the more effective your marketing and development strategy will be. If you do not have a robust database in place already, give HubSpot a try. It will help you record, track, and communicate with your donors effectively.
And if you shudder every time you glance at your website, you are certainly not alone. That's exactly why we created MojoFlex. It's an affordable, flexible theme design (with ample customizable features) you can use and easily set up yourself so that you get back to serving your donors and outreach communities.
And if you like MojoFlex but aren't "techy" we can help you set it up too.
Here's the bottom line. Be thoughtful and it will lead to authentic relationships that pay dividends for them, you, and the cause you are rallying around.


Evan is obsessed with creating the marketing efforts clients need to serve their audience well. He knows that when we position their end users and customers in the spotlight, they feel valued and our clients see great results. Evan also loves watching football (Go Chiefs!) and spending time outdoors with his family and friends.