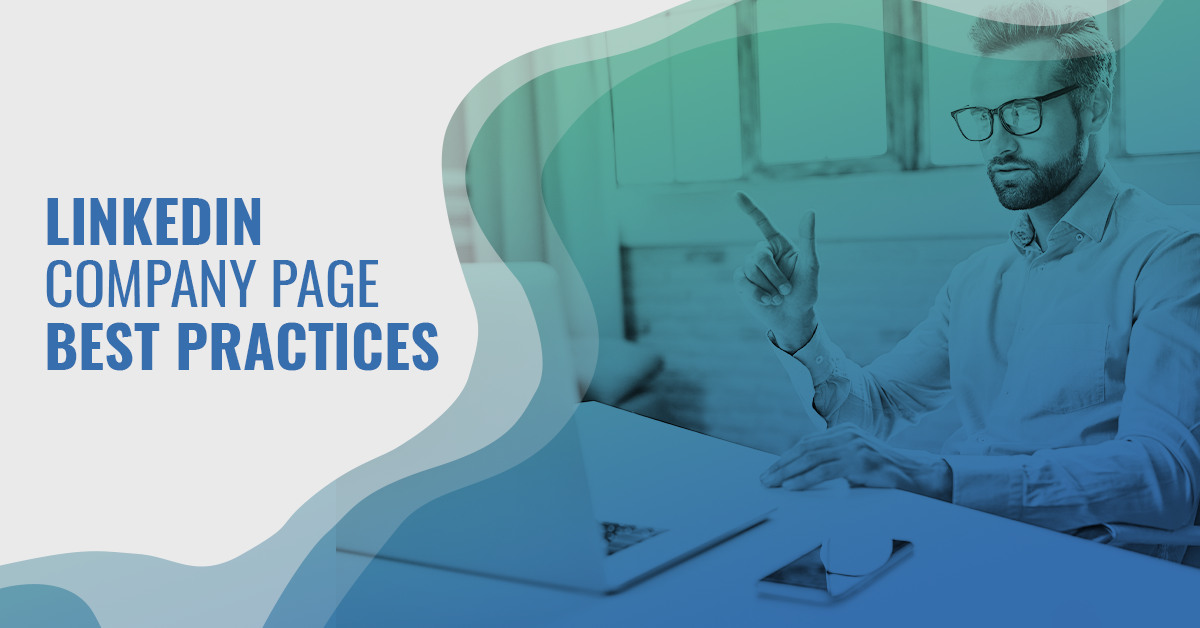 You know that LinkedIn is the best social network to generate and foster professional connections with others in your industry. You likely have a fantastic personal profile, but have you put much thought into your company's LinkedIn page?
Obviously, you want to put your best foot forward when you're representing your organization. To help you put your best foot forward, this blog will review the best practices around images and offer helpful suggestions around the content you're producing.
Image Dimension Definitions
If you're not sure which image sizes are considered standard, that's okay— we're here to help. Before getting started, let's define a few key terms that we'll be tossing around as we delve into the topic of properly sizing and formatting your LinkedIn Company Page images. Specifically, we want to explain the terms dimensions, pixels, aspect ratio, and file size.
Dimension: Image dimension is the length and width of the image, measured in pixels for digital images. If we say 1080 x 1080 pixels, that means 1080 pixels wide by 1080 pixels tall.
File size: The smaller the file size, the faster it loads. For example, a 50kb photo will load much faster than a 700kb or 1MB photo. You can use tools like ImageOptim to reduce your file size without sacrificing much quality. For more about how to resize images, click here.
Format: This refers to the file type you save your image as. PNG is the recommended format for most types of image posting on LinkedIn, but they'll also permit you to post in JPEGs.
Aspect ratio: The aspect ratio is the ratio of the width to the height of an image. For example, the aspect ratio of a square image is 1:1. This tool will help you change the width or height of an image, but preserve the aspect ratio, use this aspect ratio calculator!
Company Profile Photo
Of course, your logo is a major part of your brand; it's important that you place it prominently upon your LinkedIn Company Page. Putting the company logo as the profile picture will ensure you represent your brand well as you post your company content. You want to be sure that your logo looks its best. At a minimum, your company profile photo must be 300 x 300.
Recommended: 300 x 300

Recommended Format: PNG

Maximum File Size: 2MB
Company Banner Image
The banner image is a great way to introduce some color and action into your Company Page. With great design, you can use the banner to draw attention to the custom call to action on your company page to ensure more people visit your website.
Recommended size: 191 x 1128 pixels

Landscape layout

Recommended Format: PNG

Maximum File Size: 2MB



Company Profile Setup
If you are just creating a LinkedIn page or coming in to update your company page on LinkedIn, LinkedIn has a helpful tutorial to guide you through the account setup process.
This process will include setting up your:
Industry

Company size

Website URL

Description

Logo

Location

Custom button

Creating your first post

Hashtags
It's recommended you set all of this up as soon as possible. LinkedIn operates as a search engine, and it serves up results based on the information you provide in your company profile.
Company Page Content on LinkedIn Organic
For many B2B companies, LinkedIn serves as the main social media platform in their marketing strategy. With the major influence of social media on making potential buyers aware of your company, it's important to think strategically about the types of content you want to produce.
For starters, you want to post regularly. Ideally, you would post daily, but depending on your bandwidth, that may not be possible. Depending on the marketing technology you have, you may be able to schedule posts in advance. If you can, it's highly recommended you do.
With that said, most company pages aren't prioritized in LinkedIn feeds as the LinkedIn algorithm prioritizes showing content from personal profiles. For some, this may seem like a potential reason not to post on LinkedIn from a company page. The reality is you need to understand that people will come to your company page through your employee's profile page. The content you post should be relevant to the customer and create engagement opportunities off of the LinkedIn platform.
This means that your strategy should be to use employee personal profiles to create engagement on the platform. Have employees leverage social media to be incredibly social and generate awareness for your company. Then use the company profile to provide value and bring your ideal customers to your website.
The company page can function as a distribution channel for your content and highlight the employees building thought leadership on the platform.
Company Page Content for LinkedIn Advertising
When you create a company page, you also gain access to LinkedIn marketing products. With these products and services, you have one of the most targeted advertising networks available in B2B marketing today. With that highly targeted advertising network, you will pay a premium compared to Facebook ads, but it will massively increase revenue when implemented correctly.
When creating sponsored content, you want to leverage advanced targeted advertising to hone in on your target audience. The recommended approach for getting started would be to take an account-based marketing approach. Upload a list of target accounts to the LinkedIn Campaign Manager. It will take about 48 hours to match all of the accounts to the company pages on LinkedIn. From there, you can create an audience based on the uploaded list. Then you will want to filter by the departments and job seniority you are targeting.
By taking this approach, you can ensure your ads are getting in front of the ideal customers you are trying to reach.
Get Started Today
If you are in B2B, you need to have a LinkedIn company profile. LinkedIn is the number one networking tool for B2B today. With this helpful guide, you will have a profile that looks great and can start leveraging the tools in the platform to start driving traffic to your website. If you're looking for more helpful marketing tools and guides, check out the website self-audit kit below.
Steph leads our client delivery team and is obsessed with delivering quality work, creating an efficiency machine, and mastering the tools and disciplines to achieve success for our heroes. At home, she loves listening to true crime podcasts, playing with her daughters and two pugs, and singing in a local rock band with her husband.