What is an Inbound Marketing Agency (And Why You Need One)
August 11, 2021 •Nikole Rose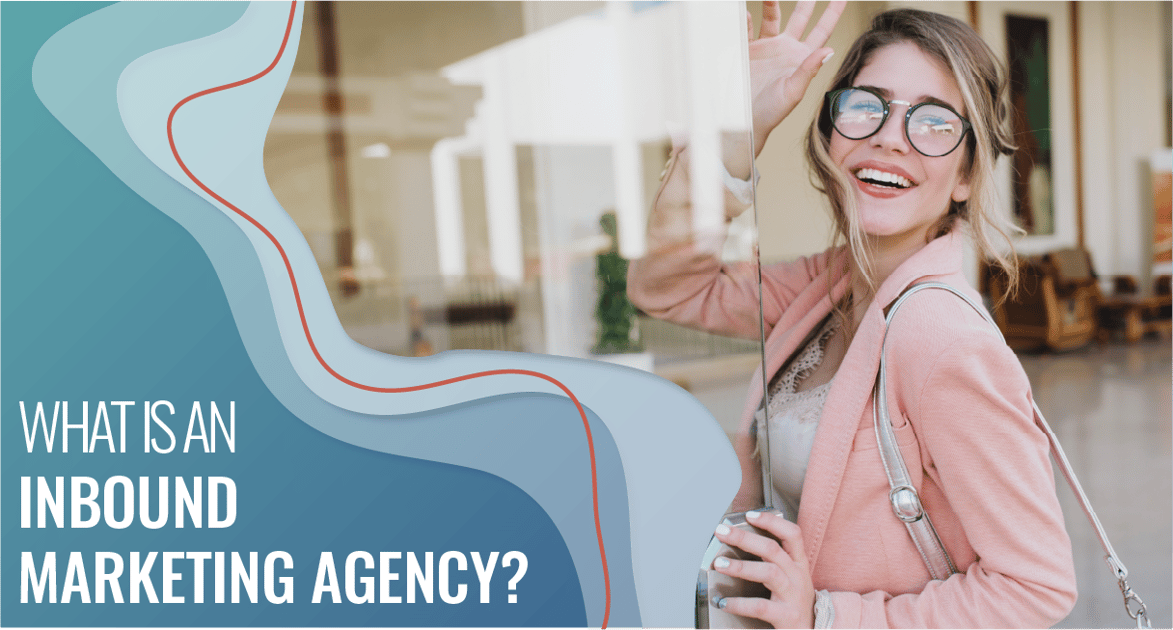 Digital marketers can't seem to stop talking about the power of inbound. The buyer's journey has shifted, and customers prefer to do research on their own terms. Inbound marketing is a marketing strategy that attracts customers by creating valuable content that's tailored to be useful for them.
With an effective inbound marketing strategy, you can attract, engage, and delight prospects into customers to supercharge lead generation and sales.
The inbound methodology is a simple concept, but can be complex to execute between strategy and marketing materials, which is why an inbound marketing agency can be beneficial. An inbound marketing agency helps you adopt and implement an inbound marketing approach through digital marketing expertise and manpower.
In this blog post, we'll explore:
What is an Inbound Marketing Agency?
An inbound marketing agency provides businesses the digital marketing expertise and support to engage today's prospects to become future customers.
Inbound marketing involves many components. A full-service inbound marketing agency offers services like:
Search Engine Optimization
Blogging
Content Creation
Social Media Sharing
Marketing Automation
Customer Relationship Management (CRM)
Sales Enablement
The easiest way to understand what an inbound marketing agency does is to explore how they impact success in each part of your business. This can help you understand what needs to get done, so you can plan and build an inbound marketing strategy and understand how an inbound agency can help you.
Inbound and Marketing
The role of inbound marketing is to generate leads and increase customer conversion rates.
Inbound marketing aligns content with each stage of the buyer's journey. It guides prospects through the decision-making process, from awareness, to consideration, to decision.
Inbound marketing examples can include:
Search Engine Optimized (SEO) website content
Ebooks
Email Nurture
Blogs
Case studies
Webinars
Chatbots
Videos
Social media campaigns
Responsibilities of inbound marketing start with creating buyer personas of your ideal customers. Content marketing is the center of inbound marketing, and the goal of each piece of content is to attract your ideal prospects to your website. Your buyer personas will be the heart of your inbound marketing strategy and will affect what types of content you produce; what messaging you put on webpages, ads, and more; and what platforms and social media you use.
Once you attract prospects, the goal is to convert and engage them into your buying process. This means stimulating them to reach out, or to give you their information so you can nurture qualified leads into sales.
You can nurture leads to become sales-ready through automated emails that provide relevant information and resources like guides, white papers, and blogs.
Inbound and Sales
The role of Sales is to follow up on inbound leads that are qualified. Qualified inbound leads are prospects who have already indicated an interest in the solutions you offer based on their activity.
The key to inbound success is marketing and sales alignment. For the best results, marketing and Sales should be on the same page about who ideal customers are, and what makes a lead qualified.
Your sales team should leverage a tailored inbound sales approach that uncomplicates the conversation, resonates with the buyer's specific needs and goals, and facilitates support among decision-makers.
Inbound sales uses opportunities of connection to position themselves as a helpful and trusted advisor and adapt to their prospect's buyer's journey. For example, they may uncover the prospect's pain points in a phone call, create a tailored presentation, send specific and helpful resources, and coordinate meetings and service-level agreements with stakeholders.
You can also set up sales sequences that outline the steps your Sales team should be taking, and how often they should follow up with leads. At Mojo, we map out conversion paths, and use Hubspot to set up workflows for sales enablement.
Inbound Technology
Within your inbound marketing process, your business can take advantage of useful software for CRM (Customer Relationship Management), marketing automation, and sales intelligence tools.
It's crucial for business success to have a unified platform so your teams can work together. It serves as your go-to source of truth, and keeps your team organized, in-the-know, and on track. When adopting inbound technology, there should be someone on your team that owns the process of implementation.
One popular inbound marketing software is Hubspot, which incorporates tools and integrations for marketing, sales, content management, and customer service. As a Hubspot Diamond Partner, we've helped businesses nationwide build inbound marketing that resonates with every crucial department.
Measuring Inbound Marketing
One of the most important parts of a marketing strategy is to set clear goals and measure how results are affecting our business.
Your business stakeholders will want to see the ROI you're getting from your time and efforts in your inbound strategy. You'll also need to regularly measure your progress towards your goals, so you can tweak your strategies to achieve better results.
At Mojo Media, we set data-driven SMART goals to align our content strategy to your business goals. This means each part of our inbound marketing strategy is specific, measurable, achievable, relevant, and time-bound for efficiency and accountability.
How Working with an Inbound Agency Can Help
It takes a lot of time and effort to create custom digital marketing solutions that engage. An inbound marketing agency serves as your go-to digital marketing expert to guide your marketing efforts, attract potential customers, and ensure you get the most out of your budget.
Whether you're looking to attract more qualified leads, lower customer acquisition costs, or close more sales, an inbound marketing agency understands marketing best practices and allows you to have an agile approach to content marketing.
With the help of an inbound marketing agency and Hubspot partner like ours, you can get the results you're looking for. We've helped tons of businesses by equipping them with the strategy and resources to implement inbound marketing. Here's what that looks like:
Expert Content Strategy to Connect with Customers
We start by getting to know your business and your customers. We gather your stakeholders together and ask the important questions to clarify your ideal customers, outline your goals, and pinpoint brand messaging. The goal is to better understand your buyer's journey, and what type of content would be beneficial to attract and engage prospects and customers.
Get Help From Start to Finish
Our team of experts-- strategists, writers, designers, developers, and lead generation specialists-- translate your brand messaging into impactful content marketing. We work with you to refine a results-driven inbound marketing strategy, and our marketing professionals take care of the heavy lifting of content production.
Grow Your Business
Start winning with an effective inbound marketing strategy. Increase your revenue by improving brand awareness, engagement, and customer conversion.
Choosing the right inbound marketing agency is an important decision. It's something you should consider carefully, since your inbound agency will serve as an extension of your business.
Partner with an Inbound Agency to Grow Your Business
Getting inbound off the ground can be difficult. It takes time, strategy, and resources to do it right. Depending on your business' size, capacity, and buy-in, you can get stuck.
We offer the digital marketing strategy and resources to help get your business and marketing where you want to go. By learning about your customers and your buyer's journey, we can help you deliver valuable, useful, and professional content so that your customers can find your products and services when they need you.
Want to supercharge your inbound marketing? We've helped tons of businesses do that. Schedule a call and let's talk.
As President & COO, Nikole is obsessed about building a great company made up of an inspiring culture and highly successful client engagements. Outside of Mojo, Nikole is also pretty obsessed with traveling, spending time at their cabins in Broken Bow OK, her Golden Retriever, Bella, and enjoying Italian dinners and wine with her husband, Mike.