In What Order Should You Take HubSpot Certifications?
January 19, 2018 •Daniel Berry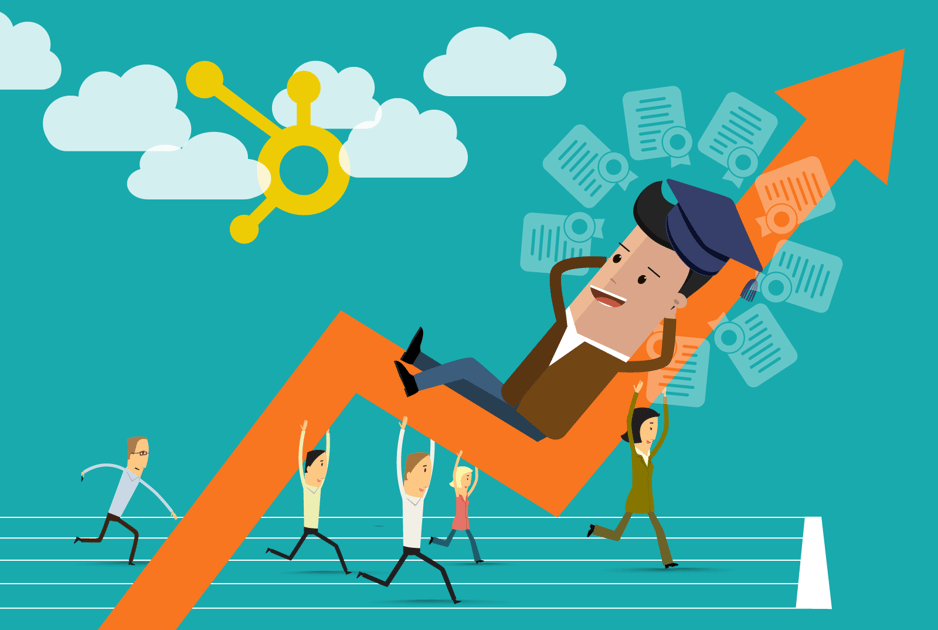 Ask anyone at Mojo Media Labs about my favorite core value and you'll find out pretty quickly (hint: it's professional development). As a Marketing Automation Specialist, I definitely love learning new things on a daily basis. Because of this, I've naturally been drawn to HubSpot certifications and completing as many of them as I can. (In fact, I got my first one before my first day at Mojo just over two years ago.) Basically, I want to expand my knowledge on all things inbound marketing whenever I can.
As of last month, only 15 people globally had passed all 16 certifications and courses that HubSpot Academy offers. That number will creep up to 16 soon, as I've passed all my certification tests and only need to submit my practicum for the HubSpot Design certification to officially have them all.
(Editor's note: HubSpot recently released the HubSpot Trainer certification, which doesn't apply to the above numbers. But yes, I plan on getting it as well. 😉)
The Big HubSpot Certification Question
One question I get a lot, whether from new employees or while networking, is this: "In what order should I take HubSpot certifications?" (The marketing contact for one of our most recent clients was even interested in completing all of them, which is awesome!) I've held off on answering this question, as I wanted to complete them all before I could give an educated, confident response. Well, I'm officially ready.
One caveat I want to point out before I reveal my order for HubSpot Certifications, however, is that the order really depends on your role. If you're a Digital Designer, for example, you probably want to make the HubSpot Design certification one of the top few you pursue. If you're an Account Manager, you likely want to take the Client Management certification early on. But if you're a person who wears different hats (or would simply like to learn as much as you can about inbound marketing), this is a solid list to get you started.
The Ideal Order for HubSpot Certifications
It's definitely beneficial to take some courses or certifications before others, as the knowledge obtained in one will make the next easier. There's a sort of natural progression for many of these and I tend to lean toward completing the marketing-related ones first before diving into sales stuff. Anyway, roles aside, here is the order I'd pursue HubSpot certifications in if I had to do it all over again:
Inbound - Covering the basics of inbound marketing, this really should be the first certification everyone takes. It covers everything from the essentials of an effective inbound strategy to overviews of CTAs, landing pages, thank you pages and more.
HubSpot Marketing Software - While Inbound covers the inbound marketing methodology, this certification covers how you'll actually use HubSpot to execute your inbound marketing strategies. You'll get hands-on training about what you can do with the HubSpot Marketing tool and where to find everything.
Content Marketing - Content creation is usually toward the beginning of any inbound marketing strategy and this certification shows you how to best use the power of storytelling to entice visitors and nurture them into customers. Even if you're not a natural writer, this certification will give you valuable knowledge about content creation and strategy.
Email Marketing - Both email marketing and content marketing focus in on portions of the HubSpot Marketing Software certification. With this certification, you'll learn how to best use HubSpot's marketing tool via segmentation, nurturing, reporting and more. Highly valuable if you want to expand your email capabilities.
Contextual Marketing - This was one of the later certifications I completed, but I wish I finished it earlier. It gives valuable insights about A/B testing, smart content and other features in HubSpot that are powerful and worth knowing early on (like planning a contextual marketing strategy).
Growth-Driven Design - With 60 total videos clocking in at 10 hours and 35 minutes, this certification definitely takes the longest to complete. But it gives a good overview of the Growth-Driven Design methodology and how to approach designing, executing and optimizing inbound marketing websites.
HubSpot Design - Probably the most complex certification, HubSpotDesign lets you learn about the back-end side of HubSpot. If you ever wanted to know more about how templates, coding and modules can let you customize the look of your HubSpot-based website, this is the course for you. I found it highly valuable for the Marketing Automation Specialists tasks I perform on a daily basis.
Inbound Sales -

Now we move into the sales side of HubSpot. If you think about marketing and sales enablement, it makes sense to nail down the marketing side first, then understand how you can help the sales team once you pass leads to them. Or, if you're in sales, it's helpful to understand the marketing side of things first, as they'll be the first ones to impact the visitor or lead most of the time. This certification will give you a good overview of the Inbound Sales methodology.

HubSpot Sales Software -

Once you understand Inbound Sales, you can begin using HubSpot's sales software features. This certification shows you how to capture inbound leads, organize your contacts, work leads and track leads in the HubSpot tool.

Sales Enablement - Once you know about both the sales and marketing sides of inbound marketing (as well as the tools used to execute them), it's valuable to see how they can work together. This certification covers goals and accountability for both, as well as how to focus on the buyers first and use content and technology to nurture them from visitor to customer.
Client Management

- By now you have a good grasp of all the strategies that make up HubSpot, as well as how to execute them. But what about clients? This certification helps you bridge the gap between what is happening on the marketing/sales side of HubSpot and what the client expects. (Think onboarding optimization, ongoing client management and strategic renewals.)

Delivering Client Success -

You don't want to just manage your clients, however; you want them to experience success. This quick course dives a little deeper into content audits, goal setting, creating a strategy plan and demonstrating value to clients.

Developing a Sales Plan - What about the sales side of your clients? This course addresses them with sales plan development: determining goals, metrics, milestones and putting the plan into action.
Delivering Sales Services -

It's possible your client may be a candidate for upselling with sales services, but first, you have to know how to deliver them. This quick course covers sales services you can offer like sales and marketing alignment, CRM implementation and sales enablement.

Selling Sales Services -

Once you know how to develop and deliver sales services, you can begin pricing, packaging and selling them to clients. This course is only 50 minutes total and shows you how to do that.

HubSpot Agency Partner - Once you completely understand all other aspects of HubSpot's sales and marketing capabilities, I think you're ready to become HubSpot Agency Partner certified. Of course, many people complete this one early, but I think the information gained in the previous 15 courses will set you up for success here. In all honesty, it took me three tries to complete this course and I probably tried too early the first two times. By my third attempt, I had obtained most of the other certifications and it was much easier to understand.
There you have it! Again, the order can be customized to fit your skillsets or role, but this is my opinion of the ideal order to take the HubSpot certifications and courses. If you want a personalized suggestion for your role or experience level, feel free to leave a comment below and I'll give you one!