How to Start a Podcast for Your Company
March 1, 2019 •Allison Gibbs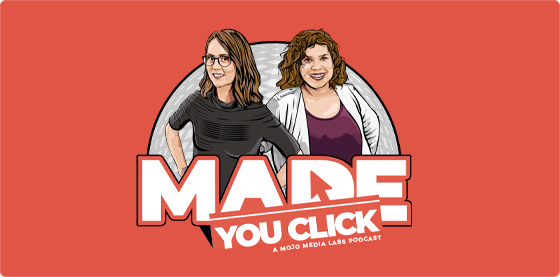 There are a lot of ways to engage with your prospective customers using content. A good inbound marketing program makes use of multiple formats and mediums.
The written word can be a powerful way to communicate your message, but it's not the only way. People want to consume information quickly and easily, and reading long-form content just doesn't work for everyone. That's why podcasts are obviously so popular and a powerful way to connect with your audience. You can listen to an episode in the shower, while walking the dog, or during your daily commute.
More people are listening to podcasts than ever before, and just like blogging became something every company needed to do, podcasting is following that same trend. Look at these numbers from Podcast Insights. In 2013, a little over 10% of the U.S. population were regular podcast listeners. That number has tripled and in 2019 more than a third of the population are tuning into podcasts.


So what does this mean for your business?
It means that you have an opportunity to get ahead of a growing content medium and start utilizing it for your business (before your competitors do).
Before we go any further, let's back up a minute and answer the question: "what is a podcast?" A podcast is an on-demand "radio show" that is typically spoken word. Anyone can create a podcast and get it listed in the major directories.
For a more in-depth explanation on how to listen to podcasts, see our earlier post: How to Listen to Podcasts (And a List of Our Favorites).
So why would you consider starting a podcast for your company? Does it have any marketing value?
The short answer is: "potentially." Think of a podcast as a way to get into the ears of your audience in a more intimate way than the written word can. If your audience is listening to your podcast, they not only get the content you are delivering but also your personality, tone and culture.
People naturally want to do business with people they know, like and trust. The more opportunity you have to help them get to know you the better. A podcast is a great way to strengthen the connection you have with your customers and prospects. A podcast is intimate and personal.
Additionally, it reaches an audience of people who wouldn't normally get your content. There are plenty of people who rarely read blog posts but happily listen to podcasts every day during their commutes or morning workouts. You can reach these people with a podcast.
So let's say you've decided to start a podcast. Awesome! Now what?
LISTEN AND SUBSCRIBE TO OUR WEEKLY PODCAST, MADE YOU CLICK.


Decide on your theme.
So what type of content are you going to deliver? For most business podcasts, I recommend that your theme follow the rest of your inbound marketing program. This means you want to teach. Just like your blog, ebooks and webinars teach and provide value to your audience... your podcast should do the same.
If you're a financial institution, teach money management concepts. If you're a law firm teach people how to navigate different legal scenarios (within the boundaries of your regulations). Non-profits can tell stories about the communities they serve. If you're a manufacturer consider giving technical "tips and tricks" to your end users or even provide support via your podcast based on audience questions.
What you teach depends on your industry but just about every organization can produce a great podcast based on teaching and providing value.
Decide on a format.
Your next task is to decide on a format. There is no one "right" way to structure a podcast, but there are a few best practices. Here are some common formats for business podcasts:
Solo monologue
Interview show
Multiple host radio show
A solo monologue format is simply you speaking into the mic and sharing ideas, tips or stories. This format is easy to do since it just involves you, but it can also be tough to keep it lively. A good example of a great solo podcast is The Brutal Truth About Sales & Selling by Brian Burns. In each episode, Brian basically yells at you with a new sales lesson and it's very effective. His following is huge and his style really works in this format.
Many podcasters do an interview show. In this format, there is a least one host (you) who interviews a new expert for each episode. This format is pretty popular and some good examples include The Owner's Mind with Chris Brogan, The Tim Ferriss Show and The Growth Show from HubSpot. Local friend of Mojo Media Labs Chuck Gose has also started an interview-style podcast on internal communications called ICology.
The multiple host radio show is a little trickier to pull off but can also be the most fun. In this format, at least two hosts deliver the show each time and share content in a back-and-forth style that can sometimes be more engaging than other formats. It takes some more work because you need to come up with your own content each time, but it's my personal favorite. I'm biased, but I think a great example of this format is our very own Made You Click. In our show, Stephanie and I are the co-hosts and we share news, practical how-to's, and lessons learned that will help you be the marketing rock star that you are.
Whatever format you choose, be sure to keep is casual and conversational. Nothing is more boring than a dry podcast in which the host reads from a script. Keep it natural.
Pick a recording medium.
Next, you need to decide how you will record your podcast. There are some great free ways to record your podcast depending on the format:
Voice recorder on your phone
Google Hangouts
Spreaker
Skype
GoToMeeting or WebEx
If you're doing a solo podcast, all you really need to do is fire up the voice memo app on your phone and press record. You may want to put headphones on to reduce ambient noise, but it doesn't need to be more complicated than that. You can then export the audio file for production (more on that later) and you're good to go.
If you're doing an interview show, you can use something like Skype with Call Recorder. Meeting apps like GoToMeeting and WebEx also offer call recording features which can work fine. This lets you interview people from different locations with ease.
If you want to get super fancy, you can use Spreaker which is what we use. This is also great if you want to broadcast live and then have your show distributed to iTunes.
Producing your podcast.
Next you'll need to produce your podcast. This typically means adding music and doing any light editing that might enhance the quality. It's certainly possible to simply publish your podcast with no music, but it really adds a nice touch of professionalism if you add some tunes.
If you're on a Mac, my advice is to use GarageBand. It's easy and free. You simply load in your voice track and add music at the beginning and end that fades out and fades in. Once you do this the first time you then have a template and you can make a copy of a previous episode and replace the voice track. If you're on a PC you can use Audacity which is also free.
To find great music for your podcast, I recommend these sources:
These sites will give you plenty of options for legal music to use in your podcast.
Hosting your podcast.
Once you've got your first episode ready to go, you need a place to host it. There are a few good options and here are my favorites:
Libsyn
SoundCloud
Spreaker
Libsyn is one of the most popular podcast hosting platforms and with good reason. It's inexpensive, easy to use and has a ton of features including great analytics. You can't go wrong with Libsyn.
SoundCloud also has a great platform for hosting your podcast. It has a really nice user interface and good analytics and is a good alternative to Libsyn.
We like Spreaker at Mojo Media Labs, but it's mainly because we do our show live. However, you can use it as a standard podcasting platform with the built-in recording studio app as well and it works great. It also comes with a ton of built-in music and sound effects which can be an added bonus.
Sharing your podcast.
Once you've uploaded your first episode, you can distribute it to iTunes (the default podcast directory). This is not as difficult as it sounds. Each podcast hosting service has instructions that will guide you through the process. For example, here are instructions from Libsyn on getting your podcast listed in iTunes.
While iTunes makes your podcast accessible to iOS users, some of your listeners may want to use another service. For this reason, I also recommend submitting your podcast to Stitcher. Stitcher is an alternative to iTunes that many people (especially Android users) love to use.
Most hosting services also give you a "widget" that you can use to embed podcast episodes on your website or blog like we do for Made You Click episodes.
Once your podcast is up and running, you'll want to share it via email and on social media. At Mojo Media Labs, we even run sponsored social campaigns to reach new listeners.
Get started.
So now that you know how to start a podcast, the key is consistency. Make it a habit. A good podcast schedule is typically weekly which gives you time in between to prepare. If your podcast is interesting enough you will gain more and more listeners over time.
As you build a solid audience, you can start to use your podcast to cross-promote other things in your company like events or resources. Be careful, however, to keep this to a minimum. The majority of your podcast should be focused on helping your listeners and providing value.
I'll leave you with a bold statement. Most people will read this, think it sounds interesting and then move on without starting a podcast. Don't be that person. Get started early before your competitors do. This will give you time to build an audience and stay ahead. Next year or the year after when they finally decide to do it, your podcast will have already built a strong audience within your industry and you'll be way ahead.
The podcasting movement is only growing. Start building your audience today.
LISTEN AND SUBSCRIBE TO OUR WEEKLY PODCAST, MADE YOU CLICK.
Allison found her love for marketing while studying business alongside her theatre degree at Indiana University. She loves offering simple solutions to complex problems (and tacos). In her down time, she loves a good run and staying involved in theatre (which landed her in a SuperBowl halftime show alongside Madonna)