How Involved Should A Marketing Agency Be In A Website Project?
December 1, 2021 •Nikole Rose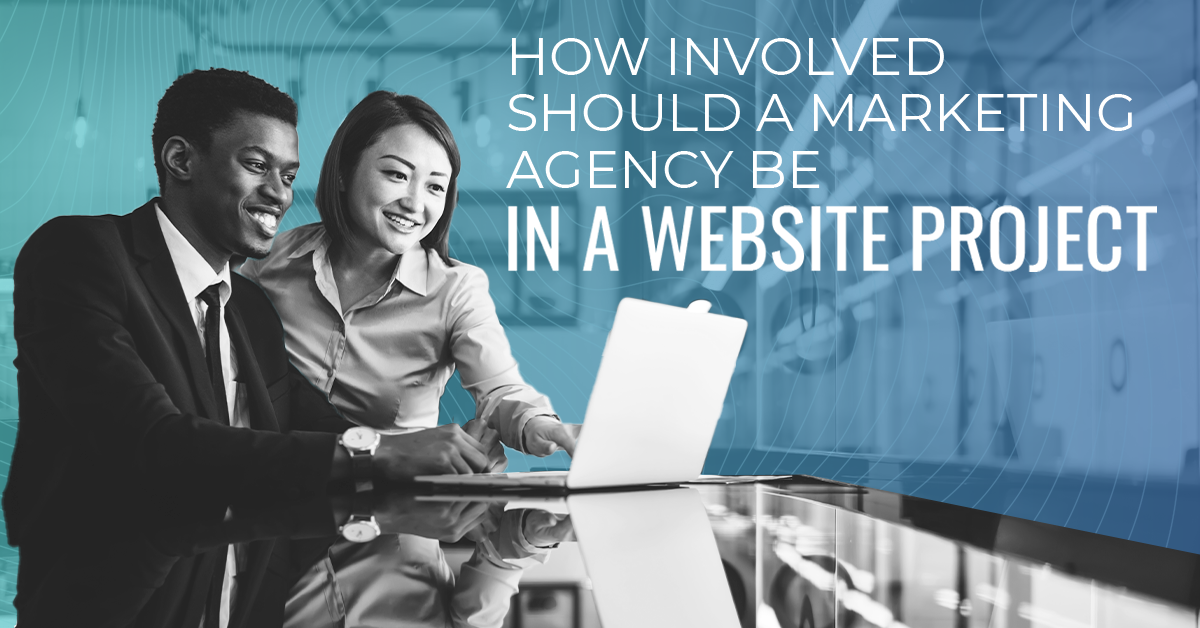 So, you're considering a new website? Maybe you aren't driving enough traffic, educating your potential customers, or creating sales conversations. Regardless of the reasoning, you know you need a new site.
But as you look at outsourcing parts of the process or the entire project, you wonder how involved a marketing agency should be in a website project. To jump straight to the standard consulting answer, it depends.
And it depends on your internal capabilities. There are potentially five roles you will need on a team to pull off a website project that will drive revenue.
Don't Lose Control
Before we dive into those five roles, there's a caveat to working with any outsourced partners. Regardless of how involved your agency is, always maintain control of your marketing and your website. As you start to build anything with your agency, create the accounts you need (domain, analytics, etc.), then share access.
Even if the agency insists it's easier for them to create the accounts and give you access, remember this is your business and your marketing. (And if they insist, save yourself the headache and look elsewhere.)
If you ever part ways with your agency, you lose all of the data if they own the accounts. You lose access. You are starting at ground zero.
And sure, you might not be worried that your agency would do anything to cause harm intentionally. But why risk it?
They are working for you.
Don't let them create the accounts.
Maintain control of your assets and your data.
With our TED talk out of the way, here are the five roles you should have involved in your website project.
1) A Strategist
Your website can play a massive role in driving growth in your company. With a fully functional modern website, your website can provide highly educational information for your potential buyers and make it incredibly easy to start a sales conversation without a game of phone tag or days of emailing.
You need to have a person internally to develop a digital marketing strategy or partner with an agency that will help you develop the strategy. In the ideal situation, you would have someone internally that either develops the strategy or takes point on evangelizing the strategy. If you don't have internal buy-in to the strategy, the rest doesn't matter.
Once you've built out your strategy, you'll have a far clearer picture of exactly what you need for your website. For example, you'll want to think about how people will enter into your sales process.
Is it a form on the website?
Are they going to simply call you?
Do you have your sales rep's calendars linked on the site?
From there, how are you going to get people interested in coming to the website?
Are you going to take an inbound approach and focus your efforts on SEO blog posts?
Are you planning on an ABM approach, where you create highly personalized and targeted content?
Or are you planning to take a demand generation approach and focus your content efforts on social media?
Once you understand how people will enter into a sales conversation and how you plan to drive the right buyers towards that conversation, you'll better understand your specific website needs.
2) Content Writer
You need someone that can write the words for your website. Without a wordsmith, you'll end up with the most beautiful website that doesn't generate any business results. People underestimate the difficulty of creating content, but you won't have a great site without great content.
In the ideal situation, you'd have a subject matter expert that deeply understands your buyers and can create the content for your website. Your content writer (content marketer) needs to understand your buyers deeply because you want the content to use the same language your buyers are using.
Many technology companies tend to use jargon on their website because they feel it makes them sound smarter. The reality is this jargon is often confusing. On the other hand, if you hire a content writer that doesn't understand your buyers, they will simply take your word for it that you are using the words of your buyers.
For example, the word "omnichannel" frequently appeared following COVID. Most buyers aren't using the word "omnichannel." They are saying they want to reach their customers anywhere.
So as you write content, you want to use the language of your buyers, write directly, and educate the reader on why they may need your product. When done correctly, the right buyers will read your content as if a peer wrote it, build trust with your brand, and enter into a sales conversation when they are ready.
3) Designer
You need someone that can take the ideas you have and make them into reality. Designers help with more than just colors. Your designer is doing more than just graphic design. A great designer can translate the concept of your brand to your website and make your website have a truly pleasant experience for your users.
The designer's role also directly impacts the ability to execute the strategy. You have been on a website searching for something only to find that it was right in front of you the whole time. You simply didn't see it because of poor web design.
For example, your designer will ensure that various brand colors are translated to your website so that you have an on-page experience that's welcoming. They will also use specific colors and design elements to draw attention to the most important areas of your website. This is likely a button that helps people enter into a sales process.
Additionally, your designer will ensure your content is organized in a way that makes your website easier to scan and navigate. The easier it is for your users to navigate your website, the more likely they stay on the page and binge your content.
Without a great designer, you can have the best content that no one will ever read. People won't even read content on an ugly website. They will just bounce and go to the competition.
4) Developer
The role of a developer used to be a non-starter on a website project. Today, this role in some cases is optional. With templates and themes, the designer can often accomplish the building of a website without additional assistance.
With that said, you may still want to have a developer work on the project specifically if you have a custom need critical to the success of your website.
A prime example of a specific business use case is the HubSpot pricing page. With this pricing page, you can build your own packages, change currency, and easily update your existing packages. HubSpot had to create a custom-coded page to accomplish this highly engaging pricing page that enables buyers to quickly understand their pricing and purchase.
If you know you have specific use cases that wouldn't come standardly in a website theme, you'll want a developer on your project.
5) Technologist
Modern websites make it easy for buyers to enter into a sales conversation and move into the buying process. But if you think about the last time you vetted a piece of technology, there was likely a button you clicked that took you to a calendar where you scheduled time with a rep.
If you want to have a completely seamless and scalable process, you'll want to integrate your tech stack into your website. As a result, you'll need a technologist that can implement the appropriate tech into your site. A technologist can integrate various pieces of technology with your website so that your website can truly become a growth driver for your business.
For example, when you integrate your website with your other technology, your website can function as one of the greatest sources of accurate information for potential buyers. You can see what content your buyers are most interested in. You can see where your buyers stop in your sales process. You can start capturing information to turn website visitors into buyers.
But if your website sits in a silo from the rest of your technology, you are missing out on a massive opportunity for growth. Your technologist can ensure you maximize the potential of your website.
So How Involved Should The Agency Be?
These five roles are critical in a highly functional, revenue-driving website. As you look over this list, you may feel a bit overwhelmed. Especially if you are on a smaller marketing team, you may not even have five team members.
These roles are all needed, but you can have one person that fills a couple of roles. For example, your strategist can also work on content. You may not have a specific business use case that a standard template can't already fulfill, so that you won't need a developer. And you might be using the HubSpot CMS to build your website, so it's easy to integrate your website with your other HubSpot tools, and you can have someone fill the seat of the technologist.
The reality of this list is these are the five roles for a website project. If you already have people who can fill these five roles, you likely won't need the help of an agency. If you don't have these five roles, or you don't have the internal time for people to "figure it out" as they go, you'll need the help of an agency. To what extent depends entirely on your internal capabilities to fill these roles.
So to determine what you need from a potential agency partner, look internally at your capabilities. Match your people to the roles and seek out a good agency partner to fill in the gaps.
As President & COO, Nikole is obsessed about building a great company made up of an inspiring culture and highly successful client engagements. Outside of Mojo, Nikole is also pretty obsessed with traveling, spending time at their cabins in Broken Bow OK, her Golden Retriever, Bella, and enjoying Italian dinners and wine with her husband, Mike.