13 Best Sales Enablement Tips for HubSpot
September 8, 2021 •Nikole Rose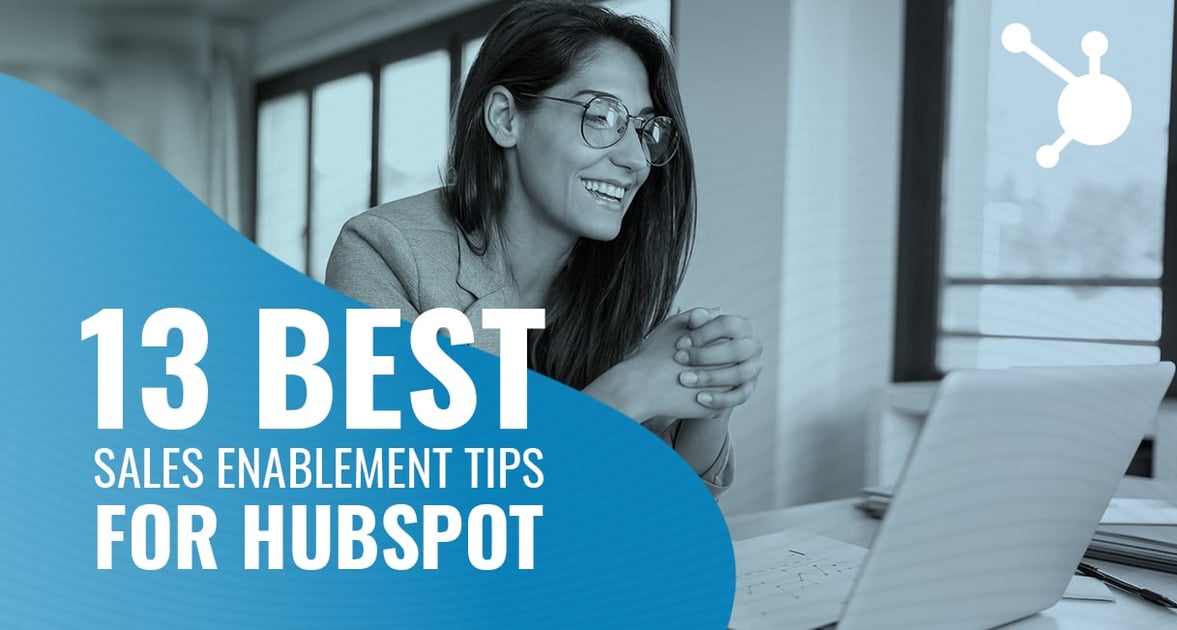 To win more deals and gain more revenue, your sales reps need the right materials and tools for successful conversations. Sales enablement equips your reps with the processes, resources, content, and technologies to make more, bigger, and faster sales.
As a leading Marketing and Sales software and one of the best CRM platforms for scaling companies, Hubspot connects cross-team efforts and provides the Sales Enablement tools to target and close more deals. In this article, you'll learn 13 easy ways to start planning and building your sales enablement strategy in Hubspot.
You'll boost conversions with strategies that help you:
Here are thirteen effective ways to use Hubspot for sales enablement.
To organize your sales process:
1) Audit the sales process to identify common gaps and issues at each stage.
Understand your end-to-end buyer's journey. Identify how people are learning about your business and entering a sales process. Review each stage of your sales process After reviewing the entire buyer's journey, you will likely discover a few gaps.
With a deep understanding of your target audience's common questions, problems, motivations, and objections-- as well as an evaluation of conversion metrics-- you can discover areas that give reps the most trouble, where sales processes can be improved.
The Hubspot CRM has features to measure sales effectiveness at every stage of the sales pipeline, from email tracking to comprehensive reporting. To see how you're doing, check out reports like the lifecycle stage funnel report, revenue report, and wins/losses report, as well as custom reports like average deal size.
Here's how to create sales report with the Hubspot Sales Analytics tool:
In your HubSpot account, navigate to Reports > Analytics Tools.
Click Sales Analytics.
In the left sidebar menu, click the topic you want reported.
Select the report you want.
You'll see a preview of the report.
You'll be able to filter the data by date range, contact owner/teams, and more. To add a filter, click Add filters and select your filter criteria.
You can share your report with team members who have access to your Hubspot.
Click the Actions dropdown menu.
Select Copy report URL for a link you can send to your team.
2) Organize contacts by lifecycle stage, lead status, and deal status.
Clarify your buyer's journey to sales reps with helpful categories structuring each step: from lead, to purchase, to happy customer.
Lifecycle stages include:
Subscriber
Lead
Marketing Qualified Lead
Sales Qualified Lead
Opportunity
Customer
Evangelist
Other

You'll be able to follow lead status as sub-stages within the Sales Qualified Lead lifecycle stage.
Below are lead statuses:
New
Open
In Progress
Open Deal
Unqualified
Attempted to Contact
Connected
Bad Timing
To set lead status, you can manually update the lead status property for contacts, update the properties by creating automated workflows, or import lead status properties for a list of contacts.
Sales pipelines help visualize your sales process to signify deals moving toward closing.
Here are HubSpot's seven default deal stages in a sales pipeline:
Appointment scheduled
Qualified to buy
Presentation scheduled
Decision-maker bought-in
Contract sent
Closed won
Closed lost
To create a new pipeline:
In your HubSpot account, click the settings in the main navigation bar.
In the left sidebar menu, go to Objects > Deals.
Click the Pipelines tab.
In the Select a pipeline section, click the dropdown menu and select a pipeline.
You can make changes to pipeline stage processes.
3) Qualify leads with lead scoring.
To make the most of your sales efforts, refine which leads are sales-ready with qualities and activities that make them more likely to become customers. In Hubspot, you can choose Positive and Negative that add or remove points scoring lead quality.
Here's how to do lead scoring in Hubspot:
In your HubSpot account, click the settings in the main navigation bar.
In the left sidebar menu, go to Properties.
Look for HubSpot score and click the property name.
Click + Add criteria in the Positive or Negative sections to set criteria that will add or remove points from your lead score.
Set a criterion, then click Apply filter. Depending on your Hubspot subscription level, you'll have different access to certain criteria options.
Add additional criteria. You can click AND to create a set of criteria that must all be met, or create a separate set of criteria by hitting + Add criteria.
To change the number of points that are added or removed when a record meets the criteria, click the edit icon. Edit the score amount and click Set.
You can hit Save when you've finished entering or editing criteria.
4) Score accounts and deals.
Account scoring allows B2B companies to identify best-fit customer accounts for their services.
Scoring companies and details uses a similar process.
Here's how to set up automatic associations between contacts and companies:
In your HubSpot account, click the settings in the main navigation bar.
In the left sidebar menu, go to Objects > Companies.
In the Automation section, checkmark Create and associate companies with contacts.
Click Yes to allow HubSpot to create new company records and associations based on your existing contacts' email addresses.
From now on, Hubspot will automatically associate companies and new contacts. HubSpot will also start

retroactively

creating company records and associating existing contacts based on their email addresses.
To connect easier with target accounts:
5) Engage directly with target accounts.
If you're doing account-based marketing with Hubspot, use the target accounts index page to monitor account progress.
You can add target accounts, view target account metrics, identify potential accounts, and filter and view target accounts-- all from this command center.
You can mark companies as target accounts in bulk through updating the Target account property in the company records, through company import, or via a company workflow. You can also manually add target accounts.
Once target accounts are added, you can view metrics like:
Number of Target accounts
Accounts with open deals
Open deal value
Missing any buying role
Missing decision-makers
You can also view important target account information like:
Number of Contacts associated
Open deals
Open deal value
Last touch, the time since a rep in your HubSpot account last engaged with a contact associated with the target account, like a one-to-one email, call, or meeting
Last engagement: the time since a contact associated with the target account engaged with your business, like submitting a form or viewing a document
Scheduled: the next scheduled activity associated with the target account, like meetings or tasks.
This information can indicate engagement and disengagement and help your team identify target accounts that need follow-up.
To work on a target account:
Hover over the target account and click one of the Actions dropdown menu:

Open account overview: select to open up the Account overview in the right panel. This is only available if you have Hubspot Sales Hub Professional or Enterprise.
Create task
Create note
View company record
6) Identify prospects that look like ideal customers.
To identify high-value prospects from your target account index page:
In the left sidebar menu, click Prospects to look at potential prospects.
In the left sidebar menu, click Recommendations to view recommended accounts, based on the data in your HubSpot account.
Hover over a recommended account and click Choose as target account to add them as a target account. Otherwise, click Dismiss to remove the recommendation.
You can also identify potential accounts with account scoring or workflows that mark good-fit companies as target accounts based on property values.
7) Make meetings easier.
By signing up for a free HubSpot Sales account, you can use the meetings tool in HubSpot and use it to communicate with prospects, leads, and opportunities. Try adding the meetings tool to emails, and even to rep's email signatures.
You can create and share meetings links, and receive bookings via a scheduling page. You can also connect a Google or Office 365 calendar to the meetings tool so the booking page will show if you're busy during certain times.
If you upgrade your HubSpot Sales account, you can also add a chatbot to your website that integrates directly with the meetings tool.
To automate sales conversations:
8) Create email sequences.
Automate sales processes with workflows. You can create emails in Hubspot's email tool, then add them in automated workflows. You can select who you want to be enrolled in the workflow, assign contact owners, set time delays between emails, set goals that unenroll contacts from the workflow, and more.
Here's how to create automated email sequences in workflows:
To create an automated email in the drag and drop editor:
In your HubSpot account, go to Marketing > Email.
In the upper right, click Create email.
In the dialog box, select Automated.


Choose your template.
Compose your email.
To make the email available for use in workflows, you'll need to publish it. In the upper right, click Review and save. Then, in the right panel, click Save for automation.
To add the email to a workflow:
In your HubSpot account, navigate to Automation > Workflows.
Click the name of an existing workflow, or create a new workflow.
In the workflow editor, click the plus icon + to add a workflow action.
In the right panel, select the Send email action.


Under Select an email, choose or search the email you want.


9) Automate tasks and follow-ups.
Hubspot's workflow has many customization options in its workflow tool to automate actions at the right times with the right triggers.
Among these, you can automate tasks and follow-ups to ensure Sales reps are communicating at key points, like when deal stages change.
You can also automate tasks on deal stages in the Pipelines tool. Here's how:
In your HubSpot account, click the settings in the main navigation bar.
In the left sidebar menu, go to Objects > Deals.
Click the Pipelines tab.
In the Select a pipeline section, click the dropdown menu, then select the pipeline.
Click the Automate tab.
To automatically create a task in a specific deal stage, in the deal stage's column, click + Create workflow.
In the right panel, click Create task and customize the details of the task:

Title
Due date
Email reminder
Notes
Type: choose the task's type from the dropdown menu: Email, Call, or To-do.
Associate with records: select the records that the created tasks will be associated with.
Priority
Assign Task to: click the dropdown menu to select Deal's existing owner or a Specific user.
Which owner?: click the dropdown menu to select the default Deal owner property, a custom HubSpot user property or a specific user.
To optimize sales content:
10) Organize important content in Hubspot files.
Research shows that sales makes just as much content as Marketing. Streamline sales. Save time and empower your team by making powerful content easily accessible and usable in Hubspot.
Run a content audit of the materials you have available, to see what's useful and what's missing.
Great sales content can include:
Customer case studies
Whitepapers
Product demos
Pricing information
Here's how to upload files for Sales in Hubspot:
In your HubSpot account, go to Sales > Documents.
Click Upload new document, then select the import source for your file.
The document will appear in your file dashboard once it's done uploading.
You can share the document with contacts by creating a shareable link from the dashboard, from the document details page, or add the document link to email templates. Hubspot will also track when your contacts open the file.
To boost sales team efficiency:
11) Rotate Leads Among Salespeople
What do you usually do when you get a lead or MQL in HubSpot? Disperse it manually among your salespeople? How do you determine who gets what lead?
By adding a "Rotate leads" action in a HubSpot workflow, you can automatically distribute any contact evenly among specific HubSpot users or teams.
In this example, since all three users have equal assignment, the first contact to reach this action will be randomly assigned to one of the users. Once all three owners have been assigned a lead, they will all be able to receive the next lead.
12) Sync Company and Contact Lifecycle Stages
Save your sales reps time by automatically syncing company and contact lifecycle stages. For example, when a company turns to a customer, so do its associated contacts.
With company lifecycle stage synced, any changes to the Lifecycle stage value on a company record will be applied to associated contact records. (This function doesn't set stages backward, or work bi-directionally.)
To manage the lifecycle stage sync setting for companies and contacts:
In your HubSpot account, click the settings in the main navigation bar.
In the left sidebar menu, go to Objects > Companies.
In the Automation section, select the checkbox to Sync lifecycle stages.
13) Sync Deal Stages and Lifecycle Stages
To save another step for your sales team, make sure deal stages and lifecycle stages are synced. With the deals lifecycle stage synced, the lifecycle stages of associated contacts and companies will change when a deal is created or moved to Closed Won.
To manage the lifecycle stage sync setting for deals:
In your HubSpot account, click settings in the main navigation bar.
In the left sidebar menu, go to Objects > Deals.
In the Automation section, select the checkbox to Sync lifecycle stages.
Empower Your Sales
By giving your reps easy-to-follow processes and the resources, content, and technologies to succeed, you'll see more effective and efficient sales. You'll need a deep understanding of the sales process and the ability to produce it-- which vary depending on your business size and in-house capacity.
So, to make sure your Sales team has what you need, you need to develop an effective sales enablement strategy and direct content marketers to identify and fill resource gaps. As a Hubspot Diamond Partner, we've helped tons of businesses target the right prospects in Hubspot and close more deals with winning sales enablement content.
Here's what our process looks like:
Tell us your sales process.
Through conversations with your team, we learn about your customers, their buyer's journey, and how you're doing Sales. We work with your team to create or enhance your clear step-by-step sales process, and document that process. We help you get started with the customer relationship management system (CRM) of your choice. (We recommend Hubspot.)
We create the content you need.
Stop wasting your sales rep's time with tedious content creation. Our experts in content marketing help you identify content gaps and give you the manpower to generate conversation-starting resources and automate successful conversations. We help with all types of sales content, from emails, presentations, and case studies to brochures, playbooks, and phone scripts.
Get guidance at every step.
From choosing the right technology for sales enablement software to giving ongoing training, we can meet regularly with your Sales and Marketing teams to provide coaching, support, and strategic insights.
Want to kickstart your sales enablement? We can offer a thoughtful and experienced perspective and equip your team with the tools to succeed. Schedule a call, and let's talk.
As President & COO, Nikole is obsessed about building a great company made up of an inspiring culture and highly successful client engagements. Outside of Mojo, Nikole is also pretty obsessed with traveling, spending time at their cabins in Broken Bow OK, her Golden Retriever, Bella, and enjoying Italian dinners and wine with her husband, Mike.