Creating Content Momentum
November 3, 2021 •Nikole Rose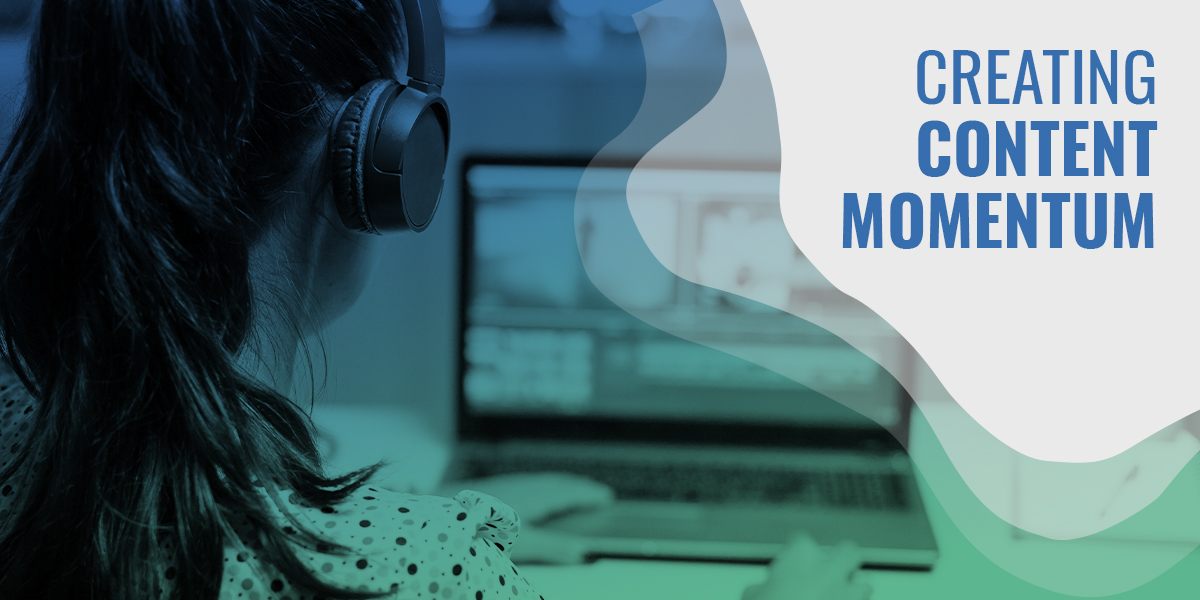 In digital marketing today, most everyone knows that content is king. The problem is most marketers get the feeling they are on a content hamster wheel that never ends. They don't feel their content generates a meaningful result, but they know they need to keep creating. So they keep doing what they are doing regardless of the results they may or may not be generating.
It's soul-sucking.
Everyone wants to know what they are doing makes an impact for their customers and their company. So when you feel the current system for content isn't working, how do you create content momentum?
Well, it goes back to basic physics: Momentum= Mass x Velocity.
How does this translate to marketing? Here are three steps for doing just that.
Step 1: Attract Critical Mass
You can attract fans and followers by being a great influencer. We are influenced by people who we feel follow the "BLT Principle":
Believable: The message needs to make sense and be believable. We should sell the solution to a problem. How? By framing the problem your company solves. By starting with a real problem, you create a situation where your customers understand you know what they are going through and have a solution to their problem.


Likable: It isn't about pleasing everyone. Every interaction is an opportunity to build, squander or damage your reputation. You should keep in mind the "7-11 Rule" — within the first seven seconds of meeting someone, you leave 11 impressions. First impressions are lasting.


Trust: Be sincere. Be reliable. Keep your promises. Show your competence. Care. When you and your company's thought leaders show you're empathetic towards your customers and care about their success, customers will flock to you.
Step 2: Create Velocity
Once you've started to develop a bit of a following, create as much velocity to help get more people into a sales conversation as possible. You'll start to see the effects of your content when you start seeing more demos or meetings booked.
The simplest way you can create velocity is to have a clearly defined sales process in place. Then you'll want to automate as much of the scheduling as possible. If you allow website visitors to immediately schedule a meeting on a salesperson's calendar, you'll dramatically increase velocity.
To ensure the velocity doesn't end at the meeting booked stage, ensure you produce content like case studies and customer testimonials that will help your sales team move people through the process.
Step 3: Develop Speed
By definition, you can't have motion without some kind of speed. And if you want to gain momentum, you have to get moving quickly. That is never truer than in marketing.
To gain momentum with your content, you need to create the right content on a frequent basis. That means creating numerous blog posts that address different pain points for your customers. That means creating social media content to engage ideal customers where they are today. That means having a content marketing strategy that executes numerous types of content so you can engage your potential customers in the way they engage best.
What Should You Do Today?
The three steps outlined above give you the what and the why. This section is highly tactical as to something you can execute today.
Take some of your existing blog content, an e-book, an infographic, or some other piece of existing content. Take that content and summarize it in a slide deck.
Figure out a title for your slide deck, and now you have the presentation and title for a new webinar.
Create a few graphics (use Canva if you don't have a designer).
Send out the link to your webinar in emails to your current email database.
Post on social media about the webinar.
If you don't have a webinar tool, you can just send a Zoom meeting link for a prescheduled meeting.
Then host the webinar and see how many attendees show up.
When the data becomes real people you're interacting with, you have a far clearer picture of the impact your content makes. Nothing helps build momentum like seeing hundreds of people showing interest in your event.
So figure out how you can take these three steps and turn them actionable today. By putting these three steps into action, you'll be well on your way to getting more of your content in the right prospect's hands, increasing engagement, and converting more prospects into customers.
As President & COO, Nikole is obsessed about building a great company made up of an inspiring culture and highly successful client engagements. Outside of Mojo, Nikole is also pretty obsessed with traveling, spending time at their cabins in Broken Bow OK, her Golden Retriever, Bella, and enjoying Italian dinners and wine with her husband, Mike.