Account-Based Marketing vs. Inbound Marketing: Does Inbound Marketing Have a Flaw?
September 22, 2021 •Mike Rose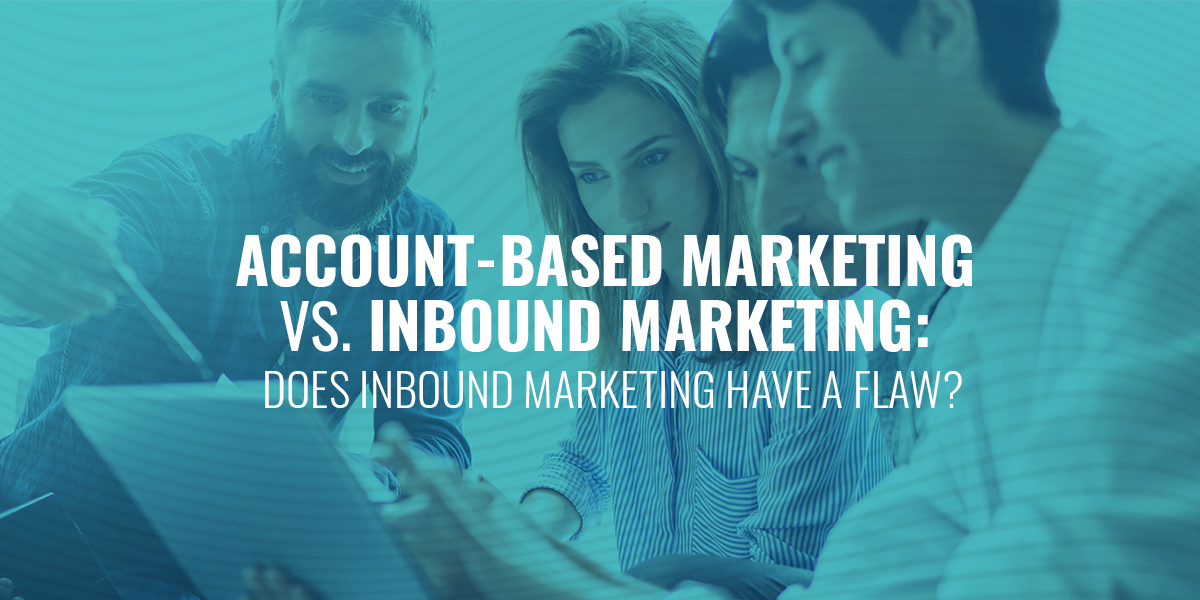 To cut right to the chase, yes, Inbound Marketing has a flaw in the B2B space.
Before all of the fellow HubSpot lovers come after this blog, know that Mojo Media Labs ourselves went all-in on building an Inbound business.
Deciding to build an Inbound marketing engine was the best decision we could have made when we began scaling our business over a decade ago. Inbound marketing will work far more effectively than most of the other marketing approaches used today.
That being said, a lot has changed in the past decade. Many of the tactics that previously were a gold mine have now dried up. Additionally, there are new tactics that work far better for B2B.
And that's where Account-Based Marketing (ABM) enters the picture.
The Flaw With Inbound Marketing in B2B
You have likely had a great lead come in that was incredibly excited to work with you and was positive they would get approval. Before you know it, you have sent over the proposal. They take your proposal to their boss, and it gets shut down.
But no worries. You have an internal champion you keep in contact with. In time, you know you'll close the deal.
Until that champion gets a new job in a different industry that you can't sell to. And you have to start building your relationship within that account again.
That's the fundamental flaw with Inbound Marketing in the B2B space. Inbound marketing doesn't reflect the way that B2B buyers buy. In B2B, there are numerous people involved in the buying process. Inbound marketing focuses all of the efforts on the individual that came to you. It's almost comical how a deal will nearly close when your champion/the main point of contact suddenly isn't available. The internal staff may know some of the reasons the champion wanted to partner with you, but they aren't really sure of the value you bring. As a result, deals don't close, and you start back at square one.
Why ABM Works Better for B2B
The mentality and approach of ABM works better for B2B. ABM focuses on influencing the entire buying committee, so when they have come to a decision, yours is the only name on the top of everyone's mind.
That means that everyone on the buying committee has some level of familiarity with your business and understands the value you bring.
Will there likely be an internal champion that functions as your main point of contact? Absolutely. The key difference with ABM is the mental shift from focusing on an individual to focusing on the entire organization.
Why You Still Need Inbound Marketing
So if there is a flaw in inbound marketing, why do you still need inbound marketing?
Inbound works better than most other marketing approaches- Most B2B marketing seems to be a random assortment of tactics that don't really build a brand or provide clear direction for the customers. Inbound marketing will always be better than random acts that lack a strategy.
Inbound is easier to implement at scale- Without the right tools, ABM becomes incredibly difficult to do at scale. Inbound marketing, on the other hand, is far easier to scale with less tech. All you really need is the ability to publish content that will attract the people you want to work with and make it easy to buy your product.
Inbound provides the foundation for ABM- To create an effective ABM strategy, you need a clearly defined ideal customer, target accounts, and content for outbound marketing efforts. A good inbound marketing strategy will give you the foundation you need to start creating the first iteration of your ABM strategy.
To put it simply, the clients of Mojo Media Labs have found the greatest success by starting with Inbound marketing. As their business matures, they transition more towards an Account-Based Marketing approach.
Inbound and ABM Aren't Enemies
If you think that Account-Based Marketing and Inbound are in opposition to each other, HubSpot's investment in Terminus is an example of inbound marketing and account-based marketing starting to align. HubSpot created the inbound methodology, and Terminus is creating the modern version of ABM.
Marketers often pit inbound and ABM against each other. They want to determine which strategy wins to claim that their preferred strategy works better. In reality, they are simply marketing strategies that work at different stages of growth.
If you are still early stage, you need as much business coming in the door. An inbound strategy works well. As your business matures, you'll want to have strategic growth where you become a bit more selective with the customers you take on. That's where ABM comes in.
But the companies that have the greatest success have both ABM and inbound working together. With a highly effective inbound marketing engine generating good-fit customers, they also create strategically and highly targeted campaigns to acquire their best-fit customers. The question isn't really Inbound vs. ABM but more of how you can blend the best of both strategies to develop a growth plan for your business.
If you have an inbound engine running, it may be time to implement ABM.
How to Know If You're Ready for ABM
Implementing ABM will change how your business runs. You transition from waiting for customers to come to you and start going after hand-picked target accounts you want to work with.
Before developing your ABM strategy, there are 14 tactical properties in 3 categories that must be in place.
Note: The following categories and properties are very tactical but critical to have in place. It will help to later identify the ABM functional roles, data, content, offers, channels, campaigns, analytics, and technology stack you will need.
To start, if your inbound marketing program is set up properly, you are off to a good start. The first category outlines items that a well running Inbound Marketing campaign will have.
To take it a step further, if you have your sales and marketing aligned properly, your sales and marketing team should already be intimately aware of five additional properties in the second category.
That leaves a minimum of five more properties to include in your ABM program in the third category. If you have a good system in place for inbound and sales and marketing alignment, introducing the new terms of ABM to include account-based sales and account-based advertising become less overwhelming to the client-facing departments: sales, marketing, and customer success.
The 14 Essential Properties of ABM
Your inbound marketing properties, at minimum, should include:

1. Ideal Client Profile (ICP) – using firmographics, technographics, behavioral and environmental.

2. Buyer Personas – the target audience to whom you develop content for telling a compelling story and solving their pain, the product/service/process that will solve their pain, and the one unique value proposition your company possesses that makes you different.

3. Contact-Based Lifecycle Stages – Subscribers, Leads, Marketing-Qualified Leads, Sales-Qualified Leads, Opportunities, Customers and the wildcard, Other.

4. Lead Status (Pre-Pipeline, Pipeline, and Post-Pipeline Sales Process) – clearly defined lifecycle & contact stages (in the buyer's journey) that the contact goes through, along with who is specifically responsible for each stage. Each stage should have exit criteria assigned before advancing to the next stage of the buyer's journey.

5. Contact-Based Lead Score – sets of positive and negative attributes that assign an "engagement value" to each contact and account (see account lead score below).

6. Contact Sources – both offline and online contact sources. If offline, it may be an event, networking, referrals, a sales channel, etc. If online, it may be organic, social media, referral traffic, paid (advertising), etc.

Your sales and marketing alignment, at minimum, should include:

7. Pipeline(s) – generally, the handoff from marketing to sales (where the funnel connects to the pipe). However, conventional wisdom suggests that marketing and sales development precede the activities in the deal stages of the sales pipeline. For example, a lead researcher and a sales development representative (in addition to an inbound sales development representative) may support the Account Executive role in the pipeline.

8. Deal Stages (Pipeline Sales Process) – the lead status steps specifically outlined in the sales pipelines.

9. Deal Type – this is critical to the success of the "Land and Expand" campaigns in your ABM advocacy strategy. A deal type for a marketing agency might be Retainer, Renewal, Project, etc. Retainers and renewals, for example, might have one sales pipeline, and projects might have a different pipeline because they following a different sales process that is even potentially managed by different sales teams. This step is particularly important when you introduce Tiers to your business development process. You might have an SDR for mid-tier customers and another SDR for enterprise customers, each following a different sales process.


If you identify the following five elements, you can start developing an ABM strategy and your pilot program:

10. Target List – cross-reference the sales reps target list with your Ideal Client Profile (ICP).


11. Tiers – are based on potential account value (PAR) or sometimes average contract value (ACV). For example, enterprise-level (Tier A) might have 1000 or more employees and $1 billion-plus in revenue, which would go to an enterprise-level account team. However, a Tier C, with less than 100 employees and $50M in revenue, might go to a different team.


12. Roles – roles are not titles on a business card. Titles can define the buyer persona but not the role. Sangram Vajre defines roles well in his book, Account-Based Marketing for Dummies: Stakeholder, Champion, Decision Maker, and Power Sponsor. Yes, the Dummies books can be a good resource in research and a good reference for other industry-specific resources.


13. Account-Based Lifecycle Stages – Account, Marketing-Qualified Account, and Sales-Qualified Account.


14. Account-Based Lead Score – the sum of each contact-based lead score for each associated contact related to that account. Further segmenting by tier, role, contact-based lifecycle stage, buyer persona, title, etc., to produce an account-engagement score. Both sales and marketing are responsible for driving the lead scores "contact and account" engagement scores. This is where sales and marketing really get aligned!
Adding ABM to Your Inbound Marketing Program
If your inbound marketing is built on a solid foundation, then you are off to a great start. If not, you need to start by developing an effective inbound lead generation system.
Just like when organizations ran paid advertising only and became concerned about the results of their spending until they shored up their owned channels using inbound marketing principles. Results then increased with a balanced paid and owned (inbound) strategy that included personalized content aligned to the buyer persona that led them to high-value landing pages.
Therefore, if you have a solid inbound marketing strategy (with sales and marketing alignment) in place, ABM will not be as difficult to implement. Your ABM strategy will be easier if these eleven properties are currently agreed to and implemented in your sales and marketing departments. It's the fundamentals, like blocking and tackling in football.
Additionally, if you have these actual physical properties set up in your automated marketing software and your CRM, your sales and marketing will have the ingredients for alignment. ABM will never reach its full potential as a predictable revenue driver for your company if sales and marketing are not aligned. (Just like paid advertising without an inbound foundation.)
The Struggle for Sales and Marketing Alignment
It's no secret that sales and marketing speak different languages. For example, I attended a "sales enablement" talk presented by a very well-known marketer. The speaker kept using the term "domain" as a reference to a "company." Salespeople don't close domains; they work to close accounts. Hence, the term "Account-Based Selling." That's why it's critical to have the same terminology defined between marketing and sales.
Again, the flaw with inbound marketing is that it's primarily lead-based, which is problematic if sales and marketing alignment is your goal. You have to retrain marketing to focus more on the target accounts showing engagement more than the leads coming in.
This fundamental flaw in the inbound marketing methodology sparked the debate about whether ABM is better than inbound or if they are similar or different. With the great sales enablement content, they can exist in harmony.
Sales Enablement: The Real Culprit
Inbound marketing and ABM cannot effectively work without the other. They are very different but complementary. Inbound must be used in ABM because inbound plays a critical role in the expansion and engagement stages of the flipped funnel.
Here are the fundamental differences between the inbound and account-based marketing funnels (figs 1 and 2, respectively), as well as how they can work together to optimize performance in your sales and marketing efforts. Marketing speaks "lead" language, and sales speaks "accounts" language.
Inbound funnel graphic (fig. 1)

Inbound marketing is lead-based marketing.
-HubSpot




ABM funnel graphic (fig. 2)

ABM is account-based marketing.
-Sangram Vajre, #FlipMyFunnel
Sales enablement is the technology, process, and leverage of an ever-expanding content library to assist the sales force in increasing deal velocity through the sales pipeline.
Sales and marketing alignment is the bridge that connects inbound marketing to sales enablement. Sales enablement is powered in part by ABM. ABM, in part, is the strategy that drives sales enablement because when marketing focuses on acquire specific accounts, they create highly engaging content that enables sales to close.
The inbound marketing methodology is instrumental to implementing a successful account-based marketing program. The ABM program is instrumental in supporting your sales enablement efforts.
Get Started Today
If you're reading a blog title ABM vs. Inbound, you are likely trying to understand which strategy will work best for you. To simplify a lot, it's based on your business maturity.
If your company believes that they want to close anyone that comes in the door, inbound is likely a better approach. If your business is looking for strategic growth opportunities, ABM is likely a better fit long term.
To better understand the nuances, check out the webinar below where Sangram, Co-Founder of Terminus, outlines the different stages of Go-To-Market maturity and helps revenue leaders understand their best next step.
A scientist by training, speaker, author and entrepreneur by drive, Michael brings a level of business acumen to marketing strategy that is rare in the emerging online marketing space. Michael's strong knowledge and understanding of business challenges, as well as marketing best practices has evolved to him authoring and speaking on a new and innovative game-changing approach to business entitled ROE Powers ROI – The ultimate Way to think and communicate for ridiculous results. The Return on Energy® methodology is the secret sauce behind Mojo's success and that of our clients.