7 Questions to Ask Before Hiring a Digital Marketing Agency
March 30, 2022 •Nikole Rose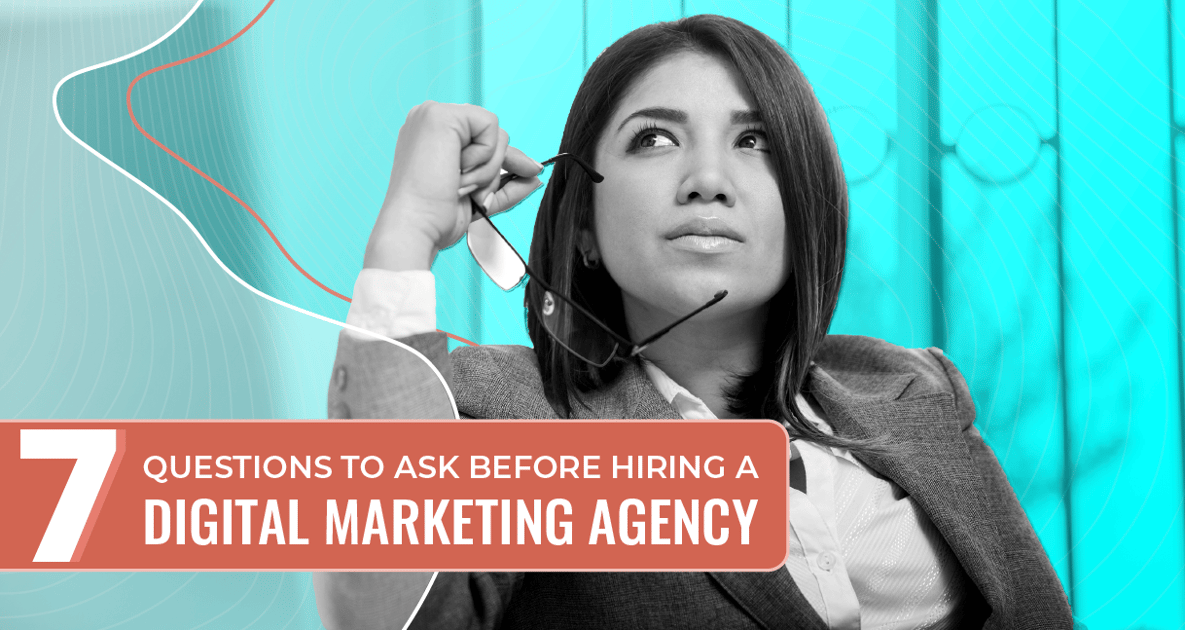 Embarking on a partnership with an agency is rarely a quick decision. Wise leaders realize that marketing is an essential element of their business that needs to deliver a return on investment.
It's important to note that not all digital marketing agencies are created equal. While some agencies try to do it all, smart agencies identify their niche and get insanely good at using the right strategies, platforms, and approaches that generate revenue for their clients.
With a robust agency, you have options—one-off projects (like a website) or even ongoing retainers for more in-depth approaches like getting started with account-based marketing. A great agency is one that listens first to see if they're a right fit for you, and then works with you to identify the right solution to your strategic priorities. This is exactly why our team routinely refers business leaders to other digital marketing agencies we know and trust when we're not the right fit for their needs.
Bottom line: The right digital marketing agency is not after "the next deal" but instead serves as a strategic partner you can count on. To find the right marketing agency for you, we recommend asking these seven questions.
1) What Separates You from Your Competition?
And the follow-up question is, "why should this make me want to choose you?". Any digital marketing agency should know what makes them unique. For example, it doesn't take long to realize that here at Mojo, our specialty is working with B2B businesses. Step one is seeing that the agency doesn't shy away from this question and clearly understands what makes them a good fit for you.

Always request client testimonials. If you cannot find client testimonials on an agency's website, it's important to ask about them. You want to see results, and we all know that past success is an excellent indicator of future success. Quotes, testimonials, case studies, or stories they share reinforce if they have the chops to deliver the same kind of results for you. To be clear, the idea is not to find a success story that matches your goal perfectly. Instead, consider if the results they're sharing are transferable to your industry or business model.

Next, ask for examples of previous work during a discovery call or consultation. A clear portfolio can also check this box for you, but if it's not publicly available, this is absolutely within your rights to request.

Lastly, and probably the hardest to come by, is direct access to a current client. By asking to speak with a client, you get unfiltered feedback to help you gain clarity around hiring or moving on from that digital marketing agency.
2) How Do You Measure Your Success with Clients?
This is important to confirm that you align with the agency on results. For example, it's common for clients to come to us asking for an account-based marketing strategy and also express a deep desire for an inbound strategy that increases qualified leads. Both are viable strategies that can deliver results but are measured entirely differently in terms of results.

Come with a game plan to discuss your success metrics, be honest if you haven't finalized them, and ensure the digital marketing agency agrees with the goals and metrics that define success.

Additionally, ask about how the agency measures client satisfaction. Yes, results are important, but so is building the right partnership. How do they work? Will their processes integrate with your needs? Do they value culture? How often do they solicit your feedback? The right digital marketing agency values your results and happiness too.
3) How Do You Share and Discuss Reporting With clients?
Seeing and understanding the results of your marketing agency is crucial.

Are the outcomes and results available when you need them? Are they open, honest, and transparent?

Depending on your role within your organization, you may even be responsible for the success of the agency relationship and the output of projects, so pay close attention to this one!

Need examples of reporting dashboards? Ask. Do you need a specific style of report to match internal standards? Ask.

This is a crucial question to ask up front so that your work, reporting, and internal evaluation of your success integrate seamlessly together.
4) How Do You Determine Goals?
The correct answer here is your goals should be their goals. If your current vision or strategy doesn't align with those goals, they can help reevaluate your priorities and offer input on how to deliver on your most important goals.
Here at Mojo Media Labs, we believe that happy people equal happy clients. We love what we do and want to help all of our clients succeed. The best goals are shared equally between you and your strategic agency partnership.
5) Can You Tell Me About a Time Your Agency failed?
This is a question that will set you and most agencies apart. We're all human and rarely like to admit failure. That being said, it's true that we learn from failure (often even more than our successes).

This question behaves similarly to the behavior-based interview questions we've all heard (or asked) in interviews. We all make mistakes, but learning from them is what matters – taking responsibility and improving upon it.
6) What is Your Team Structure? Who Will I Have on My account?
Another way of asking this question is: "Who will I have on my account?"
You have many things riding on this decision so ask to meet with the team. Vet their chemistry, competency, and alignment with your priorities.
For example, you may love the sales team (hello, instant connection!) and then realize after signing an agreement that your new primary point of contact is, well, just mediocre.
By meeting your team, you'll get a sense of the people you'll be working with day-in and day out. We consistently see this disconnect when hearing from new clients recovering from a one-sided agency relationship that left them feeling leary.
We believe in the importance of creating a stellar team and culture which allows us to practice what we preach. Talking with us means you'll likely end up talking with your dedicated account team too.
7) How Do You Set Us Up for Long-Term Success?
If you've ever gone through the process to overhaul your website, and you end up getting a website that's fully custom-coded and you need to know specific coding languages to make changes, this is a prime example of how an agency can make you reliant on them for your success. And from the agency's perspective, it makes sense. Their largest potential for growth comes from client retention. If they can force you to stay so you can actually run your marketing, they will grow.
But if you have ever had this experience, you know it's beyond frustrating. That's why it's critical to understand the agency's approach to equipping you long-term. A great agency will ensure you have the resources to continue running your marketing after your time together has come to a close. This looks like building a website on a platform that marketers can work on, or sharing the complete strategy they run. The ideal situation is that if your agency left, you could still find success with what you had been working on together by hiring the right people.
Wondering If We Really Practice What We Preach?
Schedule a call with our team and come ready to ask these six questions. We'll listen, ask about your challenges and apply our expertise to help you bring your growth plan to life.
As President & COO, Nikole is obsessed about building a great company made up of an inspiring culture and highly successful client engagements. Outside of Mojo, Nikole is also pretty obsessed with traveling, spending time at their cabins in Broken Bow OK, her Golden Retriever, Bella, and enjoying Italian dinners and wine with her husband, Mike.