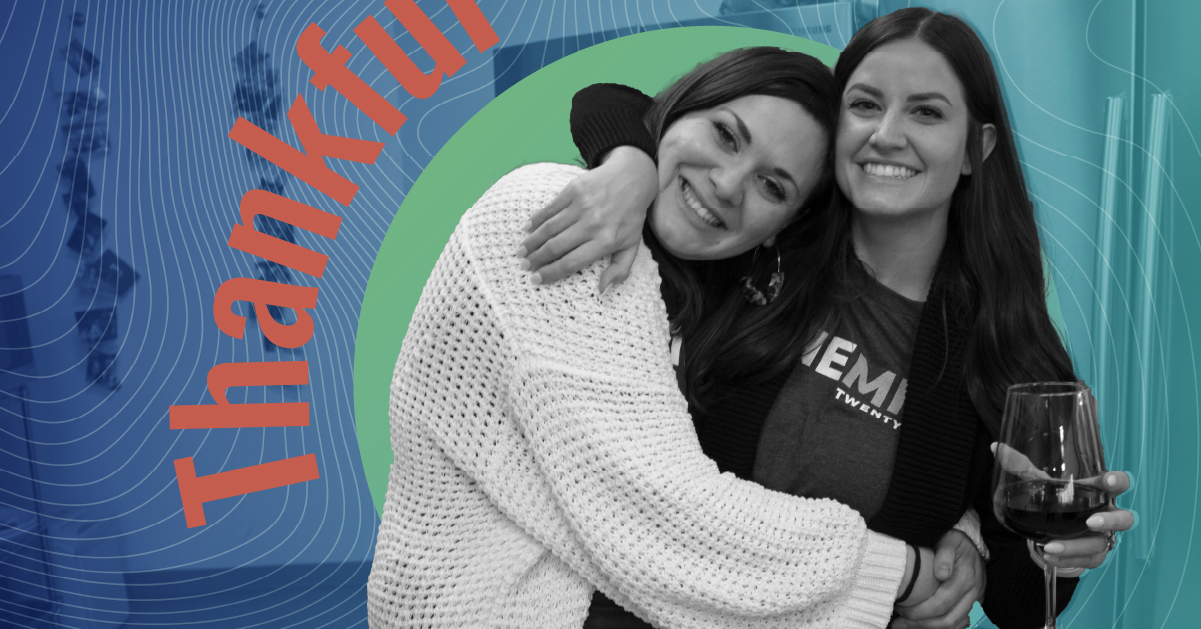 The benefits of gratitude extend beyond an individuals physical and mental well-being. When gratitude is a regular practice at work, the positive effects ripple out and have a real impact on company culture, employee satisfaction, and team cohesion. Research shows that practicing gratitude can lead to:
Physical benefits: better sleep, fewer headaches, better eating habits
Mental benefits: feeling more optimistic, prone to less negativity, avoiding burnout
Workplace benefits: pay-it-forward mentality, improved job satisfaction, better customer service
We've seen many of these same benefits by adding intentional moments of gratitude into our routines at Mojo. And we wanted to share some of those ideas here, during the traditional season of giving thanks.
5 Ways to Practice Gratitude at Work
Here are five ways that you can embed a little more gratitude at work, featuring examples of how we do it, the Mojo Way:
Mini games — Gamify your goals and bake a little gratitude into the game. In our latest mini game, we nominate members on the team and share stories about how they're adding value to our clients and to our company, in ways big and small. Every week, we hear those stories and select a weekly winner. It's a giant mood booster for our Monday morning OBM meetings and it sets the tone of gratitude for the entire week.


Gifts — Do you prefer showing gratitude through gifts? If gift giving is your love language, then Sendoso is a great tool for sending personalized gifts or swag. With Sendoso, we send thoughtful gifts to clients, Mojo Makers, prospects and partners.


Meeting time — Start your meetings with gratitude. In our weekly L10 meetings, we begin with a segue to set the tone of the meeting. During this short time, everyone on the meeting shares one bit of personal good news and business good news. Taking this time makes everyone focus on something positive and sets the intention of working on the business, not just in the business. For me, it's helped me realize that I need to spend more time reflecting on what I'm thankful for that week and celebrate those things.


Slack — Create a channel just for sharing the love and gratitude. Our #love channel is a repository of team appreciation, success stories, and testimonials from clients.


Ask your team — Send out a survey and ask everyone what they're thankful for right now. We did and here are the results! Hope you enjoy.
Hey Mojo Makers, what are you thankful for right now?
"For my Mojo Family, My home-Family , for ROWE, Pugs, the ocean and pizza."

"Relationships, because they are all that matter. When you are sick you don't care about all the nice things you have, you only want someone by your side. I haven't been sick, but it's just a fact. Relationships beat things!"

"Right now, I'm so thankful for good health and that most of my close family continues to be healthy — something I have taken for granted in years past. "

"At this point in 2020, I am thankful to have my physiological, safety and security, and love and belonging. I'm also thankful to realize this. We get so far past Maslow's hierarchy of needs and focus on materialistic, unnecessary things. I hope that 2020 has reminded everyone of that."

"My family and an opportunity to do meaningful work. I find these are 2 ingredients for building a life full of meaning. It's also a great reminder when thinking about all that 2020 has tossed our way. "

"So much to be thankful for this year! My family, friends and dogs that have kept me sane in this crazy time. I am also super thankful for my Mojo team, everyone has been so supportive during all of the unprecedented work this year."

"I'm grateful for having a job, a loving family and overall still be alive with 2020 being a shit show. :)"

"I'm grateful for the incredible support system that has lifted me up in such uncertain times this year. From family, to friends, to our amazing team of Mojo Makers... it has truly made all of the difference."

"I am grateful for health. I'm grateful that my family, friends and Mojo Makers have remained healthy and positive during the most trying year of any of our lifetimes. Positive thought lead to positive actions that lead to positive outcomes. Glad there are a lot of positive people in my life!"

"2020 has certainly been full of surprises, hardships and disappointments BUT more than that it's been full of love, finding true joy and tons of gratitude. I'm incredibly grateful for the reminder that joy comes from the simple things in life. I'm grateful for the extra time we've had with family - bringing more love and laughter to our house... and yes, more wine. :) I'm so grateful for the truly amazing people who work at Mojo who rallied together this year - because of it; Mojo is rebounding faster than expected and we're set to have a record breaking 2021. "

"I'm so thankful for my family. Silver lining of COVID is we've spent more quality time together, got creative with activities to keep busy and have found new hobbies like star gazing, therapeutic oils, and all the plants. I'm thankful I've had them to lean on during such a crazy year."

"1. My husband, Pat. He's always been an amazing stay-at-home-dad. This year with the added e-learning and me working at home way more, he hasn't skipped a beat. Plus, he joins in our weekly OBM huddle from time-to-time to be our Mojo hype man. I swear he's super human and I'm just in complete awe of him everyday. I'm so proud to be his wife.

2. My kids, Harper & Juliet. This year has forced me to slow down and enjoy the time with them. Normally, I'm running a mile a minute, but with this year, I've been able to be more mindful and present with them. I'm so lucky to have this time while they still think I'm cool. "

"I'm grateful that there are so many things that I 'get to' do rather than 'have to' do, even if challenges have presented themselves in 2020. I use a lot of Jon Gordon, of Positive University, quotes for inspiration to overcome challenges. Things like his short YouTube Video help me reset and remind me to take a step back and appreciate the many things in my life. I'm beyond fortunate to be surrounded by amazing friends and family. I 'get to' work for a company who cares about their people and allows us to integrate work and life. This helps me fulfill my passion for coaching young athletes and inspiring them to become grateful, empowered leaders in their own unique way. Look around! There is more to be grateful for on any given day than you may realize. Even writing it down has helped me recalibrate for the day!"

"Everyday I am grateful for the life I have with my fiancé, Jo Ann. This year has been full of uncertainty, stress (to say the least), and big life changes. I am eternally grateful for the friendships we've cultivated, the niece & nephew that are about to join our family, and the job that allows me to enjoy life outside of the workplace. "

"Slippers, and my dog!"
Steph leads our client delivery team and is obsessed with delivering quality work, creating an efficiency machine, and mastering the tools and disciplines to achieve success for our heroes. At home, she loves listening to true crime podcasts, playing with her daughters and two pugs, and singing in a local rock band with her husband.