5 Ways to Get Your SEO Mojo Back
July 11, 2016 •Daniel Berry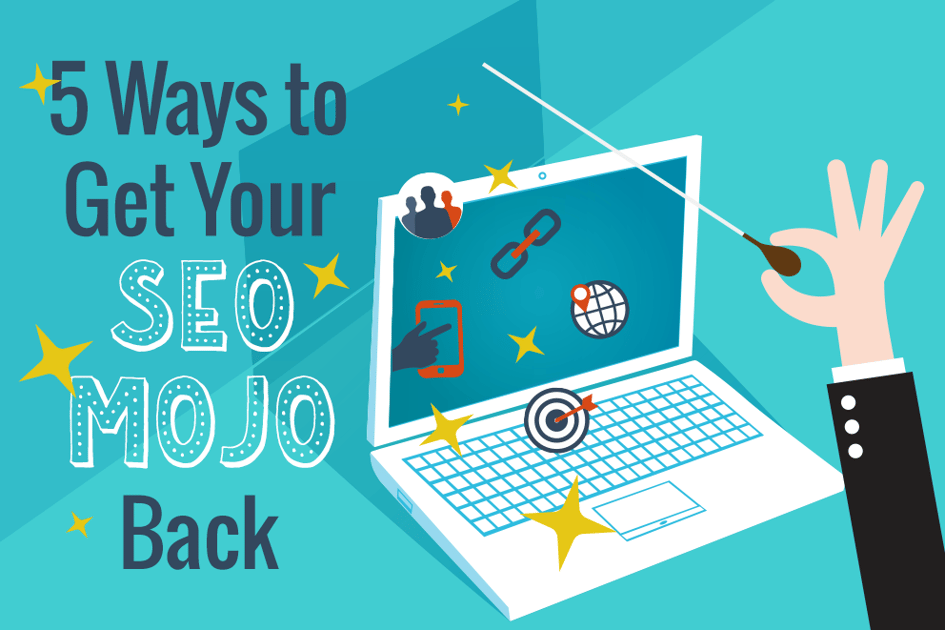 Mojo. It can be defined as a charm, talisman or spell. It can be a magical power. It can be whatever makes you appealing. When it comes to SEO, however, mojo is all the seemingly magical elements that attract visitors to your website. If you've lost your SEO mojo, you may be wondering how to get it back. Here are five ways to get you started, according to some of the digital marketing industry's top SEO experts:
1. Publish Locally Relevant Content (via HubSpot)
"Be the local authority for your industry — I'd recommend going about it through regularly publishing blog content. (And setting up a business blog if you don't already have one.) Promote local industry gatherings, news, employees, and other educational content on your blog. Think of top-of-the-funnel content that goes beyond what your business sells.
For example, if you're a local security company that is trying to attract new area businesses, create a helpful resource to get these businesses well-acquainted with your city. A map of local service providers or a calendar of city-wide events could both provide value for your persona and contain highly relevant on-page local signals."
2. Approach Keywords Strategically (via Entrepreneur)
"Without proper keyword research, any SEO campaign is doomed to failure. Keyword research sets the stage and lays the groundwork for an SEO campaign…
… While keywords form the basis of an effective understanding of — and competition for — a target market, trying for a #1 search-engine ranking (or even for a top 10 spot) for your business niche's top keyword is usually extremely difficult when you're starting an SEO campaign in a field with competitors who have doing this for a while.
Instead, take a long-tail approach to keywords. Consistently publish as much amazing content as you can, which naturally will include keywords, and you'll capture long-tail search traffic. This type of traffic tends to come from keywords you would probably never find during the research phase and that are often more targeted, resulting in better conversion rates."
"When trying to improve the ranking position of a particular page, the rest of your site can help a lot: Use variations of your target keyword as anchor text on your other pages and link them to your targeted page.
Internal linking is great for SEO. Among other things, it can help Google identify the site's important pages and their meaning, as the pages with the most internal links generally are the site's important pages."
4. Focus on Usability and User Experience (via Moz)
"There are a limited number of variables that search engines can take into account directly, including keywords, links, and site structure. However, through linking patterns, user engagement metrics, and machine learning, the engines make a considerable number of intuitions about a given site. Usability and user experience are second order influences on search engine ranking success. They provide an indirect but measurable benefit to a site's external popularity, which the engines can then interpret as a signal of higher quality. This is called the 'no one likes to link to a crummy site' phenomenon.
Crafting a thoughtful, empathetic user experience helps ensure that visitors to your site perceive it positively, encouraging sharing, bookmarking, return visits, and inbound links — all signals that trickle down to the search engines and contribute to high rankings."
5. Optimize Your Website for Mobile (via Search Engine Land)
"The technology trends in our society have diversified your target audience. Your customers are no longer all sitting at their desk behind a personal computer to access the web.
Mobile has essentially taken over. Google has adapted to the behavior of its users, and therefore, so should you. The 'Mobile Friendly Update' went into effect on April 21, 2015, which essentially leveled the playing field between mobile and PC users.
Google has stated that the majority of monthly searches in 10 countries (including the US) have come from mobile devices."
So there you have it; just five ways to get started on improving your SEO — but it doesn't stop there. By working with the right inbound marketing company, you'll get your SEO mojo back in no time.