5 Powerful Tips for B2B Website Optimization
July 21, 2021 •Nikole Rose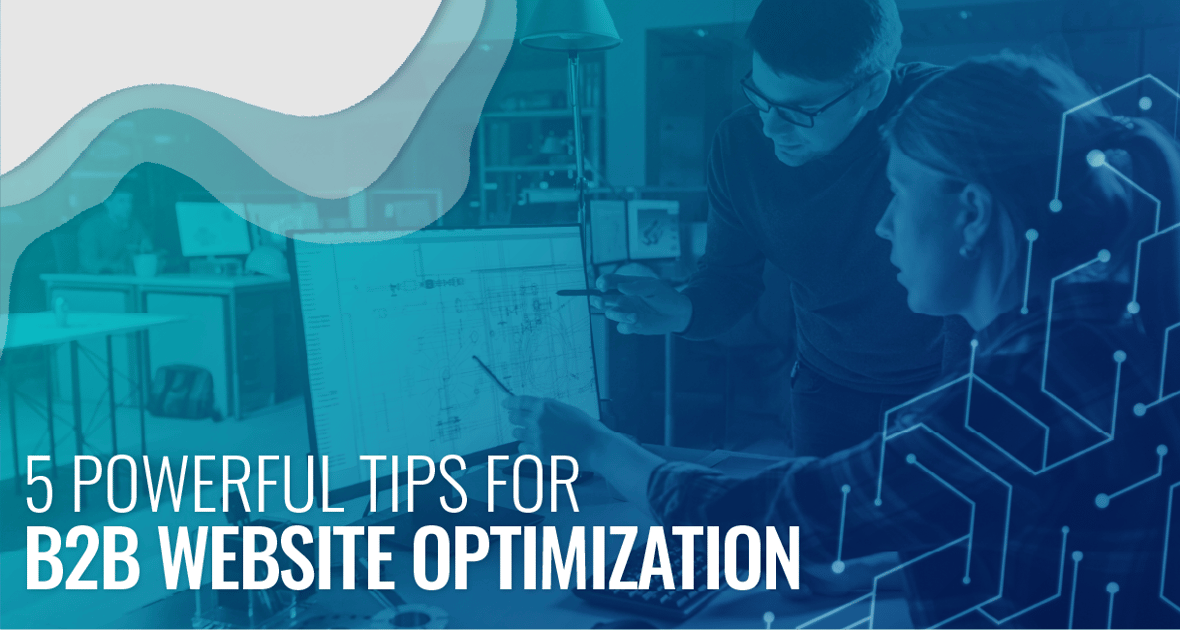 How many customers are you losing with a confusing website? How much money do you miss when you let qualified visitors slip away?
Optimizing your B2B website to attract more visitors, generate more leads, and close more sales requires a focused strategy around buyer personas, user experience, and search engine optimization. The first step is a deep understanding of your buyer's journey-- which is easier said than done.
Website optimization involves attracting the right people to your website, engaging them with the right message and content, and converting them to become prospects or buyers.
In this post, we'll unpack 5 powerful ways to revamp your website to yield maximum results.
Learn How to Fix Your Site: From Search to Sale
1. Create a search result that will get more visitors to your website.
The key to getting more of the right website visitors is understanding your buyer personas and their search intent.
According to Marketing giant and Mojo Partner, Hubspot: "a buyer persona is a semi-fictional representation of your ideal customer based on market research and real data about your existing customers."
Buyer personas are profiles that serve as useful archetypes of your ideal customers. There are many reasons your brand needs buyer personas. Making buyer personas helps you save time and money by refining exactly who you want to target.
By narrowing customer demographics, behavior patterns, motivations, and goals, you can focus your website content and refine effective marketing activities. As a B2B marketer, you need to identify the people involved in the buying process and decision-makers involved in the purchase decision.
Your ideal customers are searching with a purpose (or search intent) in mind: to find answers and solutions to industry-specific problems.
As prospects go through different stages of a buyer's journey, they can perform different types of searches: informational (wanting to know about a topic), navigational (trying to find a specific website), commercial (researching different companies and options), and transactional (looking to buy).
You can optimize website content by making sure your website has information these searchers will find useful.
Personalize website content to buyer personas: Write website content that is search-optimized for your ideal customer profiles. Ask yourself: What pain points do they have? What solutions are they searching for? What words do they use?
Tailor webpages for high-volume keywords: Your goal is to rank high in Google to get your website in front of the right people. Evaluate keywords and keyword phrases to determine the content clusters that are important for your products/services and customers, and

create pillar pages

for important core topics.
See what's working and what's not: Using Google Analytics, see what keywords are working to bring traffic to your website. For page optimization, evaluate visitors' page activity, conversion rates, and bounce rates. Determine if content needs to be added or modified to fit buyer personas and search intent.
2. Engage website visitors from the moment they land on-page.
According to a Web Design Study in Behaviour & Information Technology, visitors take 50 milliseconds to form an opinion about your website and decide if they'll stay or leave. From the second people visit your website, they are quickly scanning for useful content and triggers that fit what they're looking for.
Perfect your top of page. Check the top of your web pages for desktop and mobile devices. Is it clear who you serve, what problems you solve, and what solutions you offer? Is your call to action visible?
Clarify website navigation. Website visitors are looking for quick information and solutions. Make sure navigation is accessible from the top of your website. Segment your website clearly to include categories like problems you solve, solutions you offer, industries you serve, and resources.
Place forms on your most-visited pages. A page without lead generation is a dead end and an opportunity lost. Maximize prospects by including forms that collect information.
3. Educate website visitors about why they would buy your product.
A buyer goes through a path before purchase: the buyer's journey. Most people don't buy out of the blue: they go through a process where they become aware of problems, consider solutions, and make a decision.
Educational content is critical for customer engagement and lead generation. Educating customers gives you an opportunity to show industry expertise and position yourself as a solution to your customer's problems.
Set the stakes for success and failure. Evaluate your website messaging. How do you position your product or service as a solution? Do you make it clear what success your customers experience when they use your product? What failures do they face if they don't?
Create blog posts, guides, and webinars. Answer the questions your customers are asking, and cover the topics they are searching for. A good content strategy will not only demonstrate thought leadership but increase lead generation and Google ranking.
Link visitors to relevant pages. Interlinking web pages to relevant topics helps users find useful content while they explore your website. Links are also good for search engine optimization because they show connections between topics.
4. Invite qualified website visitors into your buying process.
To effectively optimize your B2B website, you need to understand how lead generation works.
Lead generation happens when a website visitor clicks a call-to-action on your website, leading them to a form that collects their information.
Create strong calls to action. Check if there are calls-to-actions at the top and bottom of your web pages. Here's

how to make the best call to action

: be short and clear, and align it to your buyer personas' specific goals.
Use

transitional calls to action

. Not all website visitors are ready to buy or reach out. Gain qualified leads by providing gated content, like white papers, thought leadership, and case studies.
Nurture your leads. According to

Forrester Research

, companies that nurture their leads see 50% more sales-ready leads than their non-nurturing counterparts at a 33% lower cost. Engage your contacts with a tailored content marketing strategy based on website behavior.
5. Implement revenue-driving tactics based on direct strategic consulting.
You depend on a well-optimized website to get leads and grow your business. To improve conversion rates on your website, you can implement proven revenue-driving tactics.
Revenue-driving tactics can include:
Credibility builders like testimonials and case studies
With these tips, you can take advantage of online searches and maximize site traffic, lead generation, and sales.
Website optimization can be complex and overwhelming. At Mojo Media Labs, we help B2B companies increase revenue through effective website optimization, brand strategy, and content marketing.
As President & COO, Nikole is obsessed about building a great company made up of an inspiring culture and highly successful client engagements. Outside of Mojo, Nikole is also pretty obsessed with traveling, spending time at their cabins in Broken Bow OK, her Golden Retriever, Bella, and enjoying Italian dinners and wine with her husband, Mike.