5 Best Practices for Building a Website in 2021
January 29, 2021 •Stephanie Fisher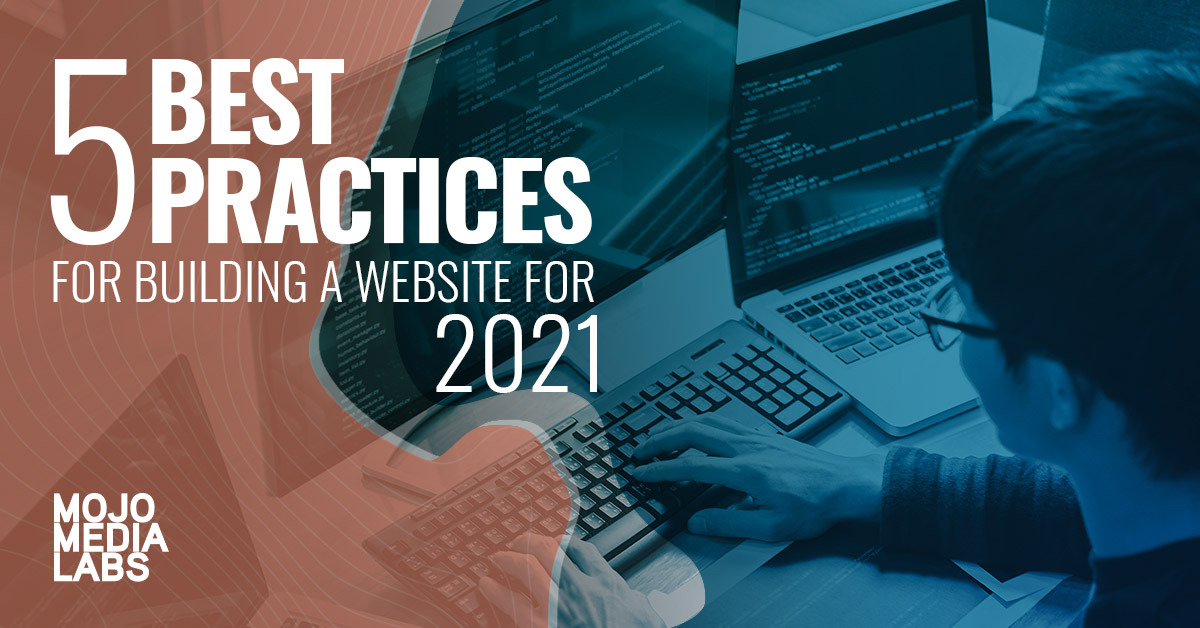 Every business needs a high-functioning, clean, branded website. But not every company knows where to start, especially when things in the web design and development industry are continually changing. Building a website is a complicated feat, which is why we want to give you a high-level view of how you should approach building yours.
And although these best practices will help you launch a better site faster, it can still be a complicated process when you're busy trying to focus on your core business. (That's where we come in, but more on that later.)
Here are the top 5 best practices for building a website in 2021.
1. Start with Your Messaging
You've heard it before: content is king, and it's true. But to create your website content and offers, you have to:
Know your brand's message
Know exactly how you want to express it
Clean it up and build upon it
Many brands feel they have a solid grasp of their brand message, when in reality, it's cluttered up with too many details, confusing phrasing, and a buried purpose. At Mojo, we are a StoryBrand Certified Agency, and we use the proven 7-part story framework for creating a clear, concise message that speaks directly to a brand's ideal customer profile. And it works because it relies on the philosophy of storytelling.
There are two reasons why your brand should use story to connect with customers: First, because human brains prefer stories, and a good story tends to follow a familiar, comfortable formula. Our brains look for these kinds of mental shortcuts to save calories and cut out extra thinking work. Story helps a brand accomplish that ease and reduce custom effort. And second, stories are interesting and memorable, and good stories touch you emotionally and intellectually, making you pay attention.
Read more about the StoryBrand 7-Part Framework here.
Your message sets the tone for everything else on the website, which is why this should be your #1 priority.
2. Organize Your Content
Next, it's time to organize your content. The task can feel overwhelming, which is why you take it step by step. Just start a Google or Word doc with an outline, and take a deep breath. If you want to make the process much easier, we recommend using the GatherContent tool, since you can set up your map while you add the content that will eventually display on your website.
Think ahead about these questions:
What pages need to be on the website?
Who's going to write the content?
What will the sitemap be?
What are your priority pages for launch?
What will the approval process be like?
Here, we've given a full step-by-step breakdown of how to organize your website content, so you can dive in a little deeper before you start your project.
3. Keep it Simple
This relates to the website as a whole – content, functionality, and design. The rule here is to avoid overcomplicating your website. Humans are bombarded with enough complex stimuli all day, and if they're landing on your site, they're looking for a solution to a problem that's probably stressing them out in some way. Make sure your website is not adding another barrier of confusion or stress, but rather provides an easy, joyful experience for customers.
What does an overly complicated website look like? A site full of strange design elements, distractingly flashy features, or unusual layouts that can deter consumers from becoming customers. At the end of the day, too much going on will hinder the purpose of the site and your business. People want all the info they need – and fast. That requires a strong element of familiarity, clean lines, an intuitive flow and usability that can translate from desktop to mobile easily.
4. Button Up the Backend
Pay attention to the backend pieces of the puzzle. That means you should focus on:
Setting up analytics tracking early so you get the data you need from the start
Testing your page load speed and

optimize where possible

Making sure you're compliant with any applicable regulations
Assessing and tightening up your security
Testing your site's accessibility to any and all users
Run a

technical SEO audit

(use a tool like Moz or SEMRush to find broken links, duplicate page titles, missing meta descriptions, etc) Search engine optimization
5. Launch Sooner Rather than Later
All brands should take a sigh of relief. Gone are the days when a long, drawn-out web project is the only way to go. Thankfully, the world of web design and development has changed a lot over the years, and it continues to evolve – for the better. In many ways, designers and developers are working smarter (not harder) to achieve the websites clients are looking for – in the timeframe of their dreams.
Businesses who stick to fleshing out the entire website inside and out for perfection will not see a complete product for another 8 months to a year. At Mojo, we've found the perfect balance of early launching a high-quality product with the ability to develop and grow over the year. It's called Mojo Flex, and it's our modern growth-driven answer to the long-winded website build.
How it works: we take a theme infrastructure and apply a customized design on top of it.
Businesses get the customizations they crave, but it's built on a strong, high-functioning foundation. You still have what you need in a fraction of the time, for a more reasonable price, which means:
You don't miss out on crucial time and data
You can start testing right away and make smart decisions as you go
You're going to want to make changes a year from now anyway
Customers can start working with you right now


Don't let web design throw a wrench in your plans.
Launch faster, with Mojo Flex.