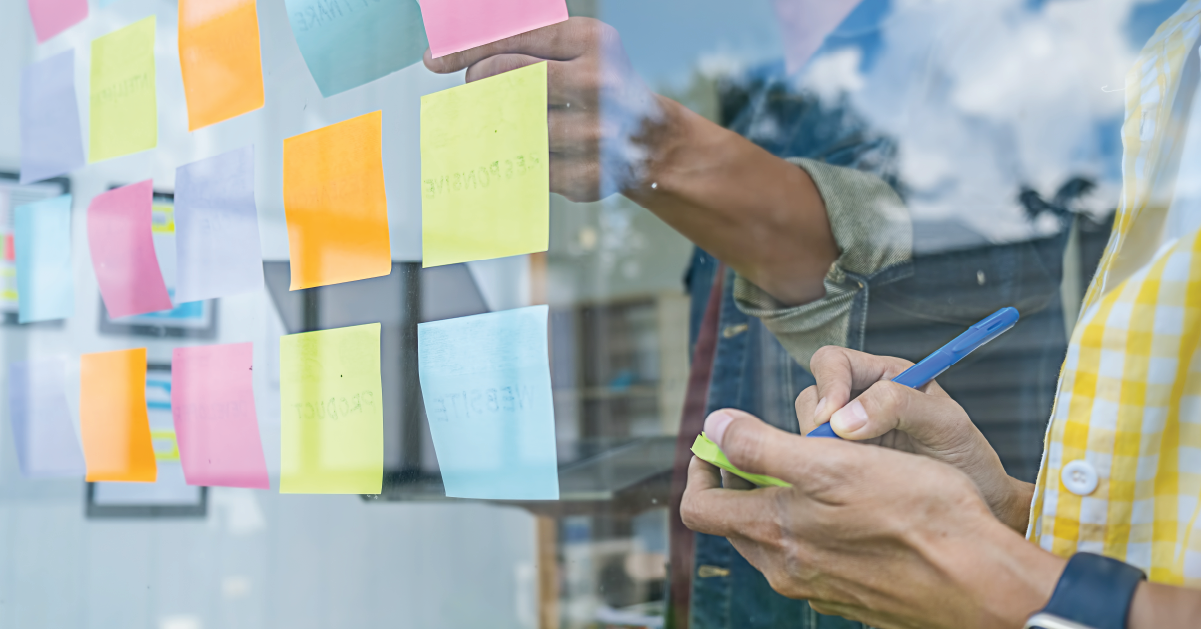 If you feel like you're shouting at your audience, or swimming in a sea of sameness, it might be because you are. Communicating with your target audience isn't as simple as directing marketing materials in front of them; if your audience doesn't connect with what they're looking at, they quickly swipe past it to the next product trying to target them without ever reading your message. You need to stand out from the crowd, communicate your message in a way that resonates with your audience, be relatable and reliable.
According to Harvard Professor Gerald Zaltman, 95% of our purchases are made through the subconscious mind, meaning we buy products not just because we logically justify transactions, but because their general existence appeals to us, in fact, chances are there's something you are wearing right now (or something that you drove to work today) that was influenced by an emotional connection to brand. So how do we hone in on this connection?
1. Messaging Framework
You probably already have some sort of messaging in action, but these are the guidelines that create a consistent voice customers can rely on. It's the portal to the personality we make an emotional connection to, and when lived by internally and externally, like the way we enrich lives at Mojo by helping you grow smarter, it creates a living, breathing machine dedicated to your cause. Really dialing down this framework to its core components - vision, purpose, values, mission - then implementing behaviors from archetypes, voice, tone will set the shape for your brand's persona.
2. Visual Strategy
Only after we have put all the ingredients into the framework can we begin to decide how it needs to look in order to connect to your audience. It's not about the logo, but why the logo. Your audience doesn't care about whatever mark you choose to represent your company, what they care about is what that mark represents, and how it represents them as one of your customers. By first creating a brand (logo, typography, colors, photography style, graphic elements, iconography - not just logo) that communicate your message, then strategically accounting for the unique needs of your audience and campaign will help you deliver content that is better optimized for achieving better results.
3. Create a Blueprint
Preach your message and visual strategy all you want, but if you don't document it, your team will be working in 15 different directions communicating about 20 different messages. Creating a brand and messaging guideline document will give your team, other agencies, or new hires, everything they need to keep your brand consistent - which in marketing translates to reliability.
Think of it this way – if you were building a house, you would need a framework, foundation, support beams, and some time to hammer all details in, but then you need to ask yourself some important questions… who is moving into this house? Is it for a couple? A growing family? Dracula? How do we decide whether to choose brick, stone, or siding? That's your visual strategy When you document your framework and visual strategy into a blueprint, much like a brand style guide, your team will have the enablement needed for achieving their desired result of communicating the right message, to the right people.


Need help getting started? Mojo Makers Know Messaging
Making sure your message is heard by the right people isn't easy. You need a team of experts who know how to position your brand, can help you communicate with your target audience, and can develop consistent messaging that is relatable and reliable. We've got you covered on all fronts to help you generate more leads, and more revenue.


Tawni is a versatile designer obsessed with visually telling your authentic story in a consistent branded fashion. She is passionate about the customer experience and loves to incorporate human elements that require "a touch of hand" in her designs. Tawni is a lover of all things Japanese and enjoys ink drawing, painting, and a good weekend project.