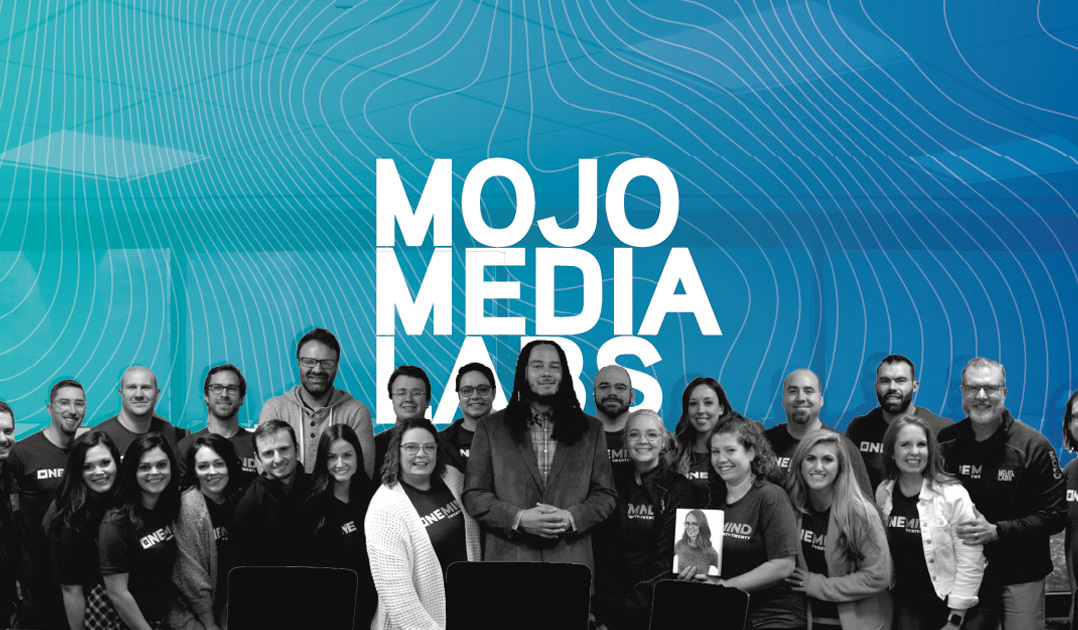 2020 has been a struggle, but we want to look back at our experience as a team and remember how far we've come. That, and we want to look ahead into 2021 with confidence. So, in true Mojo fashion, here's what this year has been like for us as marketers — and humans in general.
January 2020
Picture it, January 2020. Our mostly-remote team gathered together at the 2020 Mojo Rally. "One team, one mind" and "all eyes on revenue" were our biggest growth goals, and this was set to be our most ambitious year yet — because we know what we're capable of at Mojo. We were on fire! 🔥🔥🔥
February 2020
The 🔥 still burns hot for our growth goals! Nothing was going to get in the way of our fresh-off-the-rally growth mentality.
March 2020
BOOM. COVID becomes a harsh reality that we, as a marketing agency (and humans), had to adjust to. The fire we felt from the rally started fading 😞 … so, we came together (virtually) and rallied behind new goals centered on growth to reignite the flame of revenue! And it worked — sure, it's taken us a year, but it's worked. 🔥
In March, the adjustment to a fully remote workforce didn't phase us. It was more like a giant virtual sleepover — with virtual happy hours, getting creative with Zoom backgrounds, writing funny quarantine blogs, and reaching out more often than usual to coworkers for human connection and positivity. We were never more proud of being ROWE (results-only work environment) than during these times.


On top of that, we were thankful for and proud of this message of hope from our COO, Nikole Rose. Our strong leadership kept us emotionally connected and strong as a team.
April 2020
In March, it was "dress to impress." In April? It was "dress to impress… from the waist-up."
Many of us were starting to get a little restless from always being at home. So, we started to make socially distanced plans for one or two people to use the office at a time and as needed. Our HR guru took extensive precautions for office cleaning, spacing and sanitation tools. We also had to get creative with staying motivated and accountable.
April also marks the moment when we moved all of our clients into an emergency mode — because we weren't the only ones facing the pains of COVID. Our clients were experiencing the same struggles. So, we strategized for each client to get them through this difficult time and made a business continuity and crisis preparation checklist.
All of this took extra effort, extra hours, and extra services — but that's what we're about at Mojo. Sticking together and providing the growth necessary to survive and thrive in the market — even through a pandemic.
We can help you thrive in the market. What are your growth goals?


May 2020
Around this time, we as marketers began seeing that COVID was impacting our data insights. And because the pandemic not only changed consumer behavior, it was also changing what we viewed as successes for our clients. After some major hustling in light of these data changes, we started to regain our momentum and made it back to plan on our growth.
Leadership began discussing the amazing prospect of becoming a StoryBrand Certified Agency. And as a team, we learned the 7-part storytelling framework that helps businesses tell their story in a way that sells. (We're really good at it.)
We also revised our open-book management (OBM) process — with new revenue goals and numbers to get us back on track — even ahead. This has meant more involvement from everyone on the team to run OBM meetings and encourage and spotlight team members who are doing great work to drive revenue!
But do you want to know the really good news about May? We made the Forbes 2020 Small Giants List - AND a couple of Mojo pets joined the mix.


Say hello to Bernie (Doggy on the left) and James (right)!
Say hello to Harley (Doggy on the left) and Nicole (right)!
June 2020
While we began seeing the new primary data in May, we didn't really start understanding it until June. We started seeing new COVID benchmarks on web traffic, paid ads, email campaigns, and more. As a result, we shifted focus to new metrics, which meant shifting our campaign strategies a bit too.
We also knew that we needed to work smarter. COVID took every original marketing principle and put it into overdrive. This meant getting on the same page with every department, inspiring synergy, and open communication between all team members about what they were working on — as well as sharing what their marketing instincts were telling them. However, the biggest emphasis was just how important it was for marketing to enable sales. That's made all the difference in terms of meeting our revenue goals.
July 2020
Hmmm… 🤔 while we think that July happened, can someone confirm that?
One thing we do remember is that COVID messaging fatigue hit hard. And we successfully pulled back our messaging (for clients and us) to reflect other things, without exhausting the message of COVID resilience.
August 2020
We returned to our mission of "Helping You Grow Smarter" (HUGS) with helpful blog and newsletter content (be sure to subscribe). Senior Design Lead, Jason Harrop, started creating short YouTube videos with HUGS tips!
And more good news came our way: Mojo Media Labs made the 2020 Inc. 5000 List for Fastest-Growing Private Businesses in America. You can read our press release here too.
Moments like this helped us regain our mojo when things felt difficult or slow. We picked ourselves up and kept moving forward, together.
September 2020
Every year, we attend the famous Inbound conference. This year, it went virtual, but that didn't stop our team. We all registered for Inbound 2020 and learned a lot that we are now implementing into our creative marketing processes daily. Our CRM Specialist, Dani Arceo, even wrote about her favorite Inbound session.
Read her Inbound 2020 recap post here: How to Optimize Your Website Like a Pro
After months of planning and discussion, we officially became StoryBrand Certified Agency in September. Everyone, and I mean everyone, at Mojo learned the psychology behind storytelling and how it makes a difference in brand messaging — the difference between getting the sale and losing the sale.
October 2020
And ah, yes. HALLOWEEN. 🎃 Halloween is a favorite holiday amongst Mojo Makers, and as spooky as COVID has been, it wasn't going to crush our Halloween spirit. We celebrated as a team by sharing pictures of our Halloween decor, unique Halloween plans, and favorite Halloween movie and music playlist recommendations — over Slack and Zoom (great collaborative tools).


November 2020
Whew. OKAY. We've made it to November, and man, have we hit the ground running. We're ready for next year with more knowledge than ever before. We've worked hard to keep the goals we had in January and found new ways to come together around growth. It's been a long road, but because of it, we are stronger, smarter, and ready for Mojo 2021.
Over October and November, we felt the strength of joy and gratitude, especially after two recent podcast episodes we recorded on Made You Click. 🙏
Listen to Episode 61: The Power of Gratitude and Client Experiences, with Chris Schembra
Listen to Episode 64: Creating Customer Joy, with Jeff Hall
December 2020
Can you say, "Holiday Maintenance Mode"? We look forward to a refreshing break to start the next year strong.
At the end of the day, we're holding true to this quote written by our COO, Nikole Rose, back when COVID began.
"We are Braver than yesterday. Smarter today. Stronger than challenges coming our way."
Looking for a partner to craft your brand story and help you grow?

Steph leads our client delivery team and is obsessed with delivering quality work, creating an efficiency machine, and mastering the tools and disciplines to achieve success for our heroes. At home, she loves listening to true crime podcasts, playing with her daughters and two pugs, and singing in a local rock band with her husband.