10 Website Design Trends to Watch Out for in 2021
January 8, 2021 •Haley Rogers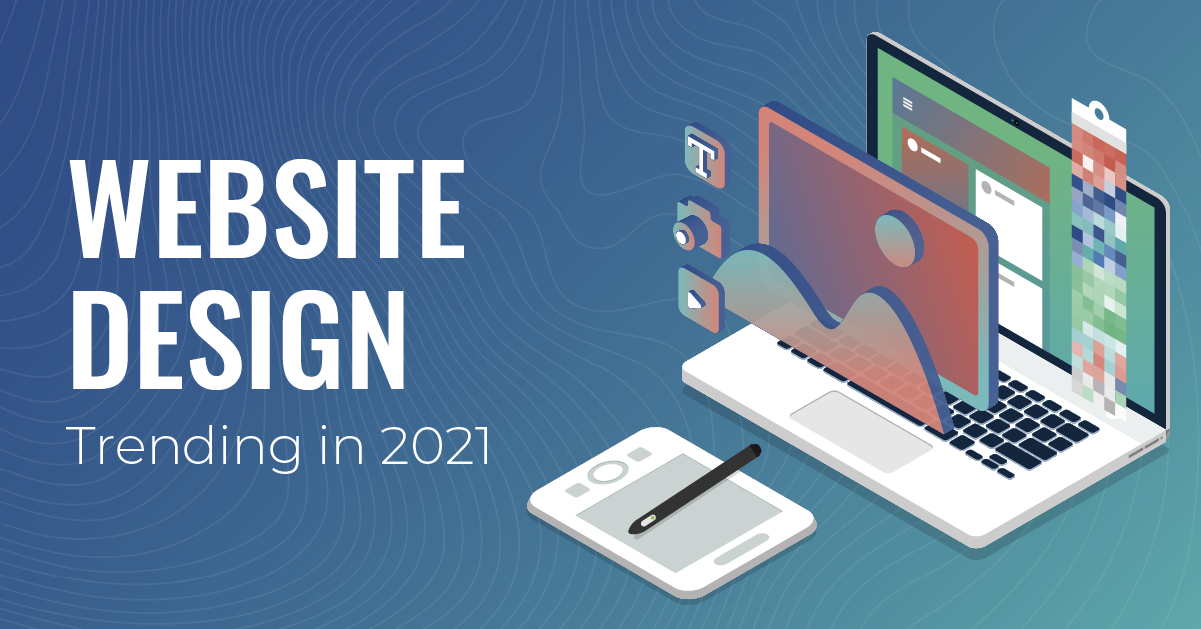 Your website is where you tell your story as a brand. It's people's first impression of you, what you do, and who you are. Ultimately, it's where prospects decide to trust you and even (hopefully) work with you – so, it matters what it looks like on every page.
In 2020, we saw various web design trends arise, and many of those trends will carry over in full strength into 2021. We spoke with our expert web designer, Jason Harrop, and he gave us a breakdown of design trends that he expects we'll see in the coming year.
1. The Asymmetric Layout
When speaking about asymmetric design, many may think of the word "imbalance," but just because a homepage has a unique balance of design elements that aren't perfectly symmetrical doesn't mean it's a visually imbalanced design. A designer who takes the asymmetric route is doing so strategically with intention and with the entire page in mind.
Not only does this design trend call for more creativity and daringness, but it also calls for abstract thinking, pulling pieces apart and putting them back together in a Picasso-like way that makes artistic sense. Overlapping shapes, text weighing heavily on one side and bleeding slightly into the other… the options for asymmetric design are virtually endless. And awesome.
2. The Blob
Oh, the blob. Don't be afraid! This isn't the 1950s-sci-fi-horror-blob you're thinking of. The blob trend started gaining traction in 2020, and it's not slowing down. Not sure what we're talking about? Here's what we mean:
The blob is a unique, organic-looking shape that many companies are using to give their brand an abstract edge. This fluid-like background image can be used behind text, photography, or any other element on the page. The trend is in full swing and who knows? Maybe it'll morph into something by the end of 2021.
3. Scalable Vector Graphics
Bye-bye pixels. Hello code. Using scalable vector graphics (SVGs) is a trend growing in value each day – and for good reasons. SVGs take the place of the original pixelated image. Instead of an actual graphic image, these SVGs are code-based, which means they can flex or expand to the needs of the user, without the image becoming pixelated when changing size. And it's all about the code.
This trend is growing because of the level of convenience and manageability it offers agencies, who no longer have to recreate an image completely when a change is needed. Now, a developer can simply go in and make changes to the code itself, fast and easy. Oh, and it speeds up your website too – a top priority in the customer and user experience.
4. An Emphasis on Data
Another trend we're going to see in 2021 is an emphasis on data-centric content throughout the website. Whether it's showing off stats from a testimonial, numbers about the company and its many locations, or any other relevant numbers, data is going to be an even more important part of telling a brand's story on its site. Plus, there's a lot you can do with stats and data, visually.
5. Storytelling
No longer is web design about creating a static brochure about the company. The website is now a platform for storytelling… and there's an art to it. The flow of the homepage (not just stuffing everything above the fold) is critical to keeping people on it. And because humans are emotional and retain stories so much more effectively than random facts thrown at them, websites must put this storytelling flow to practice.
In 2021 web design, we're going to see a lot more energy spent on making sure the website is a scrollable experience in which users are moved through a story organically. By the end, they need to be able to answer this question, "what do they do?"
Are you keeping your website in check? Our Corporate Website Self-Audit Kit to equip you with the tools you need to evaluate your website and present findings to your CEO.
6. Illustrations and Characters
This is a fun one, and one that we utilize here at Mojo. Growing in popularity, illustrations and characters are a playful trend in web design, giving brands not only flexibility with their imagery, but also freedom to get as creative and original as they want to. Yet again, this fuels the brand's storytelling with recognizable, signature characters that can be used in many ways across the brand's content and assets, not just the website.
7. Soft Shadows and Dimension
In the past, it was popular to use drop shadows on elements to help make them pop. This, however, has toned down over the years, and now, people are softening those shadows. Dimension and depth on a page are still very important, but not so much that harsh, noticeable shadow behind shapes, images, and text. The subtle drop shadow is enough to give depth and dimension where it's needed, without it screaming off the page.
And remember those illustrations/characters we were talking about? In 2021, they're getting a 3D facelift as part of that depth-and-dimension trend. They look like this:
8. Light and Dark Mode
You've probably already heard of it, folks: light and dark mode on various apps. Well now, agencies are trying to push websites into giving the option of light mode or dark mode for users. The purpose? Keeping pace with catering to the customer's preferences. It's going the extra virtual mile.
9. Large Typography
We like big FONTS and we cannot lie. Let's face it… we're leaving tiny text in the past, and it's a good thing (even in body copy). Large typography is a growing trend, and although it's mostly because it looks good, there's also a psychological reason behind it. Making certain words and elements stand out in a clear, vibrant way scoots the user past confusion, making the process of retention a lot easier. (And the process of decision-making… and buying… a whole lot easier).
10. Adding Mojo to the Mix
Okay, a not-so-shameless plug here. But we stand behind it. Over the last year especially, our designers and developers at Mojo came to realize how important ease and flexibility are to our clients – when creating a website. They wanted something they could easily use that would also give them a customized product to their brand.
So, instead of continuing to let brands search for the answer, we created it in-house.
As a HubSpot Diamond Partner, we built MojoFlex – a flexible, customizable, easy-to-manage website theme for our clients. And it's available in the HubSpot Marketplace.
We believe that convenience and flexibility in web design isn't just a trend; it's a brand necessity.
---